Namibia has the natural resources, while Germany wants to become a world-leading hydrogen economy. A new partnership will see Germany inject €40M with the aim of putting both countries at the forefront of clean energy innovation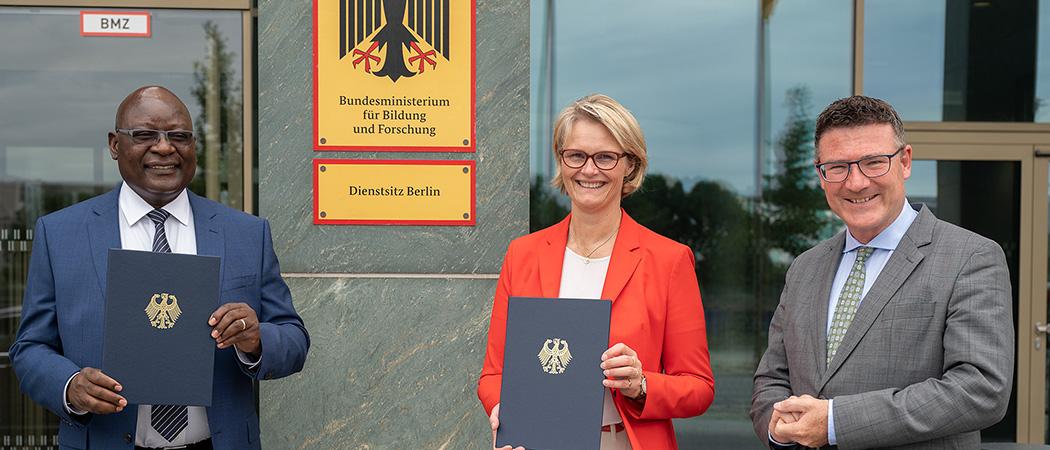 A deal sealed this week will see Germany offer Namibia a helping hand and €40 million to boost its green hydrogen production, in return for a future cheap supply of the gas.
"There is already a race around the world for the best hydrogen technologies and the best locations for hydrogen production. From our point of view, Namibia has particularly good chances in this competition. We want to use them together," said Germany's research minister Anja Karliczek.
To produce clean hydrogen, electricity is needed from a renewable source to split water into oxygen and hydrogen. The resulting hydrogen is carbon-free and can be used to decarbonise industries such as steelmaking and aviation that rely on fossil fuels.
Hydrogen is seen as a key energy source that will play a major role in helping countries become carbon neutral. Germany wants to lead the way, becoming a world-leading clean hydrogen economy, but has few of the renewable energy sources that are needed for this.
Namibia is home to 2.5 million inhabitants. It has massive wind power potential and twice the solar power yield of Germany, according to Marius Holst, research associate at the Fraunhofer Institute for Solar Energy Systems.
This makes the south west African country a potential hotspot for cheap clean hydrogen production. The cost of a kilogramme of clean hydrogen produced in the country is projected to be somewhere between €1.50 and €2.00, with exports foreseen to start before 2025.
"That would be a worldwide peak value that could turn into a huge locational advantage for hydrogen made in Namibia," said Karlizcek.
As part of the partnership, Germany will invest €40 million in capacity building and pilot projects for green hydrogen production in Namibia.
Jorgo Chatzimarkakis, CEO of Hydrogen Europe, said Germany is already one of the most important markets for green hydrogen in the world and is well equipped to support industrial production. "When discussing renewably produced hydrogen as a new global commodity we need business partners who can build up production, transport and consumption schemes," he told Science|Business. "The example of this cooperation could be a role model for many others to follow."
For Namibia, the new partnership means investment, jobs and potential leadership in the future market. "This is an important step in our journey to become a key player in the global green hydrogen revolution," said Namibia's ambassador to EU, Mekondjo Kaapanda-Girnus.
Global ambitions
The clean hydrogen race is already on. The US launched a hydrogen energy "earth shot" in June, with the aim of cutting the cost of clean hydrogen by 80%, to $1 per kilogramme in the next decade. The UK launched a £4 billion hydrogen strategy earlier this month.
The EU's plan foresees that by 2050, hydrogen could make up as much as 23% of Europe's energy mix. But it will require between €180 and €470 billion in research and infrastructure development to achieve this.
The tools for delivering the strategy are in place, with the EU forming a Clean Hydrogen Alliance, bringing together industry and publicly-funded bodies to coordinate investments along the entire hydrogen value chain, from production to industrial applications. There's also the hydrogen Important Project of Common European interest, under which countries can invest more in hydrogen innovation, thanks to more relaxed state aid rules.
Germany alone, is projected to spend €9 billion on its hydrogen plans. By the end of the decade, the country is likely to have built demand of 1.7 million tonnes of the green gas per year. It is investing the money now to make sure that demand can be met. The partnership with Namibia is one part of a grand scheme for a clean hydrogen economy.
In Africa, Namibia wants to lead the charge. In November, it hopes to unveil its own hydrogen strategy, which Germany will help deliver. "The cooperation of Namibia and Germany shows that historical relations might have a positive influence on energy cooperation in our modern world," said Chatzimarkakis.
Driest country in the region
While rich in some renewable resources, Namibia is the driest country in sub-Saharan Africa. This complicates the picture, since clean hydrogen production requires huge amounts of water for splitting into hydrogen and oxygen.
The German/Namibian plan will sidestep this barrier by desalinating seawater. According to projections, this will only account for one per cent of production costs.
"This has a certain conflict potential and contradicts the principles of sustainable hydrogen production," said Marius. "However, from my point of view, this is not a bottleneck, when seawater is available which can be desalinated."
Holst says reverse osmosis is likely to be the most suitable desalination technology. It is a mature technology that has been in use for decades and has negligible power demands.
But there's potential for innovation too. From a theoretical point of view, it is also possible to use the waste heat generated in splitting water for desalination, Holst noted. He has been analysing the market for hydrogen technologies for the last five years at the Fraunhofer Institute.
There is also ongoing research into the direct use of seawater, but this technology has not left the lab yet, according to Holst.
Desalination will be a major focus of the partnership, with the lessons learned then available for use in other arid regions, boosting clean hydrogen production globally.