Latest: Lebanese Research Council opens flash call on COVID-19 management
The coronavirus pandemic is disrupting universities and research institutes across the world. But the same institutions are also working very hard to find out how the disease can be stopped and its effects mitigated.
Follow this live blog for the latest updates on how the crisis is impacting research and innovation, and what governments, funders, companies, universities, associations and scientists are doing to stop or cope with the pandemic.
16:38 CET, 06 April: Lebanese Research Council

open

s flash call on COVID-19 management
The National Council for Scientific Research in Lebanon announced it is allocating LBP300 million (€183,000) for COVID-19 research in diagnostic tools, use of big data analytics and robotic devices. Projects should take a maximum of six months to complete, with the aim of providing practical and quick ways to reduce suffering and limit the effects of the epidemic on public health and society. Application deadline: 22 April.
16:31 CET, 06 April: France issues €4M fast track call for diagnostics and countermeasures

to help countries with weak healthcare systems
The French National Agency for Research on HIV/AIDS launched a call for COVID-19 research projects in low and middle income countries in Africa, South America and Asia. Applicants must have a research team based in France and another team based in a country with a fragile healthcare system which is likely to find it difficult to respond to the pandemic. ANRS says control measures used to date in Europe may be difficult to apply in these settings. There is total budget of €4 million for the fast track call, with ANRS  inviting project leaders to seek co-financing for their research. Application deadline: 13 April.
15:08 CET, 06 April: 

Public-private US consortium offers

processing

power for COVID-19 research
The COVID-19 High Performance Computing Consortium of companies including IBM, Amazon, Microsoft and Google, academic institutions and federal agencies, is making members' computers available for research in bioinformatics, epidemiology, and molecular modelling projects requiring large amounts of processing capacity, to increase understanding of COVID-19 and inform strategies to address it. Research projects given access to date include a virtual high throughput in silico screen to find drug candidates, a molecular level simulation of the coronavirus entering a human host cell, and sequencing the genomes of patients who have suffered the worst effects of the infection to see if there is a genetic signature to the predict which future patients are most likely to need intensive care. In addition to selecting which research to back, the consortium, led by the White House Office of Science and Technology Policy, the US Department of Energy and IBM, will identify which of their members has the most appropriate computing resource for each project.
13:33 CET, 06 April: 

Launch of European

health systems and policies monitor
In an effort to provide clear and comparable health systems information to policymakers struggling to control the coronavirus, the World Health Organization and the European Commission have set up the COVID-19 Health Systems Response Monitor, to pull together and organise information on public health initiatives in Europe, and to compare health responses between countries. Countries are calling for clear and comparable health systems evidence to inform policies and help strengthen their capacity to respond to this unprecedented crisis, said Hans Kluge, WHO regional director for Europe. "This tool is a breakthrough resource for health systems decision-makers tackling the pandemic," he said.
12:11 CET, 06 April: VUB sets up tracker

on

privacy and data protection policies around the world
Emergency policies passed in response to the coronavirus pandemic have the potential to create privacy and data protection legal issues. Vrije Universiteit of Brussel (VUB) has set up an initiatives and policy tracker, giving an overview of how countries around the world are adapting laws on privacy in times of crisis. The tracker will also help researchers at VUB to provide humanitarian organisations with advice on how to protect personal data of affected individuals and of their own staff.
11:23 CET, 06 April: Japan t

o make flu drug Avigan available to foreign governments
The Japanese government announced it is making the emergency influenza treatment Avigan (favipiravir) available to 30 countries which have requested supplies to treat COVID-19. This follows reports from China that the antiviral drug had reduced the length of time patients with the infection needed to stay in hospital.
In 2014 – 2016 Avigan was tested in a 111 patient clinical trial in treating another coronavirus infection, Ebola, in epidemic in West Africa. The study, which was jointly funded by the EU Horizon 2020 R&D programme and the French government, failed to show a positive effect.
Avigan was approved in 2014, for use only when there is an outbreak of a novel or re-emerging flu infection which cannot be treated with other antivirals drugs. As such, it is held in reserve and the Japanese government decides when it should be used. Yoshihide Suga, chief cabinet secretary said the Japanese government has received numerous requests through diplomatic channels for access to Avigan. The drug's manufacturer Fujifilm announced last week that it is increasing production and that it is starting a phase III clinical trial in Japan. The government announcement is at 13:30 in this video.
10:11 CET, 06 April: EU

to run pan-European hackathon
The European Commission announced the EUvsVirus Hackathon will take place on 24 – 26 April, to come up with ideas for expediting the response to COVID-19. The commission says this will complement similar events taking place at a global and member state level. There will be twenty challenges, including a search for ways to speed up and scale up production of medical supplies, that can be quickly developed and deployed across the EU single market.
16:53 CET, 03 April: Austrian science fund

announces winning projects
The Vienna Science and Technology Fund (WWTF) announced 24 COVID-19 research projects selected for funding under a fast track call for projects to address the coronavirus crisis. WWTF is putting in up to €50,000 per project, and is inviting the general public to add their support and give money on its donation page. Contributions are tax deductible, and the city of Vienna will put in matching funding.
15:47 CET, 03 April:

Amazon

in

$20M

initiative to help customers developing

COVID-19

diagnostics
Amazon customers that use its cloud computing resources for research can apply for extra support and technical assistance as part of the company's diagnostic development initiative. The programme is open to accredited research institutions, research consortia, and private entities that are using Amazon services to manage research-oriented workloads for the development of point-of-care diagnostic and other diagnostic techniques. Application deadline: 30 June.
15:39 CET, 03 April: Euro-African partnership launches €4.75M call
The Horizon 2020-backed European & Developing Countries Clinical Trials Partnership (EDCTP), launched an emergency call to support research activities in sub-Saharan Africa that aim to manage and prevent the COVID-19 outbreak. Research proposals should be in line with the WHO R&D Blueprint, and have a focus on strengthening national and local clinical research capacity, and on coordination and collaboration with other research and/or humanitarian activities. Application deadline: 17 April.
15:35 CET, 03 April: European Space Agency

wants to use its technology against

COVID-19
The European Space Agency (ESA) is looking for ideas that involve use of either space technology or space data to help address the coronavirus crisis. It suggests possible topics could include use of its satellites and networks to provide connectivity where terrestrial communications are insufficient, for online learning for school children being schooled at home and to enable video consultations for patients.  In research, ESA's earth monitoring data could provide background context for mapping the epidemiology of the coronavirus. The agency will cover up to 50 per cent of costs of each project, with a budget of up to €1 million per project. Application deadline: 20 April.
11:49 CET. 03 April: 

US Genome Research Institute

asks grant holders to work on coronavirus
The US National Human Genome Research Institute is calling on existing grant holders to apply genomic tools to identify signatures of COVID-19 infection, monitor the virus and infected individuals, and create models of host-pathogen interactions. Grants of $250,000 per year will be awarded. Application deadline: 16 May.
11:19 CET, 03 April: Wallonia-Brussels researchers to receive funding for coronavirus research
The Fonds de la Recherche Scientifique (FNRS) launched a call for fast track funding of research that contributes to the COVID-19 R&D Blueprint put together by the World Health Organization. The Blueprint specifies research that is needed to fill gaps in understanding and treating COVID-19, including epidemiology and translational studies, therapeutics, prevention and control of infection in clinical and community settings. The main applicant for each project has to be working at FNRS, or in one of the six universities in the Fédération Wallonie-Bruxelles. Each project can receive up to €60,000. Application deadline: 1 May.
18:24 CET, 02 April: UK

innovation agency offers funding for COVID-19 research
UK Research and Innovation is inviting proposals for short-term projects addressing and mitigating the health, social, economic, cultural and environmental impacts of the COVID-19 outbreak. Proposals from academics and companies, should have a clear impact pathway that has the potential within the period of the grant to make a significant contribution to the understanding of, and response to, the COVID-19 pandemic and its impacts; which supports the manufacture and/or wide scale adoption of an intervention with significant potential; or
gathers critical data and resources for future research use. Holders of existing grants are also invited to suggest how their work could be refocused to be relevant to the pandemic. There is no closing date and applications will be assessed on a rolling basis.  
18:22 CET, 02 April: Colombian innovation network company

to

coordinat

e

efforts against COVID-19
The networking organisation Connect Bogotá Región is working with Colombian universities, entrepreneurs and companies to coordinate the response to the coronavirus in Colombia. With government backing, it has launched two platforms, 100 Open Startup and BogoTech Abierta, appealing for help with particular projects. Two particular challenges are finding ways to assist elderly people who cannot leave their homes and optimising medical services. Connect Bogotá Región is also collaborating with Bogotá Chamber of Commerce, the National associations of entrepreneurs and the Secretariat of Health and Economic Development of Bogotá, to support researchers in building prototypes and scaling processes for the manufacture of ventilators and other medical equipment.
16:42 CET, 02 April: JRC develops new control material for more accurate COVID-19 testing
The European Commission's science service has developed a new control material to help laboratories avoid false negative results in COVID-19 tests.
The Joint Research Centre (JRC) is ready to dispatch 3,000 vials of the control to testing labs across the EU. One vial is enough to check up to 20,000 tests.
The control material, a synthetic version of a part of the virus that does not mutate and change as it passes from person to person, allows companies manufacturing coronavirus tests and diagnostic laboratories analysing samples to check each test: if a test does not detect the control material, it will not detect the real virus either.
According to a new survey, the lack of positive control materials is one of the top three problems faced by labs testing for the novel coronavirus. In particular, that means there is a risk that people carrying the virus will get a negative test result, despite being infected and potentially able to transmit the virus to other people.
15:30 CET, 02 April: IBM offers AI

virtual

assistant to answer COVID-19 questions from citizens
IBM is making its "Watson Assistant for Citizens" available for free for 90 days, to help government agencies, healthcare organisations and academic institutions respond to the torrent of questions from citizens about COVID-19 symptoms, testing, procedures and treatment. The system draws on guidance from the US Centers for Disease Control & Prevention and local information, and is available online or by phone. The IBM assistant is currently being used in the US, Czech Republic, Finland, Greece, Italy, Poland, Spain and the UK.
15:20 CET, 02 April: São Paulo agencies grant €3.4M for innovative SMEs with COVID-19 solutions
The São Paulo State Research Foundation (FAPESP: Fundação de Amparo à Pesquisa do Estado de São Paulo) and the Brazilian Innovation Agency are calling for SMEs to apply for support for the development of products, services and processes that can help in the COVID-19 crisis. The call is part of the third phase of FAPESP's programme, Innovative Research for Small Companies. Application deadline: 6 April.
15:19 CET, 02 April: US health alliance calls for projects on equity

in the face

of COVID-19
The Alliance for a Healthier World (AHW) is searching for proposals that increase understanding and help mitigate the health equity and social justice dimensions of the pandemic. It is already abundantly clear the coronavirus crisis has amplified the health gap between marginalised groups, such as low-income families, minorities, immigrants, the disabled, the recently unemployed, and more affluent members of society. The aim is to study the extent of the gap and how marginalised people can be helped to face the economic and social impacts of the crisis. The AHW is offering five grants of up to $25,000 each. Application deadline: 5 April.
12:13 CET, 02 April: Rio de Janeiro

agency

sets up emergency

€4.3M

fund

for COVID-19 research
The Rio de Janeiro state research funding agency (FAPERJ: Fundação de Amparo à Pesquisa do Estado do Rio de Janeiro) has announced an emergency fund for research by universities and startup companies to combat COVID-19. The aim is to build upon the networks and research collaborations developed in response to the Zika virus, which resulted in more than 1,600 babies being born in Brazil with microencephaly, or abnormally small heads. The fund is split into three calls. The first, for proposals from researchers  specialising in emerging and reemerging viruses, has a budget of R$6.2 million (€1 million). The second R$9 million (€1.5 million) call is for work on diagnostics, epidemiology, clinical studies and the use of artificial intelligence technologies. The third R$ 9.8 million (€1.7 million) call is in epidemic control and infection, molecular diagnostics and clinical studies. Application deadline: 14 April.
16:32 CET, 01 April: 

Carlsberg Foundation donates €8M

to coronavirus

research
The Carlsberg Foundation, the charitable arm of the brewing company, is backing three coronavirus research projects. The first, a collaboration between the University of Copenhagen, Aarhus University and the Serum Institute, is receiving DKK25 million (€3.3 million) to develop a vaccine against Covid-19 in a short time, based on a promising but previously untested vaccine concept. The consortium will also start work on a diagnostic test and new peptide therapies. In the second project, which was awarded DKK25 million, researchers from the University of Copenhagen, Aarhus University and the Danish Technical University will carry out behavioural research to investigate how society acts during crises, as well as how democracies deal with an epidemic such as the one we are currently facing. The third project at Roskilde University, will develop better mathematical models to explain how and why outbreaks of new viruses sometimes develop into global pandemics. The models will also be used to predict how pandemics start, disappear, or eventually merge into the larger pool of recurring seasonal viruses. The project was awarded DKK10 million.
16:00 CET, 01 April: 

Swiss medtech startup receives €140

,

000 for

breathing device
Swiss startup, Stimit has been awarded €140,000 to advance development of a non-invasive device designed to activate breathing muscles in the diaphragm of patients in intensive care who are receiving mechanical ventilation. The aim is to reduce the amount of time patients - such as those with serious COVID-19 infections - spend on ventilators, minimising the damage mechanical ventilation can cause to the lungs. The company has developed a prototype and is now preparing to test the device in patients. The award comes from Venture Kick, a consultancy and business mentoring service that promotes the spinoff of companies from Swiss universities
15:33 CET, 01 April:

University of California IT researchers get call to focus on COVID-19
The Center for Information Technology Research in the Interest of Society, which provides seed funding for the commercialization of IT research across the University of California's campuses, is awarding $50,000 each for IT projects that aim to address the COVID-19 threat. Application deadline: 10 September.
15:21 CET, 01 April: Netherlands invests €1.5M in

real time

COVID-19

data collection
The Netherlands Organisation for Scientific Research is launching a €1.5 million call for real-time data collection reflecting the situation on the ground, to improve the relevance of coronavirus research. A further €10 million will available for COVID-19 research projects to be specified in collaboration with the Netherlands Organisation for Health Research and Development. A detailed announcement on this new funding opportunity will be published at the a later date.
14:43 CET, 01 April: Switzerland sets up

COVID-19

scientific task force
A national COVID-19 task force has been created by Switzerland's Secretariat for Education, Research and Innovation and the Office of Public Health, to coordinate the country's scientific response to the coronavirus crisis. The task force will provide policy advice and identify research and innovation funding needed to combat COVID-19.
12:58 CET, 01 April: Scotland

launches rapid

COVID-19 research

programme to tap expertise in its universities
Scotland's chief scientist is calling on Scottish universities to apply for funding for a portfolio of Covid-19 research drawn from the best ideas from research investigators in their institutions that will inform clinical practice and policy in dealing with COVID-19. Studies can start immediately on award of funding and must be completed within 3 – 6 months. Grants of up to £1.25 million are available. Application deadline: April 8.
12:57 CET, 01 April: Pakistan

launches quick response research programme

 
Pakistan's Higher Education Commission has launched a programme supporting applied research in areas including disease surveillance and epidemiology, and in the rapid development and commercialization of products and services that will help the country control COVID-19. On the product side, the commission is interested in promoting domestic manufacturing of low cost equipment and materials, including diagnostics, ventilators and personal protective equipment. Universities, technologists and researchers are invited to submit proposals. Projects will last for six months or one year, with maximum funding of €82,500. Application deadline: April 3.
10:02 CET, 01 April: Argentina

puts US$5M into

coronavirus research
Argentina's National Agency for Scientific and Technological Promotion has announced a USD$5 million fund for COVID-19 research. Up to $100,000 is available for each project. Application deadline: 10 April.
15:45 CET, 31 March: 

Botnar research centre

launches fast track call for COVID-19 research
The Botnar Research Centre for Child Health is calling on its four partner institutions, the University of Basel, ETH Zurich, University Children's Hospital Basel and the Swiss Tropical and Public Health Institute, to submit proposals for short-term projects to develop diagnostics, increase understanding of the human immune response to COVID-19 and improve treatment and clinical management of patients infected with the virus. Awards of up to CHF2.5 million (€2.3 million) are available. Application deadline: 8 April.
15:34 CET, 31 March: 

Austrian Science Fund

sets up fast track for

interdisciplinary

coronavirus research
The Austrian Science Fund (FWF) is calling for scientists in the country to submit project proposals for multidisciplinary research in COVID-19, which will be funded within its existing programmes, but assessed in a new fast track procedure. The fast track is open to proposals that deal with the prevention, early detection, containment, causes and effects of epidemics and pandemics such as COVID-19. This includes research focussed on the technical, ecological, economic, political, legal, medical, cultural, psychological, or ethical implications. Application deadline: 30 September.
15:24 CET, 31 March: 

Irish SME

wins

€1M

Horizon 2020 grant

for

COVID-19 diagnostic
The European Commission has selected Irish diagnostics specialist Hibergene to lead the 18th project to be awarded funding under its fast track programme to tackle the coronavirus outbreak. The €1 million project, 'HG nCov19 test' aims to develop and validate a rapid molecular diagnostic test for COVID-19. The award brings the total of COVID-19 funding from Horizon 2020 to €48.5 million.
14:05 CET, 31 March:

UK foundation offers £65,000 grant for COVID-19 research
The British Medical Association Foundation for Medical Research is offering a £65,000 grant to fund COVID-19 research. Eligible candidates are medical practitioners or research scientists based in UK. Application deadline: April 3
13:42 CET, 31 March:

UK government Techforce 19 to fast track apps for elderly and self-isolating 
The UK government has launched Techforce 19, an assisted living programme offering up to £25,000 grants to technology companies to speed the introduction of products that support the elderly and those in need during the COVID-19 outbreak. Application deadline: April 1.
13:32 CET, 31 March:

La Caixa Foundation to fund clinical and translational projects on COVID-19
Spain's La Caixa Foundation has issued a call for research projects to prevent, treat, monitor and diagnose coronavirus infections. The money is for research carried out by public or non-profit entities, including universities, research centres and hospitals. Grants of up to €300,000 per project, for a maximum of 24 months, will be awarded. Application deadline: 15 April.
13:17 CET, 31 March:

Portugal launches €3M call for data science and AI to help with COVID-19 crisis
The Portuguese Foundation for Science and Technology (FCT) is looking to fund projects using data science to improve the response of public bodies to COVID-19 and future pandemics. The scope covers processing, analysing and presentation of data to provide information for citizens and healthcare services that will enable them to better prepare for pandemics. Another objective is to optimise best practices for public health and improve the general public's compliance with control measures. A total of €3 million is available, with maximum grants per project of €240,000. Application deadline: 28 May.
13:00 CET, 31 March:

Canada to provide €8.8M for diagnostics and medical countermeasures
The National Research Council of Canada (NRC) is setting up a €8.8 million rapid front-line fund to address challenges posed by the coronavirus. The "Pandemic Response Challenge Programe" will focus research on rapid detection and diagnosis; therapeutics and vaccine development; and digital health. The NRC is inviting researchers at Canadian and international universities, government departments, colleges, and companies, to give apply their expertise to plug the gaps in COVID-19 research.
10:57 CET, 31 March: Polish science agency offers €2.2M top-up funding for basic COVID research
Poland's National Science Centre opened an "express" call for proposals for fundamental research "to understand the mechanisms of the SARS-CoV-2 coronavirus." The PLN10 million (€2.2 million) call, intended as a top-up to researchers already working in the field, will be mainly for research into how the virus works, how to protect against the disease, and the social and psychological effects of the pandemic. Deadline for applications is 14 April, with awards promised in early May.
14:42 CET, 30 March: 

Consortium including Karolinska Institutet awarded €3M

as part of Horizon 2020 special fund for coronavirus research
DNA manufacturing specialist, Cobra Biologics and the Karolinska Institutet announced they were awarded €3 million as one of 17 COVID-19 projects funded by Horizon 2020. The funding will be used for preclinical research and a phase I clinical trial of a DNA vaccine, to be developed by the Opencorona consortium. The first human trials will take place in 2021.
14:08 CET, 30 March: 

Canada approves funding of 49 COVID-19 research projects
The Canadian Institutes of Health Research published details of 49 projects in which it is investing CA$25.8 million (US$18.2 million) of the CA$275 million in extra funding dedicated to COVID-19 research announced on 11 March. The projects are focused on aspects of controlling the pandemic, including clinical management, development of vaccines and diagnostics, the transmission dynamics of the virus, and social and policy countermeasures.
11:52 CET, 30 March: E

uropean Open Science Cloud offers €45K grants

for COVID-19 projects
The European Open Science Cloud (EOSC) has launched a fast track call for projects that use its resources and open and trusted environment for data sharing, to respond to the COVID-19 emergency. This will include projects that open up scientific data on the virus; share live on-the-ground data on the spread of the virus; work on the development of software, standards and processes for monitoring COVID-19 treatments; and access and combine data to help control COVID-19 and learn how to deal with similar viruses and future outbreaks. EOSC says it will evaluate applications weekly, promising a swift response. 
11:30 CET, 30 March:

Facebook founder to give

 $25M

to

COVID-19 Therapeutics Accelerator
Mark Zuckerberg and his wife Priscilla Chan are donating $25 Million to the $125 million COVID-19 Therapeutics Accelerator fund set up earlier in March by the Bill and Melinda Gates Foundation, the UK Medical research charity Wellcome Trust and credit card company Mastercard. The fund aims to accelerate development of drugs to treat COVID-19 by speeding up evaluation of new and repurposed drugs and biologics to treat the coronavirus.
10:50 CET, 30 March: 

Global tech hackathon

aims

to combat COVID-19
The global tech community is calling for people to join an online hackathon to share and rapidly develop ideas for dealing with the socio-economic crisis caused by COVID-19 and increase resilience in its aftermath. From an initial event in Estonia, the 'Hack the Crisis' hackathon has rapidly grown into a worldwide movement that will culminate in the 'Global Hack'. Countries including Turkey, France, Poland, India, Brazil and Australia, have organised 'Hack the Crisis' events.
16:28 CET, 27 March: Norway issues €2.5M emergency call for collaborative projects
The Research Council of Norway launched a call to scientists in the country for research proposals to improve patient management and the national and international public health preparedness and response to the COVID-19 pandemic. Applicants are encouraged to work in cooperation with public and/or private sectors. The Research Council will provide between €85,000 -  €420,000 per project, with total funding of €2.5 million. Application deadline: 31 March.
16:16 CET, 27 March:

Publisher to pay fees for COVID-19 related social sciences research
Emerald Publishing has set up a £20,000 fund to cover publication fees for social sciences research relating to COVID-19 published on its open access platform. The UK company is interested in submissions focused on prevention and management, and on the impact of the coronavirus in healthcare systems.
16:02 CET, 27 March: Novo Nordisk Foundation

to invest €2.6M

on preparedness for emerging viral infections
The Novo Nordisk Foundation is calling for submissions for interdisciplinary research to strengthen the response and preparedness of Denmark to new epidemic viral infections by improving surveillance and early detection, epidemiology research, and national preparedness. There are no restrictions on the locations of research groups, but the lead applicant must be located in Denmark. A total of DKK20 million (€2.6 million) is available for two grants of up to DKK10 million. Application deadline: 4 June.
13:58 CET, 27 March: Japan

launches fund to promote new approaches to emerging diseases

research
Japan's Agency for Medical Research and Development wants to look outside traditional fields to find new approaches to dealing with COVID-19 and other emerging infectious diseases. The agency is looking for proposals that involve technology transfer from outside the biomedical field and which foster multidisciplinary research. The call is divided between two research areas. In the first, the agency aims to develop platform technologies for mounting an emergency R&D response to any emerging infectious disease. The second area of research is dedicated to the discovery and development of diagnostics and therapeutics. Application deadline: 13 April.
12:05 CET, 27 March: Portugal

launches €1.5M rapid response fund against COVID-19
Portugal's Foundation for Science & Technology has set up a dedicated fund 'Research 4 COVID-19'  to back the rapid implementation of R&D projects to tackle the virus. The purpose is mainly to support ongoing initiatives that are relevant to controlling COVID-19 infections and retargeting R&D projects to respond to the needs of the National Health Service. At the same time, the foundation said it will mobilise scientists in the country to take part in open data projects to address the COVID-19 crisis. The maximum funding for each project is of €30,000, with a total budget for the fund of €1.5 million. Application deadline: 5 April.
11:54 CET, 27 March: PRACE

opens up supercomputers for COVID-19 research
The EU-backed Partnership for Advanced Computing in Europe (PRACE) has launched a fast track call for proposals from academic and industry researchers needing access to high performance computing resources to model COVID-19 and its impact. The scope includes mapping the spread of the coronavirus, tracking mutations and the evolution of the virus, developing therapeutics and vaccines, studying infection mechanisms and analysing the impact of the pandemic. Computing resources are available in France, Germany, Italy, Spain and Switzerland. PRACE says there will be a fast track review process with applications reviewed in one week, to provide swift feedback to applicants.
17:31 CET, 26 March: Irish Centre for Artificial intelligence

offers

a hand in

controlling

COVID-19
CeADAR, Ireland's National Centre for Applied Data Analytics and Machine Intelligence, is offering its AI expertise to help companies, government agencies, medical centres and research charities develop AI tools to help track the virus and monitor compliance of the general public. The centre can help organisations with large data sets to apply machine learning techniques. Email CeADAR at: cv19@ceadar.ie.
17:21 CET, 26 March: South Africa invests an additional R30 million

in

COVID-19 research
The South African Department of Science and Innovation said it will invest R30 million (€1.6 million) in a variety of COVID-19 research projects.  Among these projects, the Centre for Epidemiological Modelling and Analysis is creating a model to track and slow the spread of the coronavirus, while science minister Blade Nzimande, said the department is working with several partners to evaluate the efficacy of repurposed drugs in treating COVID-19 patients. The announcement of additional funding for research comes after the decision to put South Africa on lockdown for three weeks, starting today at midnight.
13:09 CET, 26 March: 

Countries link up to coordinate COVID-19 research
European Commissioner for Youth and Innovation, Mariya Gabriel and science ministers from 14 countries linked up in a conference call on Wednesday to exchange information on ongoing scientific projects on COVID-19. Countries on the call included Australia, Brazil, Canada, France, Germany, India, Italy, Spain, Japan, New Zealand, South Korea, Portugal, Singapore and the UK.
The 14 countries have signed a declaration to open up access to all the information published on the coronavirus. Participants also agreed on the urgent need to increase global production of protective equipment, respirators and diagnostic tests. In a discussion between Australia and Spain the two countries considered the possibility of circumventing patents, to accelerate licensing processes and the transfer of technology, so as to quickly manufacture certain products worldwide.
11:40 CET. 26 March: Open

innovation network aims to match COVID-19 research initiatives with user needs  

 
The open innovation network Innoget has launched a page dedicated to COVID-19, listing technologies and research initiatives that could mitigate the pandemic, including innovation in areas such as rapidly deployable ventilators, technologies for discovering and developing treatments and therapeutics, and technologies to track and slow the pandemic. These will be disseminated to Innoget members, ranging from hospitals, research institutes, scientists, businesses, and public administrations, which are working to control the coronavirus.
19:40 CET, 25 March: US Biomedical authority issues call for COVID-19

R&D
The US Biomedical Advanced Research and Development Authority is calling for projects in COVID-19 diagnostic assays, screening, model development, vaccines and advanced manufacturing. The total amount of funding that can be awarded will be less than $750,000.
Application deadline: 30 June 2020.
19:30 CET, 25 March: 

COVID-19

infects

EU energy and climate policies
The Centre on Regulation in Europe (CERRE) outlines five ways in which COVID-19 could knock EU energy and climate policies off-track in a new article. The effects are being felt now, with the EU Emissions Trading System already exposed, as the carbon price fell to its lowest level since November 2018. The EU Green Deal plan needs to adapt to new circumstances, says Máximo Miccinilli, CERRE Energy Director.
15:04 CET, 25 March: US Department of Energy

wants suggestions for how it can help beat COVID-19
The Office of Science at the US department of Energy (DOE) is asking for suggestions on how its resources could be applied to COVID-19 research. For example, it has supercomputing facilities that could be used for the study of virus-host interactions, for predictive modelling on viral stability and for resolving key viral drug targets. Research applications will be reviewed on an ongoing basis.
13:53 CET, 25 March:

US

d

rug

a

buse

agency

calls

for

research proposals on COVID-19
The US National Institute on Drug Abuse (NIDA) issued a call for research on collecting and examining data on the risks and outcomes of COVID-19 infection in people with substance use disorders. NIDA says there is an urgent need to understand if substance use, such as smoking tobacco or marijuana, vaping, opioids and other drug use, is a risk factor for the progression of COVID-19. Grants of up to $100,000 per year will be awarded to cover direct costs. Applications will be accepted on a rolling basis starting on 31 March.
13:00 CET, 25 March: US association

to

fund

research on

im

pact

of COVID-19

on cardiovascular health
The American Heart Association launched a call for research proposals that will contribute to understanding, diagnosis and clinical management of exacerbations of cardiovascular disease that are caused by COVID-19  infections. Grants of up to $100,000 will be awarded to selected projects. One grant recipient will be chosen to set up a COVID-19 coordinating centre, which will help coordinate communication between awardees, establish collaborations where needed, and coordinate the findings of research teams. An additional award of up $150,000 will be available to set up the centre. Application deadline: 6 April.
12:00 CET, 25 March: Austria to invest €21M in COVID-19 industry research
The Austrian Federal Ministry for Digital and Economic Affairs and the Austrian Federal Ministry for Climate Action, Environment, Energy, Mobility, Innovation and Technology are together investing €21 million in coronavirus-related business R&D. Contact the Austrian Research Promotion Agency, FFG for details. Proposals are due on April 8, 2020, for fast decisions, or May 11, 2020.  Click here for more information about the emergency call.
11:37 CET, 25 March: 

UK

research organi

s

ation launch

es

COVID-19 research

call
The British Society for Antimicrobial Chemotherapy announced a COVID-19 funding call to support research to better understand and address the outbreak. Successful projects will receive grants of up to £25,000, with the possibility of exceptional grants in excess of £25,000. The funding call covers new projects and the extension of existing research projects in the area of infectious diseases. Application deadline: 17 April.
11:30 CET, 25 March: University hospital Ghent and VIB tes

t drugs

to treat COVID-19 respiratory illness
The Vlaams Instituut voor Biotechnologie (VIB) and University Hospital Ghent have started a study testing Leukine, an inhaled formulation of an approved drug, developed by the US company Partner Therapeutics, in the treatment of patients with respiratory illness associated with COVID-19. Debasish Roychowdhury, chief medical officer at Partner, said the drug could help clear infection, boost the immune system and repair damaged tissues. The drug is already in phase II and III randomized trials in other lung infections.
10:44 CET, 25 March: Government science advisors postpone global conference
The International Network for Government Science Advice postponed its annual meeting in Montreal to 18-21 April 2021 – seven months later than planned. The group, a club for government scientific advisors around the world, is also setting up an online hub to gather COVID-19 policy developments and expects to mount an online conference about it 15-16 September this year.
10:30 CET, 25 March: US National Institutes of Health announce

s

grants for novel coronavirus
The National Institute of Allergy and Infectious Diseases is offering grants for research to better understand COVID-19. There is a particular interest in viral natural history, pathogenicity, transmission, projects to develop medical countermeasures and suitable animal models for pre-clinical testing of vaccines and therapeutics. Application deadline: February 6, 2021.
18:39 CET, 24 March:

MedFIT 2020 postponed
The organisers of MedFIT 2020, the medical devices conference due to start on 30 June in Grenoble, said the event has been postponed to 15 September. Delegates will be able to use their pre-booked passes and exhibition stands on the new date.
17:39 CET, 24 March:

UK postpones research excellence assessment
The Research Excellence Framework, the massive four-yearly exercise by which university departments in the UK are ranked on the quality and impact of their research, has been put on hold. In an update released by REF it said the submission deadline on 27 November no longer applies. A new deadline will be set later, once the situation around COVID-19 is clearer.
17:21 CET, 24 March: 

German Research Foundation to

fund research on impacts of

the

pandemic
The German Research Foundation announces a multidisciplinary funding opportunity to investigate the impact of epidemics and pandemics, such as SARS-CoV-2.  Eligible researches should be based in Germany or work at a German research institution abroad. Application deadline: September 1.
17:20 CET, 24 March: LifeArc to join in the fight against COVID-19 with an initial £10M
LifeArc accepts applications from academics, National Health Service employees or companies to develop COVID-19 therapeutics. Application deadline: April 6.
16:35 CET, 24 March: European D

iscovery

trial to evaluate four treatments for COVID

-

19
A clinical trial involving 3,200 patients in eight countries in Europe with severe COVID-19 infections, has been launched by the French national health research agency Inserm, to test four potential treatments for the coronavirus.  
French researchers analysed data from the scientific literature on SARS and MERS coronaviruses and the first publications on COVID-19 from China, to draw up the list of antiviral drugs to be tested. The four are also classified as top priorities for clinical testing by the World Health Organization. The trial has an adaptive design, which means any drugs that are not effective can be dropped from the study, and can be replaced by compounds emerging from the huge international effort that is going into discovering new therapies.
The French arm of the study, in which 800 patients hospitalized with COVID-19 infections will be treated, is funded by the French Ministries of Higher Education, Research and Innovation and Health and Solidarity (MSS), with the support of EU research projects that are funded by the Innovative Medicines Initiative.
Study sites will also  be set up in Belgium, Germany, Luxembourg, the Netherlands, Spain, Sweden, and the UK, with site selection being influenced by the course of the epidemic.
16:30 CET, 24 March: ERC lists 39 grantees doing COVID-19-related research
The European Research Council has published a list of 39 of its grantees across Europe who are doing frontier research in virology, epidemiology and other topics now relevant to COVID-19. Some, including Vittoria Colizza, a computational epidemiologist at France's national health research agency INSERM, are also among recipients of the European Commission's emergency COVID-19 research grants, announced 20 March.
16:04 CET, 24 March: GÉANT conference cancelled due to COVID-19 crisis
GÉANT, the pan European network connecting 39 national research and education establishments across Europe, announced it is cancelling its annual Conference TNC20, due to be held in Brighton UK, June 8 - 12. While many other conferences are being held in virtual mode, such as this week's BioEurope Spring, which was to have been in Paris, GÉANT has decided against using its extensive networks for this, because of the surge in demand for its services from institutions and schools that have been forced to switch to remote teaching and learning.
15:46 CET, 24 March: 

Ireland

announces fast funding of

research in response to COVID-19 outbreak
The Irish Health Research Board has launched a rapid response mechanism to fund research that will provide evidence to inform national and global efforts to deal with the virus outbreak. The scope of the funding call covers medical countermeasures, health service readiness, and social and policy countermeasures against COVID-19. The Health Research Board in partnership with the Irish Research Council will allocate up to €200,000 funding for up to two years. Application deadline: April 6.
15:19 CET, 24 March: Money from US National Science Foundation to model COVID-19 spread
The US National Science Foundation is offering up to €200,000 for proposals to conduct "non-medical, non-clinical-care research" that can be used immediately to better understand how to model and understand the spread of COVID-19; to inform and educate about the science of virus transmission and prevention; and to encourage the development of processes and actions to address this global challenge. There is no deadline. For any questions about submissions, email: rapid-covid19@nsf.gov.
14:30 CET, 24 March: French National Agency for Research

(ANR) launches

€3M

flash fund
The French National Agency for Research announced a flash COVID-19 call with an accelerated evaluation and selection process for institutes, organisations and companies to apply for grants to carry out work focussed on the four priorities areas of COVID-19 research set out by the World Health Organisation.
Meanwhile, in light of the COVID-19 crisis, ANR said the deadlines for a number of calls for proposals related to other research have been postponed to give scientists more time to submit their proposals.
14:15 CET, 24 March: Australian government to accelerate COVID-19 therapeutics with A$13 million
The government announces A$13 million (€7 million) for research into coronavirus treatments. There will be an award of A$8 million for the development of antiviral therapies and A$5 million for better treatment and management of patients.
13:15 CET, 24 March: CEPI

awards

$4.9M

to

vaccine research consortium led by Institut Pasteur
The Coalition for Epidemic Preparedness Innovations (CEPI) has kicked-started its eighth COVID-19 project in an agreement with a consortium led by the Institut Pasteur. Other partners include the University of Pittsburgh and the Austrian biotech Themis, with which the Institut Pasteur has collaborated on developing other vaccines, including against MERS and Lassa fever.
The consortium will receive an initial $4.9 million from CEPI, to support preclinical testing and initial manufacture, to lay the ground for phase I studies in human volunteers. The project will use an inactivated measles virus to deliver COVID-19 antigens directly to the compartment of the immune system capable of inducing a protective response.
Since putting out its first call for proposals in February, CEPI has invested $29.2 million in COVID-19 vaccine R&D, with partners including Curevac, Moderna and Oxford University.
12:18 CET, 24 March: UK government

to

invest £10.5M in 6 coronavirus projects
The UK government announced awards, worth £10.5 million, for six rapid response projects to address the COVID-19 emergency. Among the six projects, two will focus on pre-clinical and clinical vaccine trials, including vaccine manufacturing at a million-dose scale.
Other projects aim to repurpose existing drugs to treat coronavirus patients, develop antibodies that target the virus and identify people with high risk infection. These awards are the first to be announced from a £20 million funded dedicated to R&D related to the coronavirus.
11:25 CET, 24 March: Novartis commits

$

2

0M

to respond to COVID-19 pandemic
Novartis is to provide $20 million (€18 million) to communities feeling the impact of the COVID-19 pandemic. Grants will be awarded to strengthen healthcare infrastructure, launching of digital platforms and support community health programmes.
21:45 CET, 23 March: CDC launches $10M call to research COVID-19 transmission and diagnostics
The US Centers for Disease Control and Prevention launched a call for proposals to study transmission dynamics, host infection dynamics and diagnostic testing capabilities of COVID-19. Eligible candidates are educational institutions, nonprofit organisations, not for profit organisations, state and local government, and private industry for research and development. Non-US citizens may participate, pending the CDC Foreign Disclosure Officer permission. Applications deadline: 25 March
19:20 CET, 23 March: New UCL study suggests

need for

stronger suppression measures from UK government
A University College London (UCL) study estimated the current strategy to slow the spread of coronavirus could lead to at least 35,000-70,000 excess deaths over one year. Findings of the study shows stronger suppression measures are needed and more efforts should be made to identify high-risk groups. Lead author of the paper, Amitava Banerjee, urges the government to be transparent about how extremely vulnerable groups are identified.
According to Banerjee, current models to predict deaths from COVID-19 did not take into account of all people with underlying health conditions. The UK government identified up to 1.5 million people, or 2.7% of the UK population, as being at higher risk of severe illness if they contract coronavirus, who should stay at home to protect themselves. However, the UCL team observed that at least 20 per cent of the UK population has one of the underlying conditions that put them at risk for severe COVID-19 infection.
18:30 CET, 23 March: Novo Nordisk launches DKK50M call for COVID-19 research and mitigation
Denmark's Novo Nordisk Foundation said it has budgeted DKK50 million [€6.6 million] to fund research and mitigation strategies on COVID-19. It said the money can be used, in grants of up to DKK 5 million [€660,000] each, for scientific research on "new treatments, techniques / technologies or preventative measures"; initiatives to inform the general public; or measures to help socially vulnerable groups. Application deadline: 18 June.
17:55 CET, 23 March: ETH Zurich to 'drastically cut back' research
ETH Zurich is reducing activities which require physical presence to "an absolute minimum", said ETH President Joël Mesot. The Swiss university will switch to emergency operation, maintaining only essential activities on campus. All research not related to COVID-19 will be cut back.
16:45 CET, 23 March:

KTN

asks academics and companies to join hackathon against COVID-19
The UK Knowledge Transfer Network (KTN), a government-funded body that promotes links between universities and companies, is calling on businesses, data scientists and biomedical researchers in the UK and beyond to participate in the hackathon, "CoronaHack – AI vs. Covid-19", to share ideas on how to apply artificial intelligence to control and manage the COVID-19 pandemic.
There is an urgent demand for technologies, ranging from providing intensive care and rapid training and education of healthcare personnel, to supporting people who are self-isolating or working from home. The KTN says addressing these needs requires multi-disciplinary collaborations, with artificial intelligence (AI) being one part of the answer.  
15:35 CET, 23 March: UK government to invest £20M in

intensive

sequencing

of

coronavirus

genomes
The UK government announced it is to invest £20 million in the Covid-19 genomics consortium, a new genome sequencing initiative to track the evolution of the virus by sequencing multiple samples from patients with confirmed COVID-19 infections.  The aim is to better understand the spread of the coronavirus and how it is mutating over time.
There is already a global effort to track how the virus is changing as it passes from one human host to another on nextstrain.org, which has been collecting viral genome sequences since 20 January. It now has 885 sequences from around the world, including 89 from the UK.
13:20, CET, 23 March: New academic website

details

COVID-19's pressure on EU healthcare
A new project has been launched online, sharing data and studies about how the coronavirus is putting pressure on European healthcare systems.
Comparing the number of deaths and active cases in Italy as of 11 March, the contributors have estimated how an Italian scenario would put pressure on a variety of European healthcare systems. Using the Eurostat database, key factors were considered, such as the number of hospital beds and doctors, as well as healthcare expenditure, for each European country.  
The study is funded through the European Commission's Epipose project, which aims to provide evidence to back the clinical and public health response to the epidemic.
9:55, CET, 23 March: VUB engineers tackle imminent shortage of ventilation equipment
A team of engineers at Vrije Universiteit Brussel's FabLab Brussels have started building and testing an artificial ventilator for critical COVID-19 patients. They started from a design by MIT, extended with sensors based on specifications from researchers at Johns Hopkins University and the UZ Brussel. Large-scale production is still premature. Researchers will establish in the coming days and weeks whether the devices can actually be used in hospitals.
17:14 CET, 21 March: Spanish Government enlists the help of robots to boost its coronavirus testing
Raquel Yotti, director of the Carlos III Public Health Institute, confirmed during the press conference of the Government's Coronavirus Technical Management Committee that the government plans to acquire four robots which could bring the daily number of tests to 80,000 (compared to 15,000-20,000 a day at the moment).
16:40 CET, 20 March: 

Swiss biopharmaceutical company postpone

s

multiple sclerosis trial
GeNeuro, a company focused on neurodegenerative and autoimmune diseases, announced it is postponing a phase II trial of its treatment for multiple sclerosis. The trial, due to be held at the Karolinska Institutet, will be delayed to allow the hospital to prioritise its resources for COVID-19 patients, and to assure the safety of multiple sclerosis patients.
15:45 CET, 20 March: 

ESOF postponed until September
EuroScience has postponed its biennial EuroScience Open Forum (ESOF) from 5 July to 2 September due to the coronavirus crisis. The organiser said the conference will take place, as planned, in Trieste, Italy. By September, EuroScience will make teleconferencing available and amplify sessions about public health and environment topics. ESOF is an interdisciplinary meeting on Science and Innovation in Europe, bringing together scientists to think about their practices and roles in society.
15:10 CET, 20 March: Spanish Antarctic science mission to return home ahead of schedule due to coronavirus crisis
The two Antarctic bases Juan Carlos I and Gabriel de Castilla have been closed a week ahead of schedule because of the coronavirus outbreak. The research vessel Hespérides, in charge of mapping oceanic activity, will try to disembark its 37 civilian and military passengers in Brazil, to fly back to Spain. The Spanish Antarctic campaign, financed by the Ministry of Science and Innovation, is comprised of 13 scientific projects, promoting cooperation between public and private institutions of R&D.
15:00 CET, 20 March: UK government publishes scientific evidence supporting its response
The Scientific Advisory Group for Emergencies (SAGE), relying on expert group guidance, has been giving advice to the UK government on how to handle the coronavirus crisis. The joint statements and evidence cover a wide scope of research fields, such as behavioural science, social interventions, impact of self-isolation and insights on mass gatherings. Imperial College London also contributed to the advice, with reports about transmissibility and severity of COVID-19.
14:04 CET, 20 March: 

A map of global countermeasures compiled by Olivier Lejeune, Analyst at the International Energy Agency (IEA)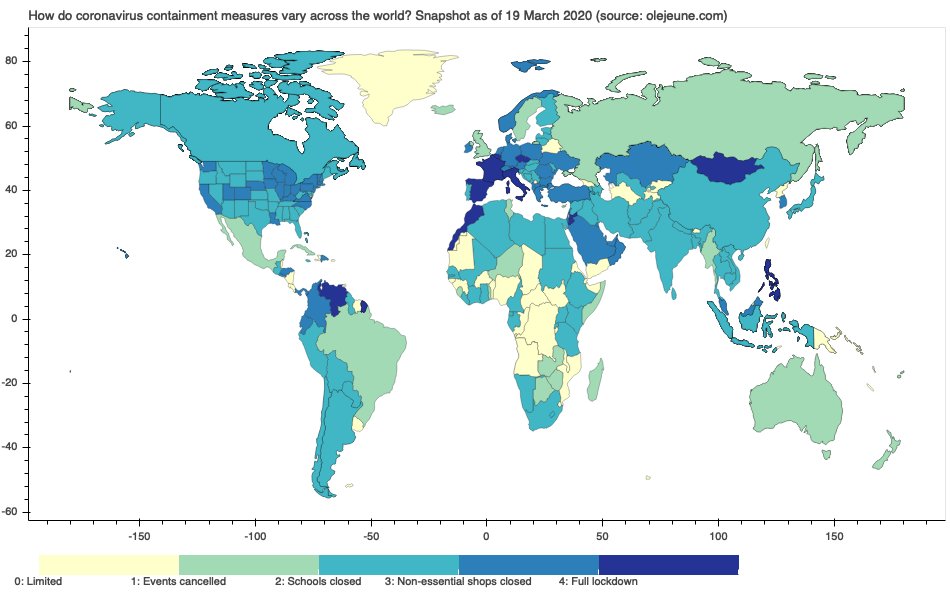 12:30 CET, 20 March: 

LERU calls for extended deadline on health work programme
The League of European Research Universities (LERU), an association for research-intensive universities, urged the European Commission to extend deadlines on the health, demographic change and well-being Work Programme. Funded through Horizon 2020, this call aims to promote healthy and active ageing. Kurt Deketelaere, Secretary General of LERU, called upon Research Commissioner Mariya Gabriel to extend the deadlines for the calls until 15 June 2020, saying "many potential beneficiaries are now highly occupied by their clinical jobs" treating patients.
19:45 CET, 19 March: UK introduces an Emergency Coronavirus Bill to the Parliament
The Bill enables action in 5 key areas: Increasing the available health and social care workforce; Easing the burden on frontline staff; Containing and slowing the virus – by reducing unnecessary social contacts;  Managing the deceased with respect and dignity – by enabling the death management system to deal with increased demand for its services; Supporting people – by allowing them to claim Statutory Sick Pay from day one, and by supporting the food industry to maintain supplies.
Detail of the Bill can be found here and you can view the Bill itself here.
18:30 CET, 19 March:

EU to set up €50 million medical equipment stockpile
The European Commission is to create its first ever common reserve of emergency medical equipment, with an initial budget of €50 million, of which €40 million is still subject budgetary approval. One or more member states can submit bids to host stockpiles and would be in charge of procuring the equipment.
Named the "rescEU stockpile", the reserve would include intensive care medical equipment such as ventilators, reusable masks, vaccines, therapeutics, and laboratory supplies. rescEU is part of the EU Civil Protection Mechanism, a joint effort by EU member states and six other countries in Europe to prepare and respond to disasters.
17:00 CET, 19 March: 

COST open call to be postponed until October 2020
COST, an EU-funded programme that supports cross-border networking in research and innovation, said it is postponing the deadline for an open call for proposals from scientists, due to the coronavirus. It also suspended from 13 March all physical meetings and short-term scientific missions. The call deadline has been postponed to 29 October instead of 29 April, so researchers will have more time to develop their proposals.
15:00 CET, 19 March:

Nature study estimates clinical severity of COVID-19 in Wuhan
A Nature Medicine paper based on publicly available data shows that, as of 29 February, the probability of dying after developing symptoms of COVID-19 in Wuhan is 1.4 per cent. The number is significantly lower than the confirmed case fatality risk of 4.5 per cent. The study also estimates those infected aged below 30 were 0.6 times more likely to die after developing symptoms. Infected people above 59 years were 5.1 times more likely to die.
11:00 CET, 19 March: Washington sets up AI library for COVID-19 researchers
The US government launched a big database of published research on COVID-19, to "to come together as companies, governments, and scientists and work to bring our best technologies to bear across biomedicine, epidemiology, AI, and other sciences". The COVID-19 Open Research Dataset (CORD-19) is addressed to the world's artificial intelligence experts to develop text and data mining tools for coronavirus research. The initiatives involves Allen Institute for AI, Chan Zuckerberg Initiative (CZI), Microsoft, and the National Library of Medicine, and it is coordinated by Georgetown University. Kaggle, a Google subsidiary, and a data science company, announced a reward for those with best contributions.
19:15 CET, 18 March: 

Synairgen announces rapid COVID-19 trial
Respiratory diseases specialist Synairgen has received expedited approval from the UK Medicines and Healthcare products Regulatory Agency (MHRA) for a pilot trial of its lead product SNG001 in 100 patients who have been hospitalized with severe COVID-19 symptoms. SNG001, an inhaled formulation of naturally-occurring beta interferon, is intended to activate antiviral immune reactions in the lung. The product is being tested in COVID-19 patients after showing a positive effect in asthma and in treating exacerbations of the lung disease chronic obstructive pulmonary disorder. "We have worked intensively with the relevant authorities and collaborators to enable SNG001 to be assessed in COVID-19 patients. SNG001 has been well tolerated in clinical trials in over 200 respiratory patients to date and has accelerated lung function recovery in two Phase II asthma trials in patients with a cold or flu infection," said Richard Marsden, CEO of Synairgen.  
19:00 CET, 18 March: 

Swiss biotech company put

s

Parkinson's disease drug on hold due to coronavirus
Addex Therapeutics announced today it is postponing a clinical trial in Parkinson's disease patients. The decision has been taken due to these patients being one of the highest risk category for severe COVID-19, and because the clinical sites that were due to conduct the study have been told to not to start any new trials. "We care about the well-being of all PD patients and do not wish to have them make the additional visits to doctors' offices that are required in a clinical study, putting them at increased risk of contracting COVID-19," said Roger Mills, chief medical officer of Addex.
18:00 CET, 18 March: EIC extends deadline for COVID-19 €164 million call
The European Commission has announced a new deadline for the EIC accelerator call for startups and SMEs working on treating, testing, monitoring or other aspects of the Coronavirus outbreak. The new deadline is 20 March at 17:00. With a budget of €164 million, this call is "bottom up", meaning there are no predefined thematic priorities and applicants with Coronavirus relevant innovations will be evaluated in the same way as other applicants. The initial deadline was 18 March.
16:45 CET, 18 March: New UCL study shows shortness of breath is key predictor for severe COVID-19
A new systematic review and meta-analysis from University College London could help to inform public health and clinical management strategies, through the prioritisation of those at highest-risk of severe illness with COVID-19. The findings show that patients presenting shortness of breath and chronic obstructive pulmonary disease are the most likely to have severe COVID-19 and admission into intensive care units.
13:50 CET, 18 March: 

Poland's science funder promises leniency on submissions; recommends against foreign travel
The National Science Centre in Poland says that annual reports for research projects and post-doctoral fellowships must be submitted by agreed dates.
However, the funder promises leniency for those affected by coronavirus.
In addition, the Centre recommends that scientists reconsider any trips to research labs outside of the country.
13:40 CET, 18 March: 

Sweden's innovation agency vows to carry on in face of coronavirus
Vinnova, Sweden's innovation agency, has said it will not let coronavirus affect its core activities.
"Our calls for proposals and decisions on funding of research and innovation proceeds as usual," the agency says on its website.
Most of Vinnova's employees will work from home until further notice, however, with the majority of agency meetings moving online.
13:30 CET, 18 March: 

Commission: airlines must reimburse or re-route cancelled flights
The European Commission issued guidelines to airlines "to ensure EU passenger rights are applied in a consistent manner across the EU." It said if an airline cancels a flight, it "must reimburse or re-route the passengers." If the passengers cancel their own journeys, then reimbursement depends on the ticket type, and airlines may issue vouchers.
12:50 CET, 18 March: 

China says Japanese flu drug "very effective" against COVID-19
Zhang Xinmin, head of the China National Center for Biotechnology Development said in a press conference that the antiviral drug Favipiravir was proven very effective in clinical studies conducted on 200 patients. "In view of the safety, obvious efficacy and availability of the drug, researchers have officially recommended favipiravir to medical teams and suggested it be included in the treatment plan as soon as possible," he said.
12:45 CET, 18 March: Spain approves up to €30 million for coronavirus research
A total of €30 million has been allocated by the Spanish government to research projects on coronavirus, with €24 million going to the Carlos III Health Institute (ISCIII). The institute will develop an urgent aid programme for projects that aim to generate knowledge about the infection. The National Center for Biotechnology at the Spanish National Research Council will get €4.5 million to study the new coronavirus and work on the development of vaccines.
18:05 CET, 17 March: Participant in Moderna's clinical trial receives first COVID-19 vaccine dose
US vaccine company Moderna has announced the first participant has been dosed in NIH-led Phase 1 Study using their COVID19 vaccine candidate. 
This Phase 1 study will provide important data on the safety and immunogenicity of mRNA-1273. Immunogenicity means the ability of the vaccine to induce an immune response in participants. The open-label trial is expected to enroll 45 healthy adult volunteers ages 18 to 55 years over approximately six weeks.
17:55 CET, 17 March: Commission president hopes EU funded vaccine to be ready 'before autumn'
The European Commission has offered of up to €80 million in financial support to the German biotech CureVac AG. "I hope that with this support we can have a vaccine on the market perhaps before autumn," said EU commission president Ursula von der Leyen. "This could save lives in Europe and in the rest of the world," she said. 
15:55 CET, 17 March: EIT staff banned from business travel
Most staff at the European Institute of Innovation and Technology (EIT) is now working remotely until further notice. "We are working hard to ensure our organisation remains fully operational and delivers full business continuity during this exceptional period," the EIT said in a statement.
EIT staff are barred from business travel, events or meetings, while visits to the EIT Headquarters in Budapest and the EIT Liaison Office are postponed or cancelled.
"We aim to not disturb the EIT's core activities though certain non-critical activities may need to be re-prioritised," the statement said.
15:50 CET, 17 March: 

Oxford team develops 

coronavirus mobile app for instant contact tracing
A team of medical research and bioethics at the Oxford University has provided European governments, including the UK, with evidence to support the feasibility of developing a contact tracing mobile app that is instant, could be widely deployed, and should be implemented with appropriate ethical considerations. The team recommends that the mobile application should form part of an integrated coronavirus control strategy that identifies infected people and their recent person-to-person contacts using digital technology.
15:45 CET, 17 March: Commission extends Erasmus+ deadlines
The European Commission has announced it will extend deadlines for Erasmus+ strategic partnerships and for the Erasmus charter for higher education. 
The commission recommends authorities in member states to invoke force majeure clauses that would enable them to postpone planned activities in the EU's exchange programme Erasmus+ and to increase costs incurred by the outbreak. Many participants are unable to travel to other countries, while others are unable to return home from host institutions abroad.
15:40 CET, 17 March: Scottish company announces new programme for COVID-19 treatment
Pneumagen Ltd, focused on treating infectious disease and oncology by targeting the human glycome, today announced it has initiated a new programme to prevent and treat coronavirus COVID-19 infections using its first-in-class Carbohydrate Binding Modules (mCBMs), generated using its proprietary GlycoTarge™ platform.
15:20 CET, 17 March: Public Health England orders Novacyt tests worth £1.0 million
Following the completion of Public Health England's (PHE) formal evaluation of Primerdesign COVID-19 test, as announced on 12 March 2020, the government agency has started ordering the test. Orders are initially for eight hospitals to provide stocks in those locations for four weeks of planned testing. The total value of the initial purchase is approximately £1.0 million (€1.1 million), which is the single largest order the developing company Novacyt has received to date for its COVID-19 test.
15:00 CET, 17 March: Belgian lab achieves important milestone in the development of a COVID-19 drug
Earlier this year, the lab of Xavier Saelens (VIB-UGent) announced the discovery of a unique antibody that is capable of binding the virus that causes COVID-19 (SARS-CoV-2). The antibody was developed in collaboration with two research groups in the US.
The team has now established that the antibody can neutralize a lab variant of the virus, an important step forward in the development of a potential antiviral drug against the new coronavirus.
14:31 CET, 17 March: Novartis joins R&D efforts with Bill & Melinda Gates Foundation, Wellcome, and Mastercard
Novartis is to join collaborative R&D efforts with the Bill & Melinda Gates Foundation, Wellcome, and Mastercard -supported COVID-19 Therapeutics Accelerator and a partnership with the Innovative Medicines Initiative (IMI).
"Recognizing the power of working together as an industry, we are also bringing the talent and capabilities of our industry-leading R&D organization to two leading and important collaborative R&D initiatives," said CEO Vas Narasimhan. 
14:26 CET, 17 March: Finnish universities start moving courses online
The University of Eastern Finland will close its campuses and moves all teaching online, in accordance with the instructions issued by the Finnish Government on 16 March. All facilities of the University of Eastern Finland are closed as of today.
14:25 CET, 17 March: South Africa announces coronavirus research funding 
South Africa's Department of Science and Innovation (DSI) has redirected R4 million (€219,000) from some of its projects to research on COVID-19. The Department is supporting local research that will focus on surveillance, therapeutics and understanding the local epidemiology and natural history of the virus, which has infected in South Africa 62 people so far.
10:30 CET, 17 March: Imperial research prompts u-turn in UK public health strategy
Policy recommendations by researchers at Imperial College London has prompted the UK government to rethink its strategy against the COVID-19 outbreak. On Monday evening, prime minister Boris Johnson called on UK citizens to avoid non-essential contact and to avoid public spaces. "Now is the time for everyone to stop non-essential contact with others and to stop all unnecessary travel," Johnson said. 
The Imperial report used epidemiological modelling to predict outcomes of different combinations of containment strategies. The results show the UK should supplement its self-isolation measures by school and university closures.
09:35 CET, 17 March: Gabriel extends Horizon 2020 deadlines
EU commissioner for research and innovation Mariya Gabriel announced a deadline extension for proposals. All deadlines between 17 March and 15 April are postponed by one week.  due today. More information will be soon available on the EU's funding and tenders portal.
09:00 CET, 17 March: EIB to make extra funding available for cure and vaccine development
The European Investment Bank (EIB) will use its InnovFin Infectious Disease Finance Facility, to finance research on halting the spread of COVID-19, but also on cures and vaccine development. The funding is in addition to €40 billion in emergency funding to support the economy through the crisis. The EIB's current pipeline of projects in the health sector amounts to around €5 billion. 
EIB president Werner Hoyer said: "We will build on what we already do for the health sector. We are already in contact with companies and organisations seeking to fund the search for Covid-19 vaccines and medication. We are all living through trying times, and the EIB Group will work without pause to ensure the EU bank contributes to the rapid resolution of this terrible crisis."
18:44 CET, 16 March: 

EU promises more funding to CureVac for coronavirus vaccine development
The president of the European Commission Ursula von der Leyen and research commissioner Mariya Gabriel have promised German vaccine developer CureVac more EU funding, after media reports unveiled attempts by US president Donald Trump to secure exclusive distribution of CureVac's vaccine against COVID-19 which is still under development. "[It is] crucial to find [as soon as possible] the vaccine that will help the whole world," Von der Leyen said in a tweet.
16:35 CET, 16 March: University of Pisa waives interest fees for delayed tuition payments
"This epidemic is causing enormous difficulties for many families and it was imperative to do something," said rector Paolo Mancarella. "I had made this promise to the students in an email a few days ago and promises must be kept."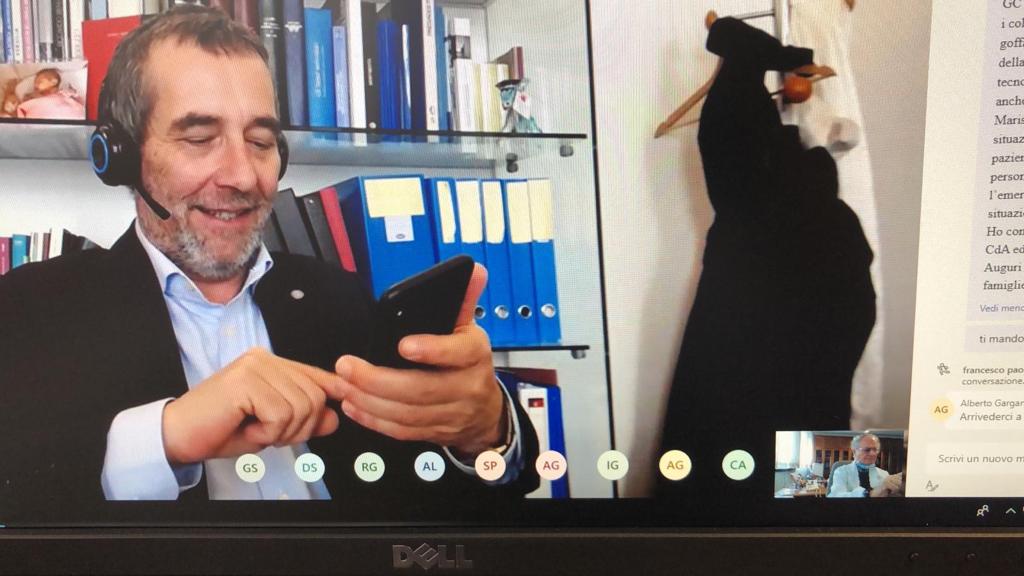 16:10 CET, 16 March: Academy of Finland vows to stick to research deadlines
Research funders everywhere are changing their plans as the COVID-19 emergency grows, but Academy of Finland aims to keep all its competitions running on track.
"The coronavirus situation will not cause any changes to our decision schedules or call deadlines," the Helsinki-based funder says on its website.
However, all Academy events and meetings for this Spring, which aren't cancelled or postponed, will move online.
16:02 CET, 16 March: China's Fosun Pharma to invest €44 million in German company with promising coronavirus vaccine candidate
The investment is part of a €120 million deal between Fosun Pharma and BioNTech to jointly conduct clinical trials in China. The vaccine will be commercialised in China by Fosun, while BioNTech will retain full rights to develop and commercialise the vaccine in the rest of the world.
15:43 CET, 16 March:

Irish research agencies promise flexibility in face of COVID-19
Ireland's main research funding bodies – the Health Research Board, the Irish Research Council and Science Foundation Ireland – have promised flexibility for applicants whose research projects are "unavoidably delayed" by the coronavirus outbreak. 
The funders say they will give "due consideration" to pushing back deadlines and restructuring project deliverables. 
Full statement here
14:45 CET, 16 March: ERC panels carry on reviewing proposals remotely
The European Research Council (ERC) said grant management is to carry on as usual, but it does not exclude the possibility of "certain technical and/or IT access constraints." 
At the same time, ERC evaluators are reviewing proposals remotely. "We are confident that this will allow us to finalise the ongoing Step 1 evaluations of Starting Grants by the end of this week," the ERC said in a statement. "For the moment, we do not anticipate any delays with upcoming evaluations or application deadlines."
12:12 CET, 16 March: UK universities to gradually move courses online
The University of Sussex has suspended its courses until 23 March when it expects to be able to move lectures on to e-learning systems. The University campus will remain open and essential services will still be provided.
Sussex joins a growing list of UK universities that have decided to move courses online. The London School of Economics took the measure on Thursday and University College London on Friday. Universities of Aberdeen, Portsmouth, Salford, Heriot-Watt, Swansea and others have followed suit. 
12:00 CET, 16 March: ENISA director shares top tips for teleworking in times of crisis
ENISA, the European Union Agency for Cybersecurity gives essential advice to secure devices from potential hackers taking advantage of the coronavirus crisis, inviting employers to define a clear procedure to follow in case of a security incident and to consider restricting access to sensitive systems. In its security note, ENISA also warns that "attackers are exploiting the situation, so look out for phishing emails and scams."
11:51 CET, 16 March: Charles Michel convenes EU leaders to talk boosting R&D efforts
European Council president has called for a video conference of EU leaders to discuss ways of "boosting research" against the fast-spreading virus. The meeting will take place on Tuesday with leaders e expected to brainstorm on concerted actions to contain the spread of the virus, provide sufficient medical equipment, and limit the economic fallout.
11:00 CET, 16 March: Estonia holds hackaton for moonshot ideas
Accelerate Estonia and Garage48 hosted an online hackathon, called Hack the crisis, to get ideas from IT and innovation professionals for solutions to the crisis situations, that can be tested in 48 hours and give Estonia the edge for the post-crisis phase. According to Estonian Minister of Foreign Trade and Information Technology Kaimar Karu, the 5 strongest ideas will receive a €5000 support to develop their idea during the emergency situation.
9:40 CET, 16 March: Main CureVac shareholder snubs Trump attempt to get exclusive access to its vaccine R&D
The main shareholder of CureVac, a German company with a promising COVID-19 vaccine in the pipeline, said the results of its research will not be available "only regionally", after media reports unveiled attempts by US president Donald Trump to secure exclusive distribution of CureVac's vaccine against COVID-19 which is still under development. Dietmar Hopp of dievini Hopp BioTech, a holding that owns 80 per cent of CureVac shares said "Hopefully, we will soon succeed in developing an effective vaccine against the coronavirus. This vaccine should be available not only regionally, but to people all over the world in solidarity to help and protect them."
8:56 CET, 16 March: Dutch researchers discover COVID-19 antibody
Researchers from Utrecht University, Erasmus University Medical Center and biotech company Harbor BioMed, have developed a human antibody that can inhibit the new coronavirus SARS-CoV-2. While promising, the discovery should not raise false expectations, said research leader Berend-Jan Bosch of Utrecht University. "It is a promising first step, but it is far too early to speculate about the potential efficacy in humans," the university said in a statement.
8:50 CET, 16 March: G7 leaders to discuss vaccine R&D coordination today
French president Emmanual Macron announced all G7 leaders agreed to organise an emergency video conference to coordinate research efforts on a vaccine and treatments. 
14:30 CET, 14 March: EIC Accelerator welcomes innovations to tackle outbreak from startups and SMEs with €164 million budget
The European Commission is calling for startups and SMEs with technologies and innovations that could help in treating, testing, monitoring or other aspects of the Coronavirus outbreak to apply urgently to the next round of funding from the European Innovation Council. The deadline for applications to the EIC Accelerator is 17:00 on Wednesday 18 March (Brussels local time). With a budget of €164 million, this call is "bottom up", meaning there are no predefined thematic priorities.
18:35 CET, 13 March: WHO announces COVID-19 response fund: money will go to vaccine development, amongst other causes 
The fund, the first-of-its-kind, enables private individuals, corporations and institutions anywhere in the world to come together to directly contribute to global response efforts, and has been created by the United Nations Foundation and the Swiss Philanthropy Foundation, together with WHO. 
"We are at a critical point in the global response to COVID-19 – we need everyone to get involved in this massive effort to keep the world safe," said Dr. Tedros Adhanom Ghebreyesus, WHO Director-General.
18:04 CET, 13 March: Norway adds €3.2 million to international vaccine R&D efforts
The government of Norway is to give an additional €3.2 million to the Coalition for Epidemic Preparedness Innovations (CEPI) for vaccine development, in bid to help ongoing R&D efforts to contain the pandemic,. Norway was one of the nine countries taking the initiative to create CEPI, and now has increased its total yearly contribution to €25 million.
17:10 CET, 13 March: European Medicines Agency to offer fee waiver for scientific advice 
The European Medicines Agency (EMA) will waive any fees for scientific advice given to developers of potential therapeutics and vaccines against COVID-19. 
With this fast-track scientific advice, the agency can give developers prompt guidance and direction on the best methods and study designs to generate robust information on how well a medicine or vaccine works and how safe it is.
Scientists should contact EMA at 2019-ncov@ema.europa.eu
13 March: Canada announces results of C$27 million rapid research funding call
The Canadian government has published the results for its first call on COVID-19. Out of 227 applications, 47 projects will receive a total of C$26.8 million.
Two thirds of the funding will be spent on projects working on diagnostics, vaccines, therapeutics, clinical management and transmission dynamics. The rest of the money will be spent on social and policy countermeasures, including research on the public health response, social dynamics, and coordination, governance and logistics.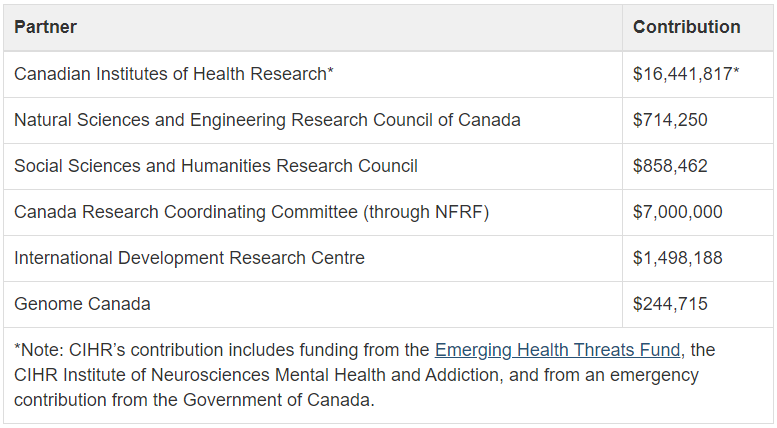 13 March: France picks 20 research projects in €8 million call
The Alliance for Health and Life Sciences (Aviesan) is accelerating research on the virus and launched 20 projects which are to be hosted by several research institutes in France, including CNRS and Institut Pasteur. Projects will focus on diagnostics, therapeutics, epidemiology, fundamental research and social sciences.
13 March: French president hopes effective treatments could be found in coming weeks and months
All universities in France will shut down on Monday, French president Emmanuel Macron said in a statement on Thursday evening. Macron reassured citizens that French scientists are working to come up quickly with diagnostics and treatments. "I hope that in the coming weeks and months, we will have the first treatments," he said.
13 March: The University of Eastern Finland bans staff and students from travelling abroad
In addition to a ban on all upcoming travel plans, the university urges all students and staff who are returning from abroad to work and study from home for 14 days before coming back on campus. Those who will choose to disregard the travel ban will not get paid for the 14-day stay-at-home period upon their return.
13 March: The Research Council of Norway launches €2.6 million emergency call on COVID-19
The funding agency is making available NOK 30 million (2.6€ million) for projects that focus on finding out best containment strategies and investigate efficient patient management and public health preparedness for the current and future outbreaks.