The nuclear fusion project is also being hit by spiralling energy and materials costs. Meanwhile, fusion start-ups in the EU are falling behind US rivals when it comes to raising funds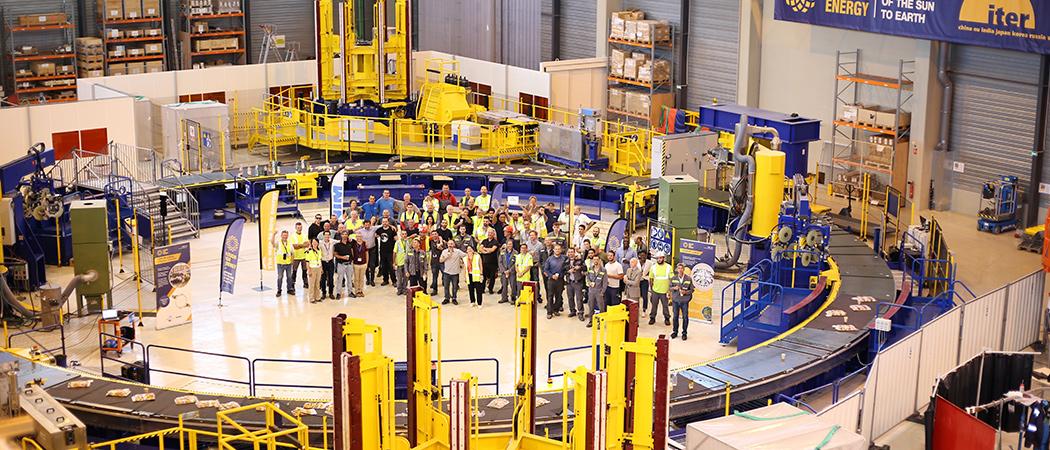 The multi-billion-euro ITER nuclear fusion project in France faces yet more delays because transport sanctions imposed in response to the invasion of Ukraine could stop key parts from Russia reaching Europe, according to a senior official in Europe's contribution to the initiative.
Leonardo Biagioni, deputy chief financial officer at Fusion for Energy, which manages Europe's contribution to ITER, said that sanctions would "most likely" delay the project.
Speaking this morning at the EuroScience Open Forum (ESOF) in Leiden, he said that transport sanctions against Russia, including restrictions on Russian registered vessels docking in European ports, risk making it hard to move parts manufactured by Russia to ITER's site in the south of France.
"Some shipments from Russia into Europe are at the moment suspended, delayed because we are not finding a way to move items," Biagioni said. "And most likely, the delay will be perceivable in the project."
At the same time, the war is also causing energy and raw materials costs to rocket, Biagioni said.
"So this means that, for instance, for the European contribution, there are significant - I will say not major - but perceivable increases in the cost, which will have to be managed".
This means that it is "likely" ITER would have to introduce further delays "in order to be able to work within the budget," he said.
Global collaboration
ITER, conceived during the Cold War, is one of the world's biggest and most international research projects, aiming to build a prototype fusion reactor that will pave the way for near limitless, clean energy by mimicking the reaction that powers the sun. Its total budget to date is around €35 - €40 billion, of which Europe is picking up about half the bill, said Biagioni.
A collaboration of 35 countries, ITER involves the EU, US, China, India, Japan, South Korea and Russia. Partners pay into the project budget and also deliver parts to be assembled into ITER's tokamak, a doughnut-shaped chamber that traps super-hot plasma using coils of magnets.
Following the invasion of Ukraine, European countries cut official scientific ties with Russia, and some research infrastructures have followed suit. The European Organisation for Nuclear Research (CERN) said last month it will shut Russia out when a collaboration agreement expires in 2024.
But ITER has been the exception. Even after the invasion of Ukraine, it has continued to work with Russia, which is a key supplier of a superconducting niobium-tin material for ITER's magnets, for example, and other parts. There has long been an explicit carve-out for the project in EU sanctions against Russia.
But Russia was due to deliver the Poloidal field coil 1, a 10 metre-wide magnet that should sit at the top of the tokomak, this spring. 
Remarkably little effect
A spokesman for ITER played down Biagioni's comments. "In fact we have seen remarkably little effect of the conflict on any delays," he said.
The Poloidal field coil 1 is currently being packaged for shipment in St Petersburg. "We see no issues with that shipment," the spokesman said.
Russia has also been delivering electrical support systems overland with only "minor delays" since the conflict broke out, he said. ITER has received components from Russia within the past two months.
But he acknowledged that rising energy and materials costs could have an impact, just as pandemic shutdowns had slowed it down before. "Energy costs fluctuate for many reasons," said the spokesman. "Could that have implications? Sure".
The delays in delivery of Russian parts illustrate the weakness of the top-down, government-driven approach that underpins ITER. It has long been beset by delays and cost overruns and has been buffeted by politics before. In 2014 and 2015, the US Senate moved, unsuccessfully, to pull the country out of the project.  
"It doesn't always work well," said Biagioni of ITER's sprawling international governance model.  "There are political crises, then there are tensions, all of these are reflected in how quickly we can take decisions and change direction of the project when needed," he said.
In comparison, the past few years have seen an explosion of private fusion start-ups, particularly in the US, many of them rapidly testing out novel ways to achieve sustainable fusion energy.
In the past year, the private fusion industry received an extra $2.83 billion in investment, according to a new report by the Fusion Industry Association (FIA). That is more than double the $2 billion of funding the sector received last year. On average, companies working in the field expect commercial fusion to emerge in the first half of the 2030s.
The bulk of the new funding went to MIT-spin off Commonwealth Fusion Systems, which last September demonstrated a new type of superconducting magnet, key to controlling plasma in a tokamak.
However, the FIA's chief executive Andrew Holland played down expectations that there could be similar growth in investment this year, due to a stock market downturn and rising interest rates. "I don't know if that will continue," he said.
The private fusion industry is not exempt from the disruptions caused by the Ukraine invasion. Last March, supply chain experts Axios reported that sanctions against Russia had disrupted shipments to Commonwealth Fusion Systems from one of its Moscow-based suppliers.  
"Russian scientists have been fusion leaders for a long time," said Holland.
Industrial readiness
According to the FIA report, there are just three EU fusion firms, one each in France, Germany and Italy, plus Focused Energy, a company founded last year and jointly based in Austin, Texas and Darmstadt, Germany. This compares to 21 in the US, three in the UK, two in Japan and one each in China, Canada, Israel and Australia.
EU firms also appear to be lagging the US when raising capital. In the past year, they captured just $50 million of the $2.83 billion in new funding.
"There's less venture capital interest," and "a heavier focus on government funded science" in Europe, including ITER, Holland said.
But from a low base, EU companies are now growing rapidly, Holland noted. "They're already making waves and moving fast," he said.
Francesco Volpe, founder of Grenoble-based Renaissance Fusion, said it is no surprise that US companies are attracting more investment than EU counterparts for now. "We are comparing three start-ups that have been raising for 1-3 years, with 21 US companies that have been raising for 5-30 years," he told Science|Business.
One risk is that the dominance of ITER in Europe stops scientists from starting their own ventures. "Potentially there's a limited pool of scientists," said Holland.
"In some sense, Europe is a victim of its own success," said Volpe, speaking at the ESOF panel on fusion research. Generous public support has meant that fusion scientists have not been forced to start their own firms, he said. In the US, several fusion start ups have been founded out of frustration with a lack of government support. 
Biagioni said he is "bullish" that Europe would be the first place in the world to develop commercial fusion energy. "In terms of industrial readiness, to produce systems needed for a fusion installation, Europe is significantly more advanced," he said.