Parliament is withholding its stamp of approval for Sylvie Goulard, who is under heavy fire over alleged misuse of EU funds. 'A cloud of doubt hangs over her,' said one MEP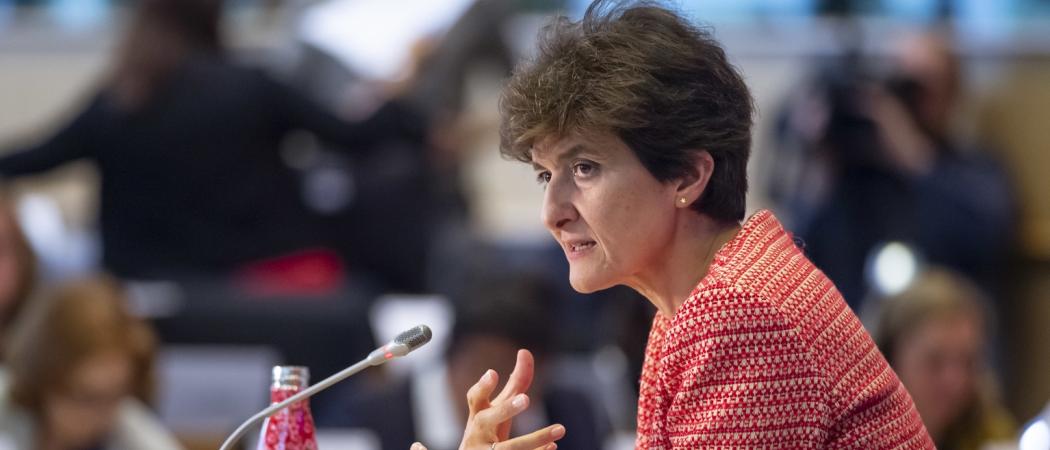 The EU's nominee for its top internal market and industry post, Sylvie Goulard, said she will "respect the outcome" of a French legal probe into allegations her former party misused European funds, as she faced hostile questioning from MEPs at her confirmation hearing on Wednesday.
Goulard was forced to resign in 2017 as France's Minister of Defence over allegations that her Democratic Movement party used European Parliament assistants for domestic political work.
There are two ongoing legal investigations into the matter, one in France, and another by the EU's anti-fraud office OLAF.
Asked during the hearing if she would resign if the OLAF found against her, Goulard said she would "obviously respect that sort of outcome, but for now it is a hypothetical question."
During her tense appearance in Brussels, Goulard, an MEP from 2009 – 2017, and a long-time ally of French President Emmanuel Macron, attempted to explain the history of the issue, calling it an administrative headache that any small business owner could face.
"I have not been indicted. I have not been found guilty. I am clean," Goulard told MEPs.
She reminded lawmakers of the legal right to be presumed innocent and noted that the Parliament's Legal Affairs Committee, which examines financial declarations of nominees, declared her free of concerns about conflicts of interest.
But her testimony was not enough to sway MEPs.
"There is a cloud of doubt hanging over Goulard," German MEP Christian Ehler, of the centre-right European Peoples' Party (EPP), said following the hearing. "With an ongoing investigation into her financial dispositions by the EU anti-fraud office OLAF and the French judiciary, it would not be timely to give a final stamp of approval for her today."
"The EPP Group will demand that more questions are answered, and a possible second hearing, to clear up the outstanding issues and to make up our minds," Ehler added.
The incoming commission president Ursula von der Leyen nominated Goulard for the beefed-up internal market brief, with a vast remit to administer defence research funding and oversee regulation of artificial intelligence and cybersecurity.
Goulard stands to become the region's de facto digital commissioner with powers over space policy and new technologies such as blockchain cryptography and 5G mobile phone networks.
But the French politician's path to the job now looks far from certain, and she came under a barrage of questioning, mainly from other French politicians.  
"Given you thought you might be a risk for the French ministry of defence, why wouldn't you be a risk in the position you may take up in the commission?" asked François-Xavier Bellamy, the leader of the French delegation within the EPP group.
In a particularly frosty exchange, the National Rally's Virginie Joron told Goulard, "You're not worthy to be in French government, but [apparently] you're worthy to be here."
Goulard said no one can "cast aspersions on people without coming with evidence".
The former French defence minister was also forced to defend her previous lucrative work for the Berggruen Institute, a Los Angeles-based think tank.
Geoffroy Didier, a French MEP and lawyer, asked her if it was "prudent" to have taken a second role as a consultant that reportedly paid €10,000 per month before tax, on top of her MEP salary.
"I'm aware we're talking about big sums here. But if something is declared and legal, why are we still talking about it?" Goulard responded.
She added that she wouldn't have worked for Berggruen while serving "in an executive role".