Despite the huge contraction in global GDP caused by the Covid-19 pandemic, the Lithuanian life sciences sector grew by almost 87% last year. Life sciences companies generated revenues of approximately €2 billion: 2.5% of the country's GDP.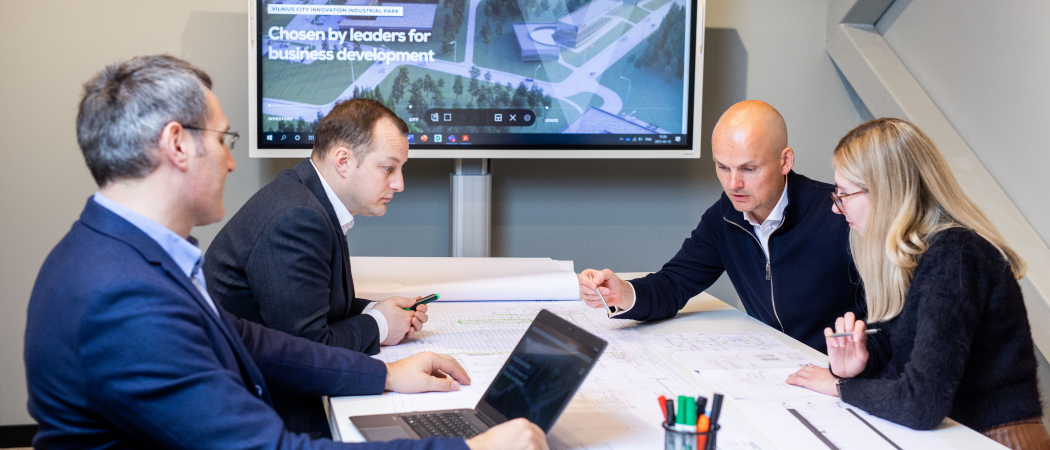 In an interview, Gediminas Pauliukevicius, CEO of the operator of the Vilnius City Innovation Industrial Park (VCIIP), outlined the opportunities to expand the life science business in Lithuania. Surrounded by a pine forest and just a stone's throw from the city, the VCIIP is dedicated exclusively to the development of innovative, research-driven businesses.
Why should businesses choose Lithuania for life science and biotechnologies?
First and foremost, Lithuania's burgeoning supplies of human capital. Indeed, there are approximately 15,000 scientists in the country working in the life sciences - a number that grows every day thanks to the country's renowned universities.
Secondly, Lithuania's modern research infrastructure. More than €1 billion has been invested in life sciences infrastructure over the past decade. As Lithuania's biotechnology sector grew 87% last year, the average revenue generated by each employee in this sector is impressive at more than €780,000 in 2020.
I should also add that cooperation between the science and business sectors is equally important. In 2019, Lithuania was ranked 1st among the Central and Eastern European countries in this category by the World Economic Forum.
All and all, Lithuania has an ambitious goal to become a strong and trusted leader in life sciences by 2030. That's where we all are going to and that's where our industrial park – VCIIP – has a key role.
Tell us more about VCIIP. What is your vision for the VCIIP?
VCIIP has already been quite a success. Operational since August 2018, it has already attracted over €67 million in investment, welcomed 17 companies, and created more than 400 new job openings. In the future, the industrial park will host around 30 companies, and most of them will be developing projects in the field of life sciences.
Though VCIIP is dedicated to companies operating in all areas of smart specialisation and innovation, the fastest growing sectors are life science and biotechnologies. So the majority of companies settling at VCIIP are working in the field of life sciences and new technologies. Our vision for VCIIP is to mobilise a strong core of expertise and collaboration in the life sciences. As a park operator, we want the best possible conditions for the creation, growth, and cooperation of life sciences industry players. We also seek to become the key location where life sciences, innovation, and health challenges are solved.
Recently VCIIP has signed a contract for investment exceeding more than €27 million for building the 3D bioprinting centre with a leading biotechnology company Stem Cell Research Center. This investment will be conducted by a well-known pharmaceutical gene engineering pioneer in Lithuania - Dr. Vladas Bumelis and his team - with the vision to become one of the innovators in the field of the development and production of artificial tissues and organs in 3D bioprinting.
For us, this is a confirmation that we are on the right track, and we will soon be able to move on to the second stage of the development of VCIIP – as a growing cluster of life sciences with a really strong ecosystem promoting great synergies.
Are there any more projects in the offing?
One particularly promising area for the VCIIP is its specialised life sciences incubator, which will be developed with our strategic partner Vilnius University. We wish to create an enabling environment to build the incubator for young, promising companies, developing projects in the life sciences and related fields.
The incubator will focus on the growth of life science start-ups. It will also be equipped with a GLP-compliant molecular biotechnology laboratory complex, specialised for work with microorganisms, viruses and bacteria, and a bioinformatics complex with a high performance bioinformatics calculations open access centre. Basically, it will be a proper place not just for the development of young business, but also convenient for the close collaboration between business and science and exchange of ideas.
What can international life sciences companies expect from the VCIIP and Lithuania?
We have a very clear understanding of the needs of growing businesses: one of the most important factors is the speed of establishment in a new area. That's why one of our key goals is to create conditions that ensure investors can settle down and start operating as soon as possible. We provide investors with all kinds of consulting assistance to make the establishment process smooth and convenient. Alongside its day-to-day services, VCIIP aims to ensure companies receive consulting support for business innovation and R&D, finding new markets, partnerships, and funding sources.
However, we shouldn't also forget that Lithuania is a country with a pool of talented scientists and researchers, such as gene editing pioneer Virginijus Siksnys, and rising life sciences stars, such as Dr. Linas Mazutis, as well as Vilnius University's iGEM team of most promising and internationally-recognised life sciences students.
To further strengthen the life sciences sector, we need to collaborate. A great place to do that is VCIIP, where innovations intertwine with many professionals working in Lithuania. Taking these aspects into account, the development of life sciences in Lithuania will open many new opportunities.