Jean-Pierre Bourguignon, president of the European Research Council who became a forceful advocate for science in Brussels, tells researchers to stay scrappy. 'There are more battles to fight,' he says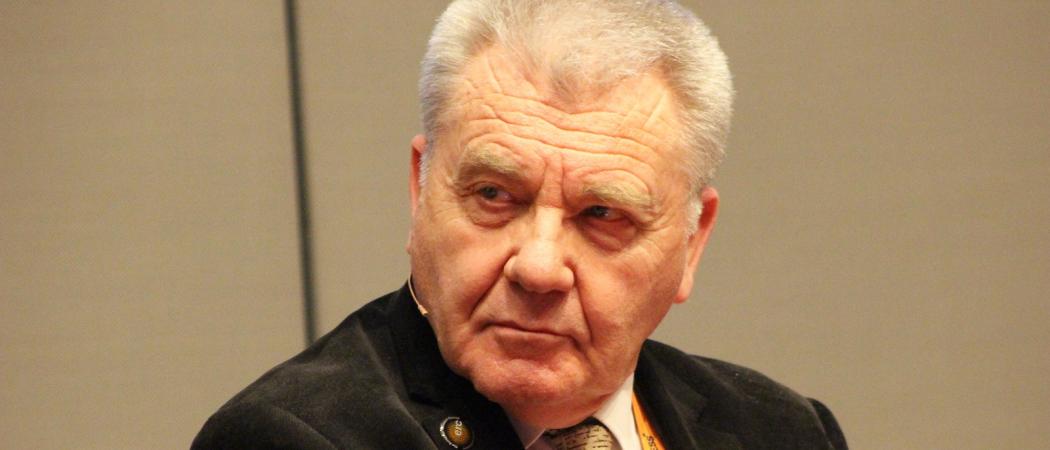 European Research Council (ERC) president Jean-Pierre Bourguignon urged researchers to show their "fighting spirit" over funding talks as he bid farewell to the science faithful in Brussels this week.
Bourguignon, who leaves at the end of 2019 after six years in the role, helped spearhead a huge budget increase for fundamental science and establish ERC among the most prestigious of its kind in the world.
By his own admission, Bourguignon is a no-nonsense type, so his moment in the spotlight this week – at a star-studded farewell bash – didn't exactly thrill him.
But in an interview, he recalled some of his best moments in the job, including a mad dash to block a smash and grab on ERC funding by then European Commission president Jean-Claude Juncker.
What made Bourguignon well-suited for the job, people say, is his combination of decency, political savvy and occasional brass knuckle.
Indeed, he appears to have enjoyed some of the budget scraps and, with no drama spared, recounts the story of how a coalition of Nobel Prize winners intervened in 2015 to stop ERC money being siphoned off to the Juncker Plan investment fund.
The raid was hugely controversial among scientists at the time, with Juncker transferring the money into a new investment pot intended to boost EU infrastructure spending.
"We felt it was unfair, and that only those that stood to benefit from the fund should contribute," Bourguignon said. "It was a worthy fund, but it didn't offer anything for basic researchers."
"I talked to many people. Carlos Moedas [former research commissioner] helped us greatly. We started a campaign, we mobilised the Nobel Prize winners. In the end, we got 500 articles all over the press," Bourguignon said.
As a result, the ERC, the Marie Curie Actions and the widening participation programme, were all ring-fenced. "We saved €500 million," he said.
"Unlike the farmers, we don't have tractors to block the roads in Brussels. But it was a good example of what the scientific community can do if it organises. It was a moment of great trepidation. The clock was ticking – and we made it."
Science figures pay tribute
A star-studded cast assembled to pay tribute to Bourguignon.
The UK's most recent Nobel Prize winner, Peter Ratcliffe, who is an ERC grant winner, said the ERC was responsible for backing "peoples' passions".
"Essentially it paid me to do what I wanted. Basic research is like football: You can't coach a player to kick the ball into the net using his left or right foot. You have to trust the player to make up his own mind," Ratcliffe said.
Similarly, Robbert Dijkgraaf, director of Princeton's Institute for Advanced Study, hailed the ERC's contribution to the telescope that earlier this year snapped the first ever picture of a black hole in space. "It's very rare that there's a bit of positive news on the front pages all around the world," Dijkgraaf said.
Director of the US National Science Foundation France Cordova, in a video message, commended Bourguignon for being a "great listener".
"You're one of the people I seek out for counsel and a laugh," Cordova said.
The EU's new research commissioner, Mariya Gabriel, congratulated Bourguignon on helping make the ERC a "European success story". "We don't have so many European success stories," she noted.
As the row over the EU's next seven year budget grinds on, the Bulgarian commissioner indicated she is ready to carry on Bourguignon's zeal in Brussels. "Any cut to Horizon Europe [the EU's 2021-2027 research programme] is not acceptable for me," she said. "Count on me, I will stay firm in this endeavour."
An anecdote from Tome Antičić, state secretary at the ministry of science and education in Croatia, neatly illustrated how sought-after ERC grants have become. Antičić said a recent competition win for Croatian cell biophysicist Iva Tolić, left him feeling "personally proud".
"I was previously head of the institute that wooed Iva from Germany to Croatia. No offence to Germany, but I'm very, very happy about that," said Antičić.
ERC on a 'high trajectory'
Nanobiologist Mauro Ferrari will take over as head of the ERC on January 1, 2020. Ferrari was most recently president and chief executive of the Houston Methodist Research Institute, from which he retired in February.
Bourguignon will return to mathematics, taking up an honorary professor position at the Institute of Advanced Scientific Studies in Bures-sur-Yvette (an institute he used to run). "I've also had several requests for assignments related to evaluation and policy activities," he says.
His passport will get a break at least. "I was always on a plane going all around the world. That's the job – building relationships with researchers and politicians everywhere. And it's critical for me to talk to people face to face," he said.
Bourguignon says he is leaving while the ERC is "on a very high trajectory". The Frenchman took on the helm of the agency in 2014 after it received a 60 per cent increase in funding, to €13 billion. The agency can expect a further increase in Horizon Europe. 
"One thing that is remarkable is how ERC really became a reference of success. The scientists give us their best proposal, not the one they have sitting at the bottom of their drawer. They come because they are excited about what we have to offer," he said.  
"This is something that was consolidated [during my time]. Many other people were part of the process too of course – the commission, the commissioner, the parliament, member states," he said. Bourguignon also acknowledged the ERC executive agency of some 500 staff, which runs day-to-day grant administration.
Of course, he'd like to see more funding for frontier research.
Anyone at an institute in an EU member state can apply for an ERC grant of up to €2.5 million. The programme is massively oversubscribed.
"My hope was the budget share of the ERC would grow a bit higher than it did," the president said, noting there are, "500 excellent proposals we can't fund every year."
"Some countries disagree on growing the overall EU budget. There will be a big negotiation and things will become very tense. But the EU has to think globally about its priorities," he said. "This is where we are. It's very difficult to anticipate the final line."
Finally, does he have any advice for his successor? "You have to look at all sides. I talk to people in the council; people in the commission; people in parliament. People from all over Brussels and beyond. Help comes from many places, and there are more battles to fight."