Ahead of next week's launch, Commissioner says her plan to turn into EU into a deep tech innovation leader depends on a 'coalition of the willing' to implement it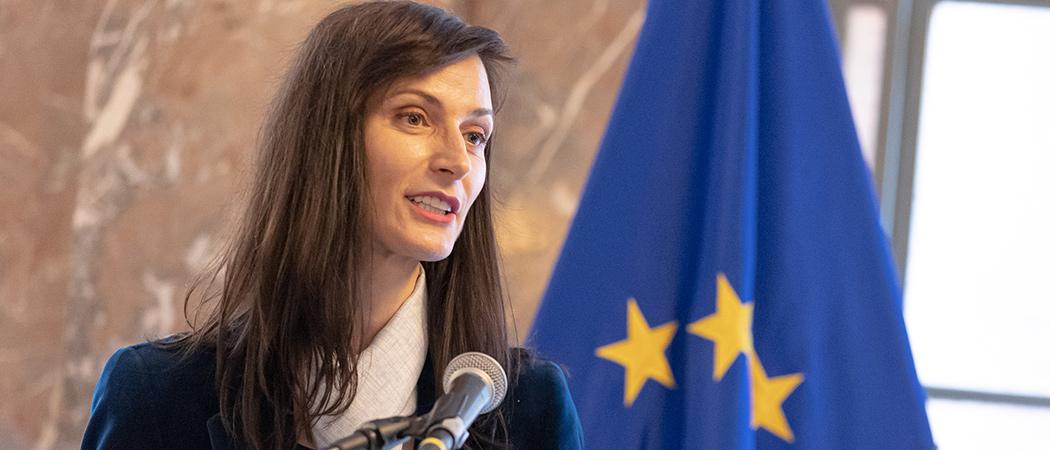 EU research and innovation commissioner Mariya Gabriel has for the first time officially unveiled the outline of the European Innovation Agenda, one of her key initiatives as commissioner, following a year and a half of drafting and consultations with start-ups, investors and industry. 
The five pillars of the agenda are: to foster deep tech innovation; create innovator networks across Europe; attract talent; draw in investors; and revamp policies to promote innovation. In May, Science|Business leaked a draft copy of the upcoming communication.
"I think the new innovation agenda will be a watershed moment for the EU's future, and as a result a new generation of deep tech innovators will have a springboard in Europe," Gabriel told the first European Innovation Agenda summit held at the European Parliament.
While it sets out high ambitions and proposes some new initiatives, the agenda largely depends on innovators and policymakers buying into it. In her speech on Wednesday, Gabriel made it clear she expects the innovation community to help deliver.
Here, the commissioner highlighted the role of forming informal "coalitions of the willing." The Commission, she promised, will move quickly with launching calls and initiatives, but success will depend on the right people being willing to act. "In order for us to thrive, we need to form these informal alliances with investors and industry as well as start ups and universities," said Gabriel.
One such alliance is the European Network of Innovative Higher Education Institutions, which was announced last week. The participating universities, to be nominated by member states and the 41 Commission-supported European University interest groups, will be asked to help the EU craft its innovation and universities strategies.
"We must get started right now with founders and innovators leading on this implementation," said Gabriel. "Otherwise, it will be again a beautiful document with a lot of wishes and in three years we'll start the preparation of a new one."
Gabriel also asked the European Parliament and innovators for recommendations "to guarantee an effective execution of all five major initiatives."
Barriers to innovation
In her consultations, Gabriel says she was repeatedly told, "We don't need any new strategy. We need an action plan, a flagship to make a difference."
The first part of the plan is turning Europe into leader in deep tech technologies that address complex scientific and engineering challenges, but which require large investments in research and development to do so. To the Commission hopes that establishing better links between start-ups and industry, entrepreneurs and customers will help.
For the second pillar, attracting talent to Europe, the Commission is set to propose new start-up visas and stock options for employees of start-ups. The EU's innovation agency, the European Institute of Innovation and Technology (EIT), will have the task of training one million people in the next three years with the right skills for key sectors.
Third, the Commission will propose ways to attract institutional investors to invest in European deep tech start-ups. Ambition is high, but Gabriel acknowledges the Commission's reach is limited. "Here, we need to be very careful, because we know what are our respective competences, but we need at least to start somewhere to address this issue," she said.
The fourth pillar tackles inequality in regional innovation capacity. As part of the new agenda, the Commission has already launched a new policy framework for regional innovation networks but more initiatives are expected to follow.
The fifth pillar concerns policies enabling the single market to promote innovation, for example by supporting sandboxes that allow entrepreneurs to test ideas before they go to the market and encouraging public procurement from small innovative businesses.
'Follow up is crucial'
The European Parliament welcomed the plan but stressed the importance of member states stepping up to deliver on it.
Victor Negrescu, member of the Parliament active in the education field, welcomed Gabriel's pragmatic approach to the new strategy, highlighting the importance of fostering talent.
But he noted, implementation is key because not all Brussels' decisions translate into national laws and public policies the way they are intended. "The follow up is crucial," Negrescu said.
He also highlighted the role of the EU pandemic recovery fund in boosting investment in innovation. There is €44 billion in the fund dedicated to innovation, but said Negrescu, just putting money into projects will not necessarilyS translate into impact. The goal should be selecting investments that will generate growth in the market. "We should make sure that money is being used wisely," he said.
MEP Maria da Graça Carvalho, one of Parliament's leading voices on innovation, put the spotlight on member states' own policies in the success of the Commission's plans. While money is useful, national ecosystems must be strong enough to translate it into impact. For this to happen, governments must guarantee less bureaucracy, and foster more agile and flexible public administration and justice systems.
Carvalho says her country, Portugal, is a case in point. While it invests a relatively high amount of money in R&I and has the right talent, the ecosystem is not there to translate it into the best possible outcomes. This leads to brain drain. "It's not a question of salaries only, it's mainly the question of conditions of work. [Researchers] go where they have the teams, the infrastructure," said Carvalho.
Carvalho also stressed the importance of involving more women with innovation activities and training in digital skills.