Berlin and Paris set ambitious plans for 'gigafactory' collaboration in a hydrogen economy – but obstacles remain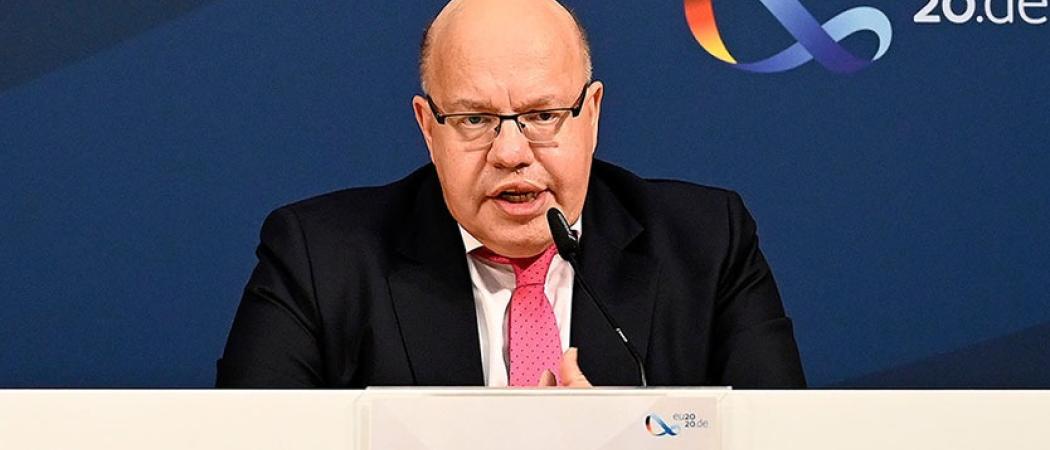 Franco-German relations are often characterised as the motor behind European unity – and that's literally true in the case of the European Union's new push towards hydrogen energy.
In the past five months, Paris and Berlin have announced multi-billion euro national strategies to move big chunks of their industries towards hydrogen power, which they both see as a crucial new energy source to meet their ambitious climate goals. At the same time, they have prodded the European Commission to climb on board, and discussed plans for a Franco-German "gigafactory" project to help supply hydrogen to themselves and their neighbours.
"It's of course symbolic if the two 'motors' - Germany and France - move forward" on the project, observes Kirsten Westphal of the German Institute for International and Security Affairs.
But, other analysts note, there are still plenty of obstacles to be dealt with – not least, a disagreement between France and Germany over whether nuclear plants can be used as part of the machinery to make hydrogen. France, which gets three-fourths of its electricity today from nuclear plants, wants flexibility to use its reactors when making the hydrogen. German politicians are saying no; the country is planning to shut all its nuclear plants by the end of 2022, spurred by the 2011 Fukushima accident.
"We think that green hydrogen from renewable (non-nuclear) sources is the choice for the future," said German Bundestag member Ingrid Nestle, a Green who sits on the Bundestag Committee on Economic Affairs and Energy. "A nuclear-powered hydrogen project could not be a sound basis for a cooperation with Germany," she told Science|Business.
While hydrogen energy has been around a long time for specialised applications, the political bandwagon got rolling faster this year. The science behind hydrogen is pleasingly simple. To make electricity from it, you combine hydrogen gas with oxygen in a fuel cell. That releases an electric current and a small amount of heat. The only waste is water – not greenhouse gases or noxious fumes, as with climate-busting fossil fuels. Analysts estimate that by 2050 about 24 per cent of the world's energy could come from hydrogen.
Blue vs. green hydrogen
The problem, however, is how you get the hydrogen in the first place. Currently most hydrogen fuel in Europe is produced from natural gas – so-called "blue hydrogen." This involves heating the natural gas to high temperatures to chemically separate hydrogen from methane. This "blue" hydrogen can then be pumped into a fuel cell to make electricity. Of course, that multi-step process doesn't save much in carbon emissions, and the high cost has kept it a niche product so far.
But in recent years, a new method for "green" hydrogen has emerged. This uses renewable energy – from wind, solar or other green sources - to power a process called water electrolysis, effectively a hydrogen fuel cell reaction in reverse. Green hydrogen has caught Europe's attention, not least in Germany. Shifting to renewables-based hydrogen is considered in Germany to be fachlogik, or functional logic, says Westphal.
Germany wants its neighbours to see it that way, too. In a commentary, Westphal and colleagues outline the international aspects of Germany's hydrogen policy. Cooperation within the EU would let regional industrial clusters quickly switch to hydrogen. These clusters could then later interlink their hydrogen infrastructure, with existing natural gas pipelines retrofitted for this.
As the current holder of the rotating EU presidency, Germany is in a position to act on its international ambitions. In July, the European Commission's hydrogen strategy called hydrogen fuel "essential" to reach carbon neutrality by 2050. Its agenda is supported by Horizon Europe's public-private partnership for hydrogen research and innovation, and numerous ongoing research projects.
Research in hydrogen energy is now focused on making it affordable for industry, says Nicolas Brahy, director of the research association Hydrogen Europe. The Commission is partnering with it to coordinate a €1.3 billion fund to help introduce hydrogen into Europe's transport infrastructure – and for that, much larger electrolysers will be needed. Brahy says earlier generations of electrolysers were envisioned at small scales, delivering hydrogen-based power at around 1 to 10 megawatts. Projected demand from the shipping and aviation industry now requires a "mega electrolyser," he said.  
A key factor is price, however. The International Energy Agency estimates that blue hydrogen costs around €1.50 per kilogramme in Europe, though this depends heavily on natural gas prices. Renewable green hydrogen by comparison costs between €2.50 to €5.50 per kilogramme. Both Germany and France are now pushing to charge for carbon emissions at national and European level, which would raise the price of blue hydrogen, favouring the green variety. But industry isn't impressed. "Only if the price of hydrogen decreases significantly will the use be economically feasible," commented Hans-Jürgen Witschke of the German Federation of industrial energy users in March.
The Gigafactory
To push things along, the Franco-German "gigafactory" plan envisions spending €1.5 billion with other EU members on an "Important Project of Common European Interest" – a relatively new legal framework for big cross-border projects controlled by the countries involved, rather than by the Commission. The German and French finance ministers discussed it at a September meeting, and talks are ongoing now at a technical level, according to a French finance ministry spokesperson.
At the same time, both France and Germany are putting pressure on their industries to decarbonise. In 2019 France began to vote in a climate and energy package that will likely lead to its coal power plants closing by 2022. The German government agreed to completely phase out coal power by 2038, having consumed 39 million tonnes in 2019. After the 2011 German policy ending nuclear power by 2022, energy heavyweights RWE and eon lost billions and endured complicated restructuring as both shifted to the competitive renewables sector. Meanwhile, steelmaker thyssenkrupp and car manufacturer Volkswagen announced decarbonisation goals. And in a June 2020 open letter to Brussels, 14 European business associations called for the EU's hydrogen strategy to prioritise investments to help decarbonise the industry.
Their calls appeared to have now been answered. France in September announced it will invest €7 billion by 2030 to help French industry decarbonise, while Germany will provide €600 million between 2020 and 2023 to speed up new hydrogen technology to the market.
But money isn't the only issue. The EU needs to think about the next steps needed to make hydrogen flourish, says Westphal. "It's not just a technical and economic issue, but also a regulatory political issue," she said. "These two tracks have to unfold in parallel." For example, the EU will need regulations to harmonise hydrogen transport across borders using existing gas infrastructure. At the moment, this is either not allowed or only at certain concentrations, depending on the country.  
And then there's the nuclear option. Germany prefers to make green hydrogen from renewable resources, for example wind or solar power. In its strategy France mentions only "decarbonised" hydrogen – leaving the door open for France's 18 nuclear power plants to help power electrolysers.
According to German media reports, the secretary of state in Germany's economics and energy ministry completely ruled out nuclear-based hydrogen energy in a recent virtual conference on hydrogen organised by the German EU Presidency.
Geopolitical challenges
The trend to hydrogen is geopolitical as well as environmental. Europe's solar panel sector was overrun in 2013 by cheap Chinese imports, which severely damaged Europe's solar panel industry. Today, China and other countries are also moving into hydrogen. The Trump Administration, for instance, recently announced a $100 million investment in hydrogen for trucks. Such developments are helping drive the new European collaborations in hydrogen.
In Germany, the national strategy "quite rightly states that we must understand hydrogen as a European joint project," said René Röspel, rapporteur for the Social Democrats' science group in the Bundestag. And in Paris, Michel Delpon, president of the Hydrogen Study Group in the French Parliament, also welcomed the move, saying that the potential partnership can help both countries fend off powerful international competitors in hydrogen energy.
German finance minister Peter Altmaier, in an editorial in Frankfurter Allgemeine Zeitung, said he wants Germany to be a number one exporter of hydrogen.
But, he noted, "our competitors are not sleeping."