Emmanuel Macron lays out a €1.8B strategy to slingshot the country into becoming a quantum powerhouse, as Germany draws up a €2B programme of quantum research as part of its pandemic recovery plan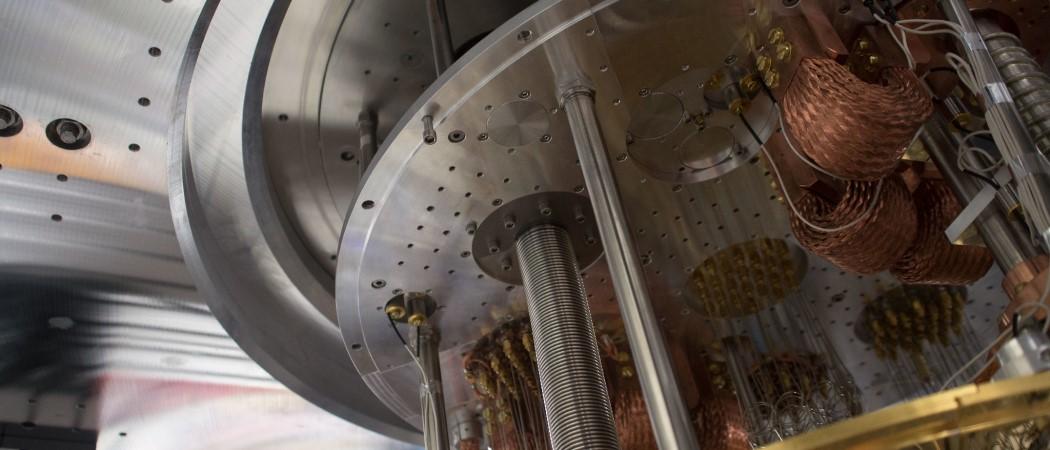 The French government has announced a €1.8 billion strategy to boost research in quantum technologies, and especially quantum computers, over five years, a move that increases public investment in the field from €60 million to €200 million per year, putting France in third place behind China and US for quantum funding.
The goal is to build a business environment around the country's expertise and to keep the experts its universities nurture in the country. With these efforts, France has a chance to become "the first state to acquire a complete prototype of [a] quantum computer," said President Emmanuel Macron introducing the plan on 22 on January.
Imminent commercial application of quantum technologies has set off furious global competition for research, innovation and talent.
"A country like France cannot win every tech race. Quantum seems like one that is winnable," said Théau Peronnin, co-founder and CEO of Alice & Bob, a start-up building a quantum computer.
The government push adds "a bit of business fuel" to a strong research base, Peronnin said. His Paris-based company, spun out of the French National Centre for Scientific Research last year, is trying to beat Google, IBM, Microsoft and others, to the "first logical qubit; the first machine with no errors," said Peronnin. "We're trying to find a shortcut to drastically simplify the design of a quantum computer."
In detail, the French plan using a mixture of public and private money - not all of it new – will devote nearly €800 million to computers alone.
Ordinary computers store data and perform computations as a series of bits that are either 1 or 0. By contrast, a quantum computer exploits the surprising and mysterious properties of matter at the infinitely small scale, using "qubits" that can be 1 and 0 at the same time.
A mainstream quantum computer is still some way off, but researchers anticipate some sort of industrial-sized machine in the next decade.
The other French funding will go to sensor research, which gets €250 million, post-quantum cryptography (€150 million), quantum communications (€320 million) and €300 million for related technologies that make it possible to build quantum equipment.
"We need to keep our talents, and also keep certain technologies so as not to depend in particular on the two great international powers [China and the US]," Macron said. Keeping "complete control of this value chain is absolutely key to keeping research free at all times, and for our sovereignty in terms of know-how and industrial applications," he added.
The fear of missing a technological revolution is kicking governments everywhere into action.
"If you waited until you were sure quantum computers would work, you'd be 20 years too late," said Zaki Leghtas, a researcher and European Research Council grant holder at Mines ParisTech, whose research aims to overcome errors found in quantum computing.  
"It's like with artificial intelligence. If you haven't been training researchers in it for the last decade, you're completely behind," Leghtas said.
Bit by qubit
The limits of what quantum power can accomplish when it finally comes of age is still a matter of debate.
But in the long term, researchers hope it will be possible to harness its power to build highly sensitive instruments and machines with calculation capacities far beyond those of the most powerful current supercomputers.
Labs are popping up all around France to capture quantum opportunities, and turn them into euros.
Some of the world's leading tech powers have moved here to snap up engineers and researchers, including IBM, which has had a quantum base in Montpellier since late 2018.
In Grenoble, three labs, CEA-Leti, INAC and the Institut Néel, have joined forces for the QuCube project to develop a semiconductor silicon-based quantum processor. The project has European Research Council backing of €14 million over six years.
Meanwhile, the French aerospace, defence and transport company Thales, is working on quantum cryptography devices and sensors, which should make it possible to detect degenerative diseases in the next five years, according to Thales CEO Patrice Caine. Researchers at the company even host their own quantum-focused podcast.
Last year saw the official launch of the Sorbonne University Quantum Information Centre, which grew out of joint work in the university's computer science and physics labs.
The focus in this hub is not solely tech driven – it combines work from the Compiègne University of Technology in the philosophy of quantum; in other words, what quantum technologies are. It may prove a key investigation, considering how difficult the field is for ordinary people to understand.
One major goal of quantum researchers is to use qubits to crack encryption codes. Not surprisingly, militaries across the world are all over the technology. 
From a security point of view, the emergence of the quantum realm is a time bomb, endangering all manner of secrets.
French start-up Cryptonext, co-founded by two researchers from Sorbonne University, claims its devices are resistant to post-quantum computing capacities. French special forces are already trialling the company's WhatsApp-like application for sending and receiving encrypted documents.
Flashy versus basic science
One of the X factors in France's drive to develop a quantum industry is the Macron administration, which has made a splashy effort to encourage researchers and start-ups from buzzy fields, including AI and greentech, to choose Paris over Palo Alto.
For Leghtas, who is from Morocco, the choice of Paris was so he could be closer to his friends. He welcomes the quantum push by the government, because he said French research needed a boost.
"It is not the case now that if you have a good research project, you get funded. I think this is why I went to [the EU] for funding," he said. "It's a political choice – we could have larger groups. We could hire more students if we had the budgets. There are brilliant scientists who can't find a job in academia."
Leghtas wonders if some politicians have the required patience for quantum. "There's a feeling we need to promise striking milestones in order to get funding." He is concerned about rhetorical overkill. "Some colleagues are frustrated because there is also a need to fund the basic science. We need people to propose crazy qubits and weird molecules." In his experience, companies are more realistic than governments on quantum timescales.
Peronnin said his company's timetable for a first version quantum computer is two to three years. "It's not a done deal, we won't get cocky," he said. The company raised over €3 million from investors last year. 
The pandemic has inevitably made life harder for his young company. "We have to begin life completely on Zoom. It's tiring for everyone. The social contract is work hard, play hard. We definitely don't have the 'play hard' bit," he said.
The quantum labour pool is, for the moment, not very deep. Few people have dual abilities in computer science and quantum physics, notes Nicolas Treps, co-director of the Sorbonne quantum lab.
Those who do are in high demand from US tech companies, although Peronnin says the researchers he knows are not running off to join them. "When you do research, you give up on being rich; what drives you is working on interesting topics with people who are at least as smart as you," he said.
Andrea Bertoldi, an atom cooling specialist at the Institut d'Optique in Palaiseau, says he doesn't feel the pull of the lucrative company payday. "The freedom you have in academia is difficult to let go of. I can choose what to do, what collaboration to have. The work is beautiful in itself," said Bertoldi.
His research focuses on extremely cold atoms, which could eventually lead to new atomic clocks and gravitational wave detectors.
The pandemic, and the lockdowns, find him missing opportunities to mingle with colleagues. "Before there were too many academic conferences and now there are not enough," he said.
Catching the UK
If France is a quantum hotspot in the making, the UK is already there.
"The whole of Europe is probably behind the UK for quantum," says Kai Bongs, professor of physics and astronomy at Birmingham University. As principle investigator at the UK Quantum Technology Hub for Sensors and Timing, Bongs is overseeing the development of gravity sensors or gravimeters that are predicted to be twice as sensitive and 10 times as fast as current equipment.
He lists some 120 projects and 75 companies working around his cluster alone. "The breadth is much stronger here than elsewhere in Europe," he said.
"But of course with significant funding, you can be sure there will be some quick catch ups, particularly in France, which already has all the excellent scientists," Bongs added.
After securing a top position in the quantum race, the UK now faces a job retaining that status.
The European Commission launched its huge Quantum Technologies Flagship programme in 2018, which will provide funding for the next 10 years. The project has distributed €150 million in grants so far, with over €1 billion still to spend over the next seven years.
UK researchers, now outside the EU, can continue to apply for Brussels-backed research grants, but they may find their path blocked to security-sensitive quantum projects.
"Europe is not quite as open to the UK as it used to be. Maybe the politics will calm down a bit because in the end, we will need interfaces between these networks to talk to each other," Bongs said. 
One of the leading forces behind the EU quantum effort is Tommaso Calarco, a theoretical physicist at the Helmholtz Centre in Jülich, Germany. He says the French investment can only benefit the larger EU plan. Germany's government, meanwhile, is readying a quantum stimulus that will dwarf almost every country's funding envelopes – €2 billion under a planned pandemic recovery boost.
Calarco, a co-author in 2016 of the 'Quantum Manifesto', which was the early impetus behind the EU flagship, recognises the risk of all these quantum efforts being restricted to the rich countries.
"In our early calls, only one per cent of funding went to the 'widening countries'," he said, referring to a category of mainly eastern European countries. "It was a scandal, and we're trying to cure it. In upcoming calls, including researchers from a 'widening' country will be an explicit criterion," he said.
Quantum is so capital-intensive that it doesn't make sense to talk about individual country efforts, said Peronnin. "The race should only be fought at a European scale, it's absurd to think of it on a national scale," he said.
The Wright Brothers moment
Quantum is a nightmare for investors to judge, not least because there are several rival approaches being tried out and it is not yet clear which of these will become predominant.
Still, the field is beginning to attract venture capital. One early player is Quantonation, which founder Christophe Jurczak says was probably the first venture capital fund in Europe dedicated to quantum. Jurczak, who has a PhD in quantum physics, returned to Paris from Palo Alto and started the fund with two friends in 2018.
The firm is currently investing in a number of early-stage "deep physics" companies, including KETS Quantum, a spin-out from Bristol University, and Pasqal, which describes itself as the first quantum computing company from France, using technology developed at the Institut d'Optique.
Google's announcement in 2019 that its quantum computer carried out a calculation beyond the practical capabilities of regular machines was "the Wright Brothers' first flight moment," said Ilkka Kivimaki, co-founder and partner at Maki.vc, an €80 million fund in Finland investing in early-stage deep tech companies.
His Helsinki-based firm has invested in IQM, a spinout from Aalto University and VTT Technical Research Centre of Finland that is developing special quantum processors. "Quantum's super risky, it's super early but it's crazily big, so no way you can overlook it," Kivimaki said.
"We were biting our nails" over the IQM deal. "The assessment part is super difficult because the reference points are so few. There's only a few people in the world who understand what [quantum] is. And you have the different camps within the field, who tell you their method is best."
In the end, the best way to judge a company is the quality of the people who work there, he said. "Those people should know. You can fool us, but you can't fool the people coming to work with you."
A question for the future is whether European quantum start-ups will evolve into companies that match the best in the world — or just disappear into the likes of Google or IBM.