Research ministers agree funding for a number of big ticket items, with Germany, France, Italy and the UK making the biggest contributions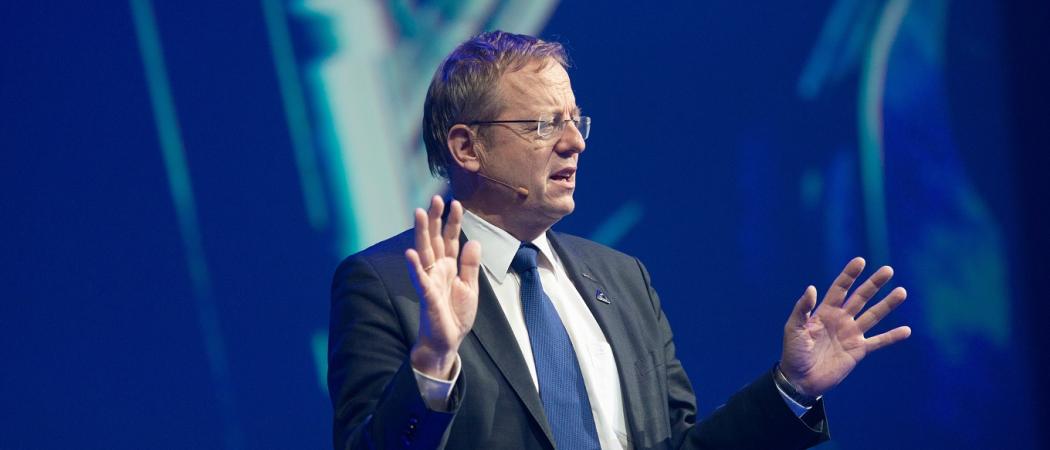 The European Space Agency (ESA) has secured an unexpectedly high budget of €14.4 billion for a broad package of projects over the next five years, director general Jan Wörner announced at the end of the triennial meeting of the agency's 22 member states in Seville today.
At €100,000 more than the requested €14.3 billion, this is the agency's biggest budget increase in 25 years.
"Yes, you have a happy director general in front of you," Wörner said. "It was a surprise. It always looks simple at the end but everyone knows it's very complicated. NASA has one government – we have 22."
At the same meeting three years ago, the agency did not reach its funding target. This time round ESA sought funding from its members for a diverse range of programmes, from rockets and asteroid-deflecting capabilities, to Earth observation and a new astronaut station to orbit the moon.
Research ministers voted to continue funding for high-profile programmes such as the International Space Station and approved plans to cooperate with NASA on a return mission to take samples from the surface of Mars.
The agency got €400 million more than requested for its earth observation programme, Copernicus. The popularity of this programme is, "driven by more awareness of [climate-related] catastrophes and disasters," Wörner said.
Ministers voted to continue funding for studying space weather and clearing space debris. They also backed a satellite mission to sense gravitational waves caused by a collision of black holes.
In addition, they agreed to send a mission crew to the moon to drill for water – a potentially invaluable drinking source for future astronauts visiting the moon. Oxygen removed from the water could also provide the basis for breathable air, or for rocket propellant.
UK bump up
UK science minister Chris Skidmore announced on Wednesday the country would bump up its subscription in the agency by 15 per cent to €440 million a year, the biggest contribution to date.
Germany is the biggest financial backer of the agency, committing almost 23 per cent of the total budget, followed by France on 18.5 per cent, Italy 15.9 per cent and the UK 11.5 per cent.
In 2019, the ESA had a total budget of €5.72 billion, about a third of its US counterpart NASA's budget.
The UK's improved money offer will open lucrative opportunities for its researchers and industry, as the country looks to shore up its role in key programmes of interest with Brexit looming.
The UK remains a member of ESA even if it leaves the EU. The space agency, which is a separate legal entity from Brussels, already has two non-EU members, Norway and Switzerland.
Brussels meanwhile has its own lofty ambitions for space, and is carving out a bigger place for itself among the world's traditional and rising powers and is taking on a larger role in overall European space efforts – a move that previously prompted strong criticism from ESA.
Last year, the European Commission said it would merge its space-related activities in a single body called the EU Space Programme. Emphasising the need for autonomy, the commission announced a budget of €16 billion from 2021 to 2027, a 44 per cent increase over the previous six-year period. Most of the EU's investment is for the satellite navigation programmes, Galileo and Egnos.
Wörner at the time very publicly criticised the EU plan, saying it would, "take decades and cost billions". Any criticisms of this kind were absent today, with the director general hailing the budget agreement as "proof Europe is united on space".
At the last big ministerial meeting in 2016, Wörner captured the delicate and frustrating art of forging agreement between countries to accommodate the specialisms of their domestic space sectors.
"Tactical manoeuvres dominated the discussions, while issues of national affordability were never far from the surface. Subscriptions were announced and then withdrawn again, making it almost impossible to identify a clear way forward," he said.