Hermann Hauser, vice chair at the European Innovation Council, joins voices calling for 'urgent' firepower to keep pace with China and the US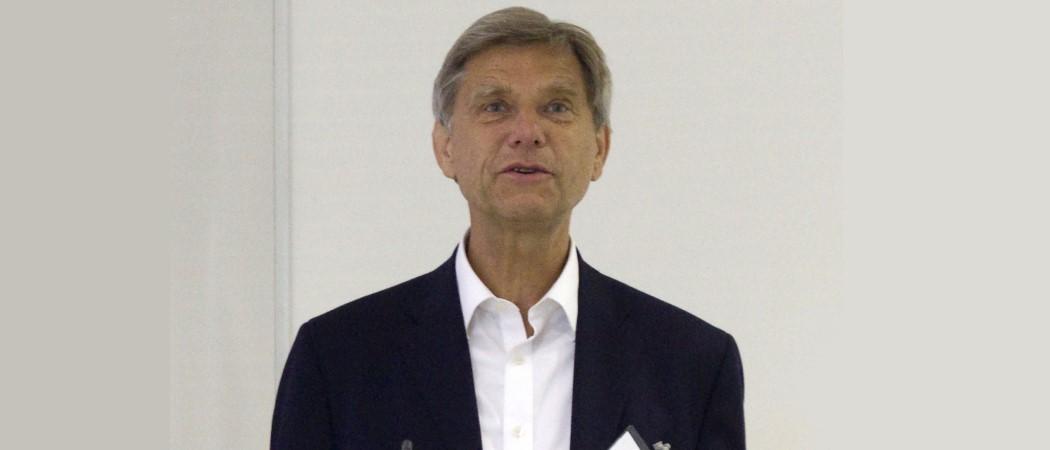 Brussels should set up a €100 billion technology sovereignty fund to compete better in a world dominated by giant American and Chinese tech companies, according to one of Europe's best-known tech investors.
"Unless we do this, we will become even more dependent on two countries than before," Hermann Hauser, vice-chair of the European Innovation Council's (EIC) advisory board, said.
With Hauser's help, the EIC has established a special tech sovereignty taskforce, to put a greater focus on developing neglected technology areas. "The first task we've set ourselves is to make a list of technologies that are so critical to our lives that we've really got to do whatever it takes to have our own access to them," he said in an interview.
The Austrian-born physicist and entrepreneur credits EU officials for stepping up their efforts to compete better in key fields, an aspiration that has grown in Brussels since the start of the COVID-19 pandemic, which cruelly exposed the fragility of international supply chains and European dependence on foreign technology.
European Commission President Ursula von der Leyen, when laying out her priorities for office last year, said the EU "must have mastery and ownership of key technologies in Europe".
To this end, the EU is seeding several mega-tech projects such as Gaia-X, to take on the dominance of US cloud computing and storage service providers, and the European Battery Alliance, to help reduce the near-total dependence on Asia for battery raw materials and expertise.
A reshoring of other critical industries, particularly medical supplies, has also been mooted in Brussels, though how it would work in practice is yet to be explained.
"If we don't build our own champions in all areas — digital, artificial intelligence," French President Emmanuel Macron has said, "our choices will be dictated by others."
Hauser says Europe, until recently, had been "too gentle and kind, and a little bit asleep." But forces in the world, not least the recently defeated US president Donald Trump and his hostility towards the EU, have "woken everybody up" he said.
Some doubt there is a coherent vision, or common understanding, for tech sovereignty, and argue that it's not clear how much Europeans will gain from the strategy. Global industry players have occasionally expressed concern over the fuzzy, nationalist rhetoric around sovereignty and they fear arbitrary, politically driven decision-making.
Also, some of the momentum pushing Europe down this path might have recently subsided, with the incoming US president Joe Biden promising to reverse the shift towards nationalism seen under Trump.
Europe's opportunity
Hauser knows his €100 billion fund proposal is a tall ask, with European governments sinking huge amounts of money into staving off a massive pandemic recession. "We really need a fund like this, but just because I suggest it, it doesn't mean it's going to happen tomorrow," he said.
Nevertheless, Hauser foresees "a great opportunity for Europe", as the world experiences a rapid, disorderly technological decoupling. With China and the US "at loggerheads" over technology, "we can be the honest go-between," he said.
While the money, power and influence of tech companies in the US and China is hard to match, Europe can make a better fist of the resources it has. When the fully-fledged EIC gets off the ground at the start of 2021, it will help to narrow the tech-funding gap between Europe and the rest of the world. The programme has a "pathfinder" stream to back truly new ideas, and an "accelerator" stream for more road-tested ones. It promises fast and simple grants, loans, and may take equity in some projects.
"A few facts are very encouraging to begin with: our university base is still outstanding. Our start-up ecosystem is healthy. In fact, we create more start-ups than they do in the US. But we have a scale-up problem," he said.
Hauser says the EU is still behind Silicon Valley and the UK for nurturing tech-start-ups, but that cities like Berlin and Paris are showing "real hotspot promise".
Personal mission
Hauser has been on his own personal tech sovereignty mission recently, fighting to bring ARM, the computer chip design company he co-founded, back into British ownership. ARM is, "one of our last great European technology companies," Hauser said. "It's national security and it's national interest."
The US graphics chips manufacturer Nvidia is lined up to acquire Cambridge-based ARM from its current owner, Japan's Softbank in a $40 billion deal.
"There's not a car, a plane, a train, that does not have some ARM in it," said Hauser. The company also designed the microchips used in 90 per cent of the world's smartphones. Hauser voted against Softbank acquiring ARM in 2016, but says he was happy that Cambridge remained the main location of ARM's research.
His concern now is that the company's products will fall under US export regulations, giving the White House control over who can license ARM's designs. At the same time, many of ARM's clients compete with Nvidia, and would become dependent on a rival, he said.
"This is like the US running your water and your electricity. Would you really like to have to ask whether the president of the US is okay with turning your tap on?"
At a time of growing focus on the monopoly powers of companies, Hauser predicts that anti-trust agencies around the world will look at the arrangement and are likely to object to it. "The obvious alternative would be to take [ARM] public on the LSE [London Stock Exchange]; make it a UK company again. That would be wonderful."
Editor's Note: Hermann Hauser is a founding investor in Science|Business.