EU will not make any payments under existing contracts and has put four new Horizon Europe grant agreements involving Russian partners on hold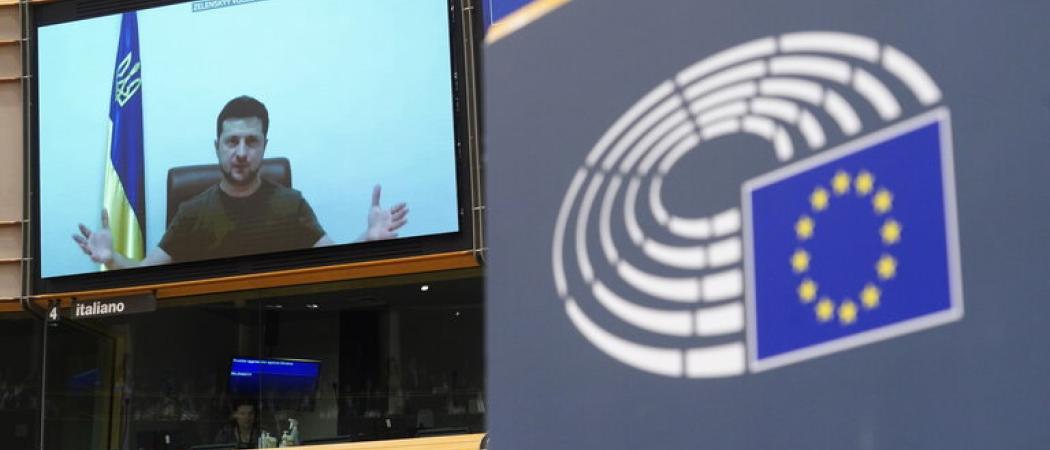 The European Commission has suspended payments to Russian institutions involved in EU-funded research and innovation projects.
"I have asked my services to suspend any payment to Russian entities under existing contracts," EU commissioner for research and innovation Mariya Gabriel said in a statement on Wednesday.
In addition, the EU will not launch any new cooperation projects with Russian universities, research institutes and companies.
"I have therefore decided to suspend the preparations of grant agreements for four projects under Horizon Europe programme that involve five Russian research organisations," said Gabriel.  "Signing of any new contracts will be put on hold until further notice."
There is no information about what the four projects are. Science|Business has asked for more details.
Germany was the first EU country to announce a blanket ban on research cooperation with Russia on Friday, less than 48 hours after the first Russian bombs were dropped in Ukraine. It took the Commission a few more days to reach a similar conclusion.
On Tuesday afternoon, Denmark followed the example of Germany. Research minister Jesper Petersen asked universities to suspend research and innovation ties with Russia and Belarus and hold off starting any new collaborations.
Poland's rectors conference and the Academy of Sciences called on all universities and research institutes to cease cooperation with government organisations in Russia and in countries that support the Ukraine invasion, according to a statement published today. The academy said it will try to help Russian scientists and academics who oppose the war. 
"We are of the opinion that the necessary condition for the continuation of cooperation of the scientific community must be mutual trust, respect for academic values and peaceful use of the results of joint research, as well as unequivocal recognition of the sovereignty and territorial integrity of Ukraine," the statement said.
Other member states are still debating whether to halt research projects with Russia.
Gabriel echoed statements by other leaders in Brussels, saying the invasion is "an attack on elementary values of freedom, democracy and self-determination, on which cultural expression, academic and scientific freedom and scientific cooperation are based."
She reaffirmed EU's commitment to helping Ukrainian scientists and researchers take part in Horizon Europe and Euratom. Ukraine signed the Horizon association agreement in October but has yet to complete the national ratification process and notify the Commission. Gabriel said that in the absence of that, the Commission has "taken administrative steps to ensure that successful Ukrainian beneficiaries can receive funding from the EU R&I programmes."
"Ukrainian scientists and researchers are key participants in our EU Framework programmes for R&I and have demonstrated excellence and innovation leadership across many fields," Gabriel said.
The Commission has decided to make its main academic exchange programme Erasmus+ more flexible. National Erasmus agencies can apply a force majeure clause and allow beneficiaries to "cancel, postpone or move activities planned in the most flexible way," Gabriel said. The move will allow beneficiaries to use Erasmus+ funding to help Ukrainian scientists but also to halt payments to Russia.
Universities advised to cease cooperation with Russia
As academics across the world debate whether to completely ban Russian scientists from international projects, Europe's largest university association has decided to "cease contact and collaboration" with government agencies in Russia and any other country backing the invasion in Ukraine.
The European University Association (EUA) advised its members to "verify and ensure" they engage in new cooperation projects only with Russian organisations which are committed to "shared European values". The EUA has 16 members in Russia.
The EUA noted many Russian academics have spoken against the war, despite the government's crackdown on anti-war protesters. EUA "advises member universities to ensure on a case-by-case basis that the continuation of existing collaborations is appropriate at this time, using national and European-level policy guidance where relevant to assess this," the statement said.
The EUA will convene national rectors conferences from across Europe to come up with a coordinated pan for helping Ukrainian members of the EUA in partnership with Scholars at Risk and the Magna Charta Observatory, a body that upholds academic freedom.
The Guild of European research-intensive universities also published a statement on the war in Ukraine, calling on governments and universities to work together to help Ukrainian academics and scientists. The Guild also said universities should "honour and recognise the academic communities in Russia that are speaking out against this violence."
Editor's note: This article has been updated 3 March to clarify the position of the Guild.