During a visit to Delhi, Commission president Ursula von der Leyen made moves to help both India and the EU reduce reliance on Chinese-made solar panels. A new Trade and Technology Council will deepen EU/India ties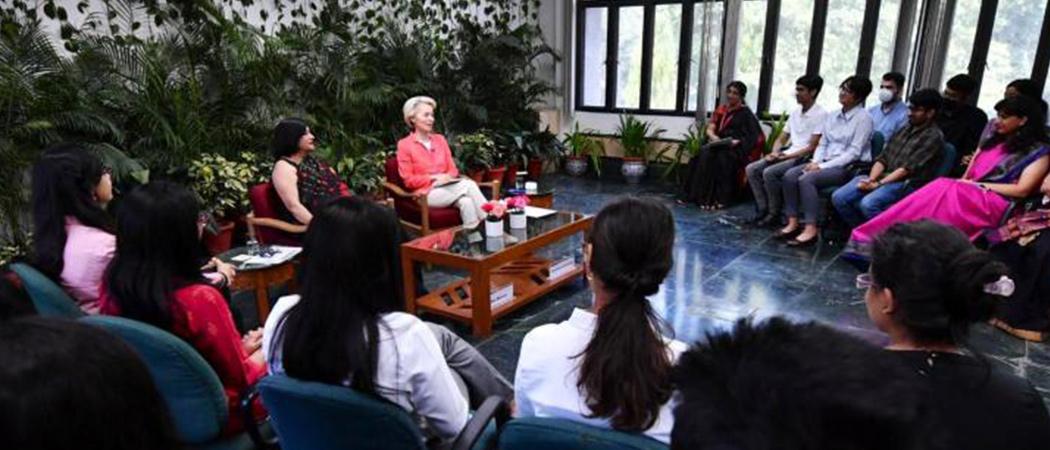 The EU is to step up cooperation with India on solar power, Commission president Ursula von der Leyen announced on a visit there this week that aimed to strengthen technology and security ties between Brussels and Delhi.
Her visit comes as the EU faces the delicate balancing act of trying to prevent dual use technology reaching Russia without stopping exports to India, which has remained officially neutral over the invasion of Ukraine.
"We need to step up our cooperation," von der Leyen said in a speech at the International Solar Alliance. "We can learn from each other how to finance, promote and deploy solar energy."
She stressed the need to secure global supply chains for the materials that make solar panels. Next month, the EU will present a new solar strategy, she confirmed.
Concern is mounting in Brussels that the EU is dangerously reliant on China for its solar panels. The invasion of Ukraine and the bloc's attempt to wean itself off Russian fossil fuels has focused minds on energy dependency.  
In late March, energy commissioner Kadri Simson told an industry conference that the EU's bid to end dependence on Russia meant there is a "renewed political will and a practical need for boosting our renewables capacity" in Europe. "We need to bring manufacturing back to Europe and the Commission is willing to do whatever it takes to make it happen," she said.
In 2008, Europe boasted more than 40% of the world's solar panel manufacturing capacity. But in recent years this has collapsed to just 3%, according to a recent analysis from the Fraunhofer Institute for Solar Energy Systems.
Asian producers now account for 95% of current manufacturing. China alone makes two thirds of solar capacity.
India is also seeking to expand its solar manufacturing capacity, as it relies on China for imports.
"Large imports of solar PV panels pose risks in supply chain resilience and have strategic security challenges considering the electronic (hackable) nature of the value chain," Delhi warned in 2020 while announcing big investment subsidies for the industry.
India and the EU already have a history of cooperating on solar power. In 2015, France and India founded the International Solar Alliance (ISA) to drive deployment of solar power, particularly in poorer countries.
The Alliance and EU "have a particular interest in enabling the future energy growth in Africa to be based on solar energy," said Ajay Mathur, director general of the ISA. "We also both believe that it is important to focus on globally disbursed manufacturing of solar panels and batteries as well as creating national framework for the recycling and disposal of PV and battery wastes." 
During her visit to India, von der Leyen did not spell out exactly how cooperation will be stepped up, and the Commission did not clarify next steps. But she urged more joint work "to reach ambitious decarbonisation targets, with more intense joint efforts on solar energy and further the cooperation on green hydrogen in particular" according to a Commission statement about the visit.
Trade and Technology Council
During von der Leyen's visit, India and the EU also announced the creation of a Trade and Technology Council, to "tackle challenges at the nexus of trade, trusted technology and security, and thus deepen cooperation in these fields between the EU and India."
The EU already has a similar body with the US. After an initial meeting last year in Pittsburgh, the EU-US TTC agreed to a common stance on artificial intelligence regulation, although in reality the two powers remain far apart on their approach to the technology.  
There are so far few official details on what the EU-India TTC will discuss, and there is no date yet set for a first meeting.
"Both sides agreed that rapid changes in the geopolitical environment highlight the need for joint in-depth strategic engagement," according to a Commission statement announcing the council.
In the aftermath of the Ukraine invasion, western countries have tried to woo India to take a firmer line against Russia. But this has been complicated by Delhi's dependence on Russia for 60% of its weapons.
The US and EU have set up an unprecedented technological blockade against Russia to weaken its economy and undermine its military strength.
But this may cause difficulties in relations with third countries like India, warns a recent report by the UK Royal United Services Institute about the invasion.
Export controls are hobbling Russia's ability to manufacture new weapons because they require so many western parts, it says.
"The Russian Special Services are thus scrambling to rebuild covert supply chains to continue to obtain critical components for Russia's defence industries," the report says.
Russia already has mechanisms to launder dual use technologies through third countries, it says, which means the west, if it wants to strangle Russian access, may have to restrict exports to countries like India even for certain civilian products.
"This would, unfortunately, strengthen the Russian argument that the west is prepared to inflict economic pain around the world for the sake of punishing Russia and, in doing so, reduce compliance with western sanctions," the report concludes.
This article has been updated to include comments from Ajay Mathur.