The debate comes at a time when Horizon Europe association talks are embroiled in broader political battles and no longer purely limited to principles of integrity and performance in research and innovation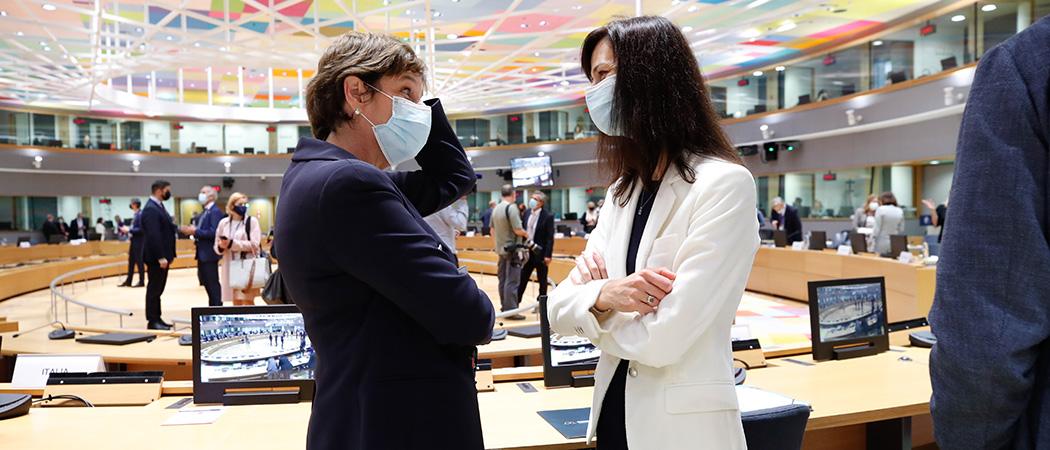 EU research ministers locked horns on Tuesday over access of third countries in the governance structure of the revamped European Research Area (ERA), shortly after they rubber-stamped the European Commission's strategy for international cooperation in research and innovation.
Germany and Austria want an open ERA and advocate that third countries, regardless of their Horizon association status – and including Switzerland - should be included in the new ERA governance. But other member states think only countries fully associated in Horizon Europe should play a role in the governance structure.
After taking over her mandate at the end of 2019, EU commissioner for research Maryia Gabriel vowed to revamp ERA, a 20-year old plan to create a single market for research. The aim is to coordinate national R&D policy and research agendas to avoid duplication and boost scientific excellence. It has long been criticised for failing to deliver because its priorities were set out as recommendations, not as mandatory goals.
As plans for the revamp progress, member states are debating which countries should take part in the new ERA governance structure. The timing is awkward given it comes at a time when Horizon association talks are embroiled in broader political battles and no longer purely limited to principles of integrity and performance in research and innovation.
According to EU research commissioner Maryia Gabriel, Horizon Europe association talks with the UK could get embroiled in the broader political issues surrounding the Northern Ireland Protocol. Meanwhile, negotiations with Switzerland are suspended, pending the resolution of a diplomatic conflict over Bern's decision to pull out of a decade-long negotiation on an overarching economic cooperation plan with the EU.
At a meeting in Brussels today, research ministers exchanged views on the governance and implementation of the ERA, reopening older disagreements over which non-EU countries should be allowed to join sensitive EU-funded projects.
"I think it makes a lot of sense that third countries should be involved [in the governance of ERA]," said Heinz Fassman, Austria's federal minister for research.  
Fassman acknowledged that some third countries would require a more careful consideration than others, but participation in ERA should be possible nonetheless, as long as these countries sign up to basic integrity criteria. "I think that's an important basic requirement for the involvement of the countries and inviting them to our ERA process," Fassman said.
"I think ERA is also a community of values and we should involve those who share our values and involve them as closely as possible," said Wolf-Dieter Lukas, state secretary at Germany's federal ministry of education and research.
Lukas said the ERA governance should be open to countries outside the EU as long as they share the EU's criteria for what constitutes fair global research cooperation. "Technological sovereignty is guaranteed by wider cooperation, not just within the European Union but beyond," said Lukas.
Other countries say participation in ERA should be limited to countries that are fully associated in Horizon Europe, EU's €95.5 billion 2021 – 2027 research programme.
France for one, wants to keep ERA for EU member states and countries associated to Horizon Europe. French minister for higher education and research Frédérique Vidal said the EU should draw a line between Horizon Europe associated countries and other third countries. Vidal is in favour of a more skeptical approach to cooperation in ERA. "I think we need to draw a distinction between the associated countries on the one hand, […] and then on the other hand, there is the geopolitical dimension of this," said Vidal.
Poland and Italy have also argued that the ERA governance should be limited to Horizon Europe associated countries. The Polish representative said Horizon association "provides assurance that common principles are respected."
The member states are expected to reach conclusions on the future governance of ERA by the end of the year. A conference on ERA will take place next month, where ministers will discuss how to coordinate national research policy agendas.
The Slovenian presidency of the EU Council is also expected to push through a pact for research and innovation which sets key principles and values upon which research in Europe should be based. The pact also encourages member states to boost public and private R&D investments up to 3% of national GDP.
New rules for global research
Just before the exchange, EU research ministers also rubber-stamped the European Commission's proposal for a strategy for international cooperation, the so-called global approach to research and innovation.
Member states agreed that international research cooperation should be guided by the principle "as open as possible, as closed as necessary".
Research ministers have also called on the Commission to set up a joint innovation agenda with the African Union to to support the building of research capacities and the translation of research output in Africa.
In addition, member states want the Commission to continue multilateral cooperation projects, such as the Partnership for Research and Innovation in the Mediterranean Area, the Baltic and North Sea Coordination and Support Action, BlueMed, and Arctic and Black Sea Cooperation, acknowledging their potential to help the EU achieve its broader geopolitical ambitions through closer scientific cooperation with neighbouring regions.