Science|Business checks out the research-focused takeaways from the latest Eurostat report on progress towards the UN Sustainable Development Goals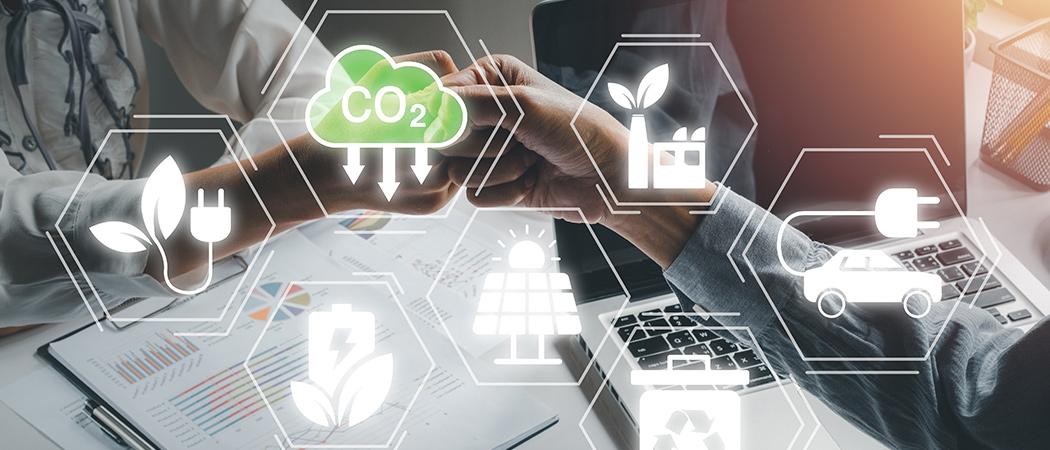 The EU is making progress in improving its research and development landscape, according to the latest Eurostat assessment of how member states are faring in achieving the Sustainable Development Goals (SDGs) set out by the United Nations.
In recent years, Eurostat notes, EU member states have seen rising investment in R&D, more people taking up research jobs, a rise in patent applications and more young people attaining university degrees.
These achievements fall under 'SDG nine' which calls for sustainable infrastructure and industrialisation, recognising the strong role of research and innovation in getting there.
This is also a goal that has seen the some of biggest progress in recent years out of the 17 SDGs that were adopted in 2015 as part of the UN's global roadmap to sustainable development. The delivery date for SDGs is 2030 and the annual Eurostat report has been tracking progress.
Here are the main research-centred findings:
EU's R&D expenditure is growing – but not fast enough
Public and private investment in research and development is growing, and now stands at 2.3% of GDP as of 2020. This marks steady but slow growth from just above 2% in 2011. That's €311 billion in 2020, compared with €228 billion in 2011.
But it's still a far cry away from the EU's goal to achieve investment of 3% of GDP by 2030, which member states reaffirmed last year. If the current growth rate persists, the goal won't be reached in time. In 2020, only five EU countries managed to get there: Sweden, Belgium, Austria, German and Denmark.
Industry leads R&D spending
Industry is still by far the biggest spender when it comes to R&D, accounting for 65.8% of total expenditure in 2020. The second biggest spender is the higher education sector at 21.9%. The government sector contributes 11.7% of the money going to research, with the remaining 1% is accounted for by private non-profits.
Number of patent applications keeps growing
The number of applications has been steadily growing since 2006, with a small dip in 2009 following the financial crisis. In 2021, there were 67,713 patent applications submitted to the European Patent Office from EU countries.
Here, Luxembourg is the overall EU leader by far, submitting almost 700 applications per one million inhabitants in 2021, down from around 950 in 2016. Scandinavian countries – Sweden, Demark and Finland – are just behind, each submitting between 350 and 500 applications per one million inhabitants in 2021.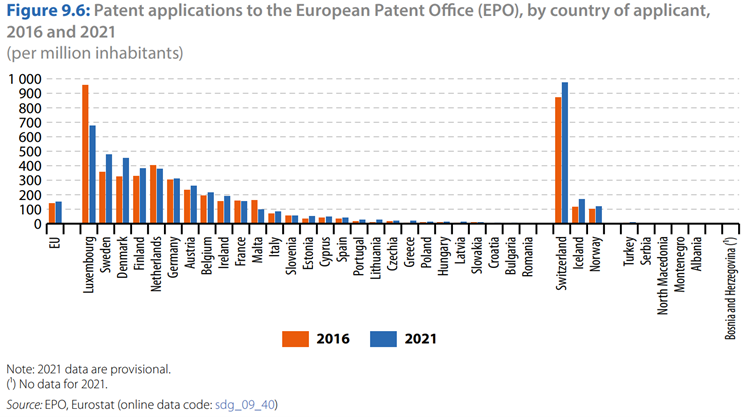 More and more people are working in R&D
The share of R&D personnel, such as researchers, managers, administers, technical and clerical staff, in the labour force has also been growing. In 2005, they represented 0.94% of full-time equivalent workers. In 2020, the figure increased to 1.44%. More than half of the staff work for private companies.
Overall, Denmark, Belgium, Finland had the biggest research labour force as a percentage of their population in 2020.
But there's still little gender equality
Women made up only 32.9% of the R&D labour workforce in 2019, and there has been little progress made since 2003 when 29% of these workers were women.
The private sector is not setting a good example here, with women making up 21.3% of researchers in 2019, while in the public sector women accounted for more than 40%. 
More money going to agriculture R&D
Governments have been steadily boosting their support for agricultural research and development since 2013. Between 2015 and 2020 alone, total investments grew from €2.6 billion to €3.3 billion.
The boom in spending was led by countries such as the Netherlands, Slovenia, Hungary, Poland, and Croatia that massively increased their investment, although with the exception of the Netherlands, most still remain frugal spenders.
In 2020, Ireland, Denmark and the Netherlands led the ranks in the EU, but were massively outpaced by Norway, the overall leader when it comes to investments in agricultural research and innovation in the European economic area.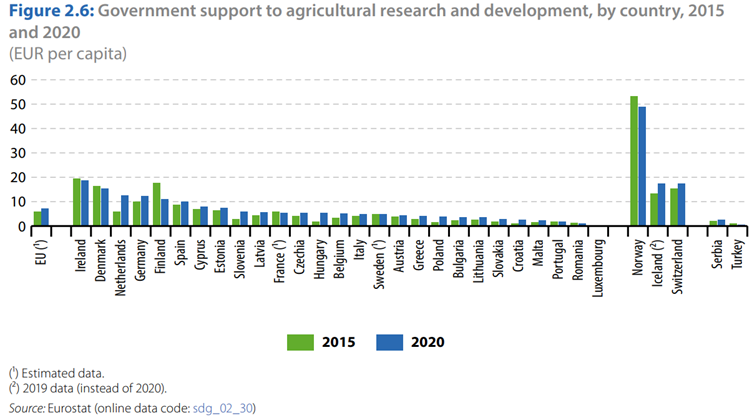 Mixed signals for education
Education, an area largely tracked under its own SDG, saw less progress in recent years than the research sector.
The goods news is that more and more Europeans graduate from university, with the share of 25 to 34 years olds that hold a university degree increasing from 28% to 41% between 2006 and 2021. This is on track with the EU goal to have at least 45% of the people in this age group attain a higher education degree by 2030.
Here, women are performing better than men, with 46.8% of women aged 25 to 34 years holding a degree compared to 35.7% of men, as of 2021. Worryingly, the gap has been steadily widening since 2006.
At the same time, while more and more Europeans have access to education and adult learning, the outcomes are 'quite unfavourable,' according to Eurostat. Pupils struggle with reading, maths and science, while the share of adult learners with at least basic digital skills is stagnating, despite the EU goal to increase it to 80% by the end of the decade.