US secretary for agriculture says Europe's plan to make agriculture more sustainable could stifle innovation, cut agricultural output and put transatlantic trade at risk. The EU commissioner says quality not quantity is what counts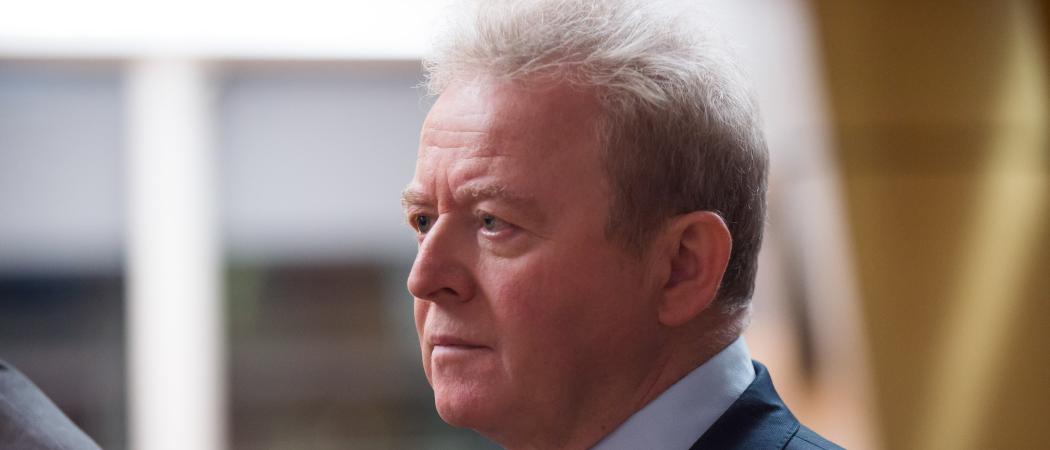 US Secretary for agriculture has blasted the EU's "Farm to Fork" strategy and the continent's reluctance to use new technologies in agriculture, in heated debate over how to make food production more sustainable.
In a meeting with EU agriculture commissioner Janusz Wojciechowski on Wednesday, Sonny Perdue said the US is, "worried that the farm to fork and biodiversity strategies will be extremely trade-prohibitive and jeopardise agricultural output."
In the online exchange, organised by the European Conservative and Reformists Party (ECR), the two agriculture chiefs debated their opposing views on how innovation can contribute to sustainable food production.
"We will not be on track to meet our food needs if we continue to impose policies that restrict growth and stifle innovation," said Perdue.
"Our ambition is to be competitive in the world market, not in the quantity of food production, but by the quality," responded Wojciechowski.
Europe's farmers face an awkward dilemma. To make operations more sustainable, they need to reduce the use of pesticides and fertilisers, whilst at the same time trying to increase yields so the EU can become less dependent on food imports.
As the route around this, the US favours using technologies such as gene editing and precision breeding, together with modern pesticides and fertilisers, which it is promised, will be less harmful to the environment than previous products.  
On this side of the Atlantic, however, things are a bit more complicated. The EU has a grand plan to make the continent carbon neutral by 2050, and sustainable agriculture is a big part of this. The European Commission has drafted a farm to fork strategy which aims to reduce the use of fertilisers by 30 per cent and turn 25 per cent of agricultural land over to organic farming. EU's next research programme Horizon Europe will allocate money to projects focused on improving soil health and reducing the use of pesticides and antibiotics in agriculture by 2030.
The road from farm to fork
The EU argues the coronavirus pandemic has exposed the vulnerability of food supply chains Europe, with perishable foods getting stuck at border crossings after member states introduced lockdowns that stifled the free movement of goods on the continent.
A key element of the farm to fork strategy is to shorten the supply chain in food production, to enable local sourcing. That has the added benefit of reducing transport needs, by linking agriculture more closely to local markets, but would be detrimental to international supply chains. "Agriculture should be agriculture, not industry," said Wojciechowski. "With the help of EU funds we will motivate farmers to adopt sustainable production methods."
As Wojciechowski noted, farmers pay a price to move food around Europe, receiving less money for their products as a result of this overhead cost. At the same time, consumers pay more for their food. "Such large scale transport, also comes at huge cost to the environment and produces greenhouse gases and other emissions, which must be reduced," he said.
In Perdue's view, the EU's green plans for farming and biodiversity could jeopardise trade relations with the US, because the policies could bring about a new form of protectionism against cheaper food from the US. "That's not going to be good for international trade," he said.
"Even now we have a trade deficit between the US and the EU, and certainly that's not even including the $70 billion of automobiles coming from the EU," said Perdue. "So there's a lot of risks."
"I believe Europe should be able to dictate how their farmers farm, as much as they want, but let the consumer ultimately decide," Perdue said.
Profitable sustainability
In the US the argument holds that farming can be both highly profitable and sustainable. According to Perdue, agriculture output in the US has almost tripled since the 1950s, when the US government began incentivising efforts to industrialise farming and allowed the widespread use of chemically induced mutagenesis to increase genetic variation in crops.
"In the US, I am proud to say that we are achieving profitability, affordability and sustainability, all at the same time," said Perdue. "I firmly believe that those three are never mutually exclusive."
This year, the United States Department of Agriculture launched an agriculture innovation agenda to increase agricultural production in the US by 40 per cent while cutting its environmental footprint in half by 2050.
"High productivity is not damaging the environment," said Perdue. "The only way we're going to feed the world while minimising agriculture's impact on the environment is by producing more with less total inputs."
A bigger role for gene editing
Perdue argues the EU cannot increase agricultural output and become less dependent on food imports if it continues with plans to drastically reduce the use of pesticides and fertilisers, and if it refuses to use new technologies such as precision breeding, a way of producing genetically modified organisms without introducing genes from other species.
A 2018 ruling by the European Court of Justice (ECJ) found this form of modern precision genome editing is nevertheless subject to an EU directive that banned genetically modified organisms (GMOs) in 2001.
Earlier this month, a group of academics called the 'Food Sovereignty Scholars' submitted a reaction paper to the commission saying the farm to fork strategy should favour 'agro-ecology' over gene editing. "While more research is always valuable, there is already a wealth of peer-reviewed science about agro-ecology which provides evidence for immediate action," the researchers said. "From this perspective, gene editing remains a false solution that should not be pursued."
But other scientists disagree. In a statement last week marking two years since the ECJ decision, researchers at 120 institutes around Europe said the EU should lift the ban on gene editing in agriculture. According to the researchers, precision breeding and genome editing technologies are a speeded-up equivalent of traditional breeding techniques, which can have "far reaching applications such as increasing the diversity of crops, the reduction of pesticides, the further development of healthy food and many more."
Karel Říha, deputy science director at the Central European Institute of Technology Masaryk University in the Czech Republic, which specialises in plant genetics, says precise breeding technologies and gene editing could be used to create new varieties of plants for agriculture and food production. New varieties could be grown more efficiently in dryer or saline soils, and could be more resistant to pests, reducing the use of pesticides.  
Říha said the ECJ ruling was "a big setback" for the Europe's biotech and agriculture sectors. He warned the EU's competitors will not regulate precision bred plants and animals as GMOs. "We are depriving ourselves of major revolutions in biology," he told Science|Business.
Some regions in Europe are in desperate need of new technologies to keep their competitive edge in food production. As average temperatures rise, farmers and researchers on the northern bank of the Danube in Romania are scrambling to adapt Mediterranean plants so they can be cultivated on thousands of hectares of increasingly dry and sandy lands. The region has a temperate climate with harsh winters and warm summers, but the average temperature is going up, rainfall is more infrequent than in the past, and harsher winds are eroding the soil faster.
In an interview for Romanian media, Valeriu Tabără, former agriculture minister and president of the Academy of Agriculture and Forestry Sciences, said researchers are working on adapting olive trees, kiwi and figs to the Romanian plains, but warned these efforts might not be enough if the EU continues to keep new biotechnologies in the drawer.
Asked whether the EU should try to reverse the ECJ ruling on gene editing crops, Wojciechowski said the commission has a "generally positive approach" towards new technologies, but each decision "should be based on scientific evidence." He added that his colleague Stella Kyriakides, EU commissioner for health and food safety would be best suited to answer the question. "It's not my direct responsibility," he said.
According to Říha, European researchers are working intensively on the use of precise breeding for farming and the EU could lose the competitive advantage if prohibitive regulations are upheld.
If Europe fails to harness these technologies, "farmers abroad will have superior varieties which they could import into Europe and put European farmers at a disadvantage," said Říha. "In 10 years we will be importing these crops and we will not have control over these technologies anymore."