A supply chain for cultivating meat from cells in bioreactors is emerging, as start-ups develop technologies that will make it easier and cheaper to scale up production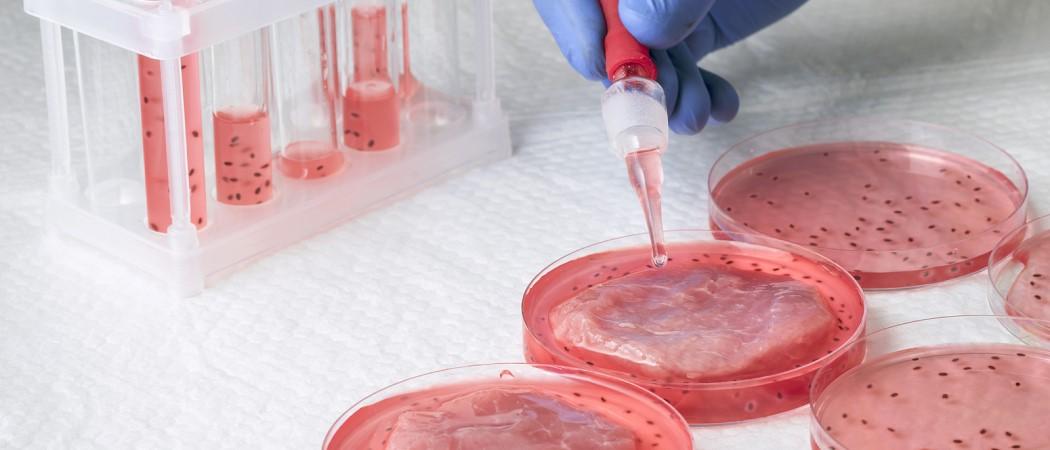 A number of start-ups have gone it alone in developing and commercialising cultured meat, establishing an initial market for these products, and paving the way for companies with enabling technologies, such as designer growth media and scaffolds for cell culture
These newer companies are not planning to produce cultivated meat themselves, but to build a supply chain for the rest of the industry, enabling scale-up and potentially reducing the need to farm animals.
The rise of plant-based 'meats' made from peas, grains or other vegetable proteins, indicates there would be a market for products based on protein produced in cells.
Although it has been technically feasible for some time to use this protein to mimic conventional meat's structural and sensory properties, there remain numerous hurdles when it comes to scaling-up production and reducing costs.
One of the most significant cost barriers is the availability of cheap, animal-free cell culture media to feed the cells as they grow, with most commercially available products intended for use in human healthcare and priced accordingly.
Other factors include the need to develop high-yielding cell lines that are suitable for meat production, and to improve the scaffolds on which these cells grow.
First generation cultivated meat start-ups had no option but to address all of these challenges in-house. But while some, including Good Meat and Upside Foods in the US, have succeeded in getting their products to market this is not the foundation for a sustainable sector, say the new entrants.
"The second-generation products need to be much quicker, and those companies that are getting to market need to move faster and validate the years of investment that have gone into them," said Cai Linton, co-founder and chief executive of Multus, a London-based start-up specialising in growth media for cultivated meat production.
"We have cracked one of the biggest challenges, which is how to produce scaffolds on a large scale, and this will allow cultured meat to become a valid product," said Märt-Erik Martens, co-founder and chief executive of Estonian start-up Gelatex. "We are looking forward to the moment when this industry has matured and cultured meat will become a mainstream product."
The products Gelatex, Multus and others are developing will mean that cultivated meat producers can concentrate on the customer. "They can focus their resources on product development, branding and marketing, the more consumer-facing aspects of their business that will really differentiate them in the market," Linton said.
This development is also being closely watched by the European Institute of Innovation and Technology (EIT) Food community.
"The establishment of a specialist supply chain is a crucial step towards scaling-up cultured meat production and expanding the market," said Lorena Savani, an innovation programme manager with EIT Food and a member of its Protein Diversification Think Tank. "This will also help to meet the increasing demand for sustainable protein sources and drive forward advances in technologies, production methods and affordability."
Market demand
Gelatex started out in 2016 with the goal of developing a sustainable leather from gelatin nanofibres, with gelatin sourced from waste products in the meat and leather industries. While the company had some success, the use of animal products as a raw material meant it could not produce the vegan product the market demanded.
But along the way Gelatex developed a technology for producing nanofibres on a large scale. When the COVID-19 pandemic started, it used this with other raw materials to make filtration fabrics for masks, prompting a deeper investigation of nanofibres. One potential application it identified was in cultivated meat, where the process could be used to make microcarriers to help cells proliferate in bioreactors, and 3D scaffolds to support 'muscle' tissue formation. Both could start from plant-based raw materials.
"We already knew that nanofibres were one of the best animal cell growth substrates ever developed," said Martens, who helped develop the underlying technology at the University of Tartu. "The problem was how to scale up nanofibre production, and we'd already solved that in order to produce a textile material, which had to have a very low cost."
Gelatex pivoted to become a supplier of scaffolds for cultivated meat companies. "We are heavily focused on nanofibres, and we know pretty much everything you can know about scaffolds, so they don't need to build up this knowhow internally," Martens said. "And we are already producing on a scale that is relevant for cultured meat companies."
The Gelatex scaffolds are highly competitive. "Mass for mass, growing the cells is more expensive than our scaffolds," says Martens. "So, using our products already enables a price reduction of a cultured meat product, and that's before the industry scales up."
This also opens up some interesting possibilities for hybrid products. "Conventional meat has 3-10% extracellular matrix and the rest is cells, but you can increase the amount of scaffold up to around 50%," Martens said. The more scaffold that is included, the cheaper the product gets. "That gives you a hybrid that does not exactly mimic the structure of steak, but it is still better than many other products on the market."
Following a €1.2 million seed round in 2021, Gelatex this year won a €760,000 grant from the Estonian Business and Innovation Agency to further develop edible microcarriers and microcarrier production technologies to support cultivated meat production and other forms of cellular agriculture. It is currently seeking investors for its next stage of development, which includes a range of potential uses for its nanofibres, including medical applications and filtration.
The limiting factor as far as cultivated meat is concerned is how quickly the producers can put their products on the market. This in turn depends largely on them winning regulatory approval, an area where Europe is lagging behind Asia and the US.
"We would always like to move faster, but this is the nature of this business," Martens said. "Regulation is heavily dependent on the region, and we've mitigated this risk by working globally, with companies in Europe, Asia and the US."
Barriers to commercialisation
Multus was founded in 2019 by four students from Imperial College London who identified a lack of economic, animal-free growth media as one of the barriers preventing the commercialisation of cultivated meat. So, they set out to develop an inexpensive plant-based growth medium that could be produced in large quantities.
This work has been as much about data as biochemistry. "We are trying to grow new cells that do very complex things, and that requires the testing of many thousands upon thousands of different recipes," said Linton. "So, we've built a platform that combines quite deep machine learning with our own proprietary data set on cell behaviour in more scalable feedstocks."
A seed round of £1.6 million in 2021 helped the company to bring out its first product, Proliferum M, a broad growth medium for mammalian cells intended initially for research use. In 2022 the company won a European Innovation Council Accelerator grant, which was funded to the tune of £2.15 million by the UK government. A Series A round from private investors in early 2023 brought in a further £5.75 million.
This funding is supporting the company as it develops follow-up products for commercial production. "Our goal is to have growth media for chickens, cows and pigs that can help companies get products on the market," Linton said. "That means we have to scale-up our raw material supply chains and manufacturing capacity, and bring new products and services to market."
These products and services should enable larger cultivated meat companies to solve the R&D challenges they face with growth media, and efficiently source scalable growth media solutions. Meanwhile, Multus also hopes to smooth the way for regulatory approval by certifying its manufacturing processes as food-safe and collecting safety data on its products.
Beginning with a product targeted at research has allowed the company to build bridges with potential customers. "We're working with over 60 companies around the world," Linton said. "These relationships allow us to understand what these companies need to do at their different stages of growth, the milestones they are aiming to hit, and the challenges that still remain."
Multus is currently setting up a pilot plant capable of producing several thousand litres of food-grade growth media each month. Meanwhile, work continues on new products and formulations. "We're engineering the protein structures to have better solubility, better potency and the ability to work across species," Linton said. "Our aim is to become a preferred partner for growth media as companies make this transition from R&D to commercialisation and eventually mass production."
In addition to its work with growth media, Multus has recently partnered with another UK start-up, Extracellular, to create an open-access cell bank tailored to the needs of the cultivated meat industry. "That should lower a lot of the costs for companies to get started in cultivated meat," Linton said. "It lowers the barrier for developing new, interesting technologies and hitting some of those early benchmarks."
Growth in the supply chain
Meanwhile, EIT Food set up the Cultivated Meat Innovation Challenge in 2022, in collaboration with the Good Food Institute, a think tank and lobby group for alternative proteins. The objective was to drive down the cost of cell culture media. Four winning companies were given €100,000 each to develop the business case for their ideas. This month, EIT Food awarded three of them a further €600,000 each to pursue further market testing and commercialisation.
"Now we are in the second phase of the challenge, and have provided additional funding as they bring their innovations to the market," Savani said. "We've been able to engage with amazing start-ups that are finding solutions that achieve extremely high cost-reductions."
3D Bio-Tissues, a spin-out from Newcastle University, has developed a medical-grade growth medium synthesised from the byproducts of agroforestry and other industries. It plans to scale up production and reformulate a product for meat cultivation.
Israeli company BioBetter has genetically modified tobacco plants so that they can produce the growth factors needed to produce a lower cost growth medium.
The fourth project initially selected, evaluating the potential of microalgae hydrolysates as an economical nutrient source, did not receive further funding in this round.
EIT Food is satisfied with the results of the challenge, and is considering repeating the experience. "We will definitely have another challenge on protein diversification, because this is critical to the resilience of the food system," said Savani, "but we don't know yet whether that will be on cultured meat or plant-based proteins."
Editor's note: This article has been updated 10 October 2023 to remove a reference to German biopharmaceutical company LenioBio, which decided not to accept the funding from EIT Health.
Elsewhere in the Ecosystem…
Traceless Materials, a 2020 spin-off from the Technical University of Hamburg, has

completed a €36.6 million Series A funding round

. The company has developed an alternative plastic derived from agricultural residues, and the new money will allow it to expand production to industrial scale. The round was led by UB Forest Industry Green Growth Fund and SWEN CP's Blue Ocean fund, with a local banking syndicate among the supporting investors.
The European Investment Fund and Croatia's Ministry of Regional Development and EU Funds have signed an

€80 million funding agreement,

setting up the Croatian Venture Capital Initiative 2 (CVCi 2). The programme is a follow-up to the €35 million CVCi fund launched in June 2018, which is now deployed in around 140 early-stage start-ups. As well as supporting homegrown companies, CVCi 2 will include an allocation for investments in foreign businesses setting up in Croatia.
Innovation in 3D printing has surged in the past decade, according to

a study from the European Patent Office

. Between 2013 and 2020, international patent families in 3D printing technologies grew at an average annual rate of 26.3%, nearly eight times faster than for all technology fields combined in the same period.