Vytenis Andriukaitis calls 'fake news' on Trump drug price blame game. Tariffs on medicines – if ever proposed by the US – would be 'a humanitarian tragedy', he says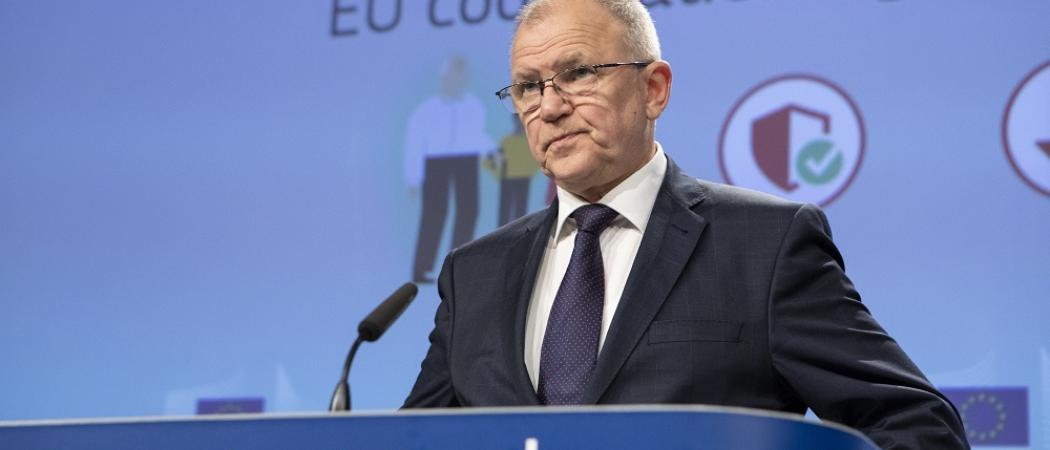 Health commissioner Vytenis Andriukaitis has flatly rejected the accusation by Donald Trump that "freeloading" Europe is benefiting from US pharmaceutical research. "Sorry to say, it's fake news; it's absolutely fake news," he told Science|Business.
Trump blames high drug prices in the US in part on foreign countries that gain from significant US investment in medical research without paying their fair share of the costs. The White House Council of Economic Advisers issued a report in February that described "free-riding" by wealthy countries as "the root of the problem."
"America will not be cheated any longer and especially will not be cheated by foreign countries," the president said in a speech on May 11. Foreign governments, "extort unreasonably low prices from US drugmakers," he said, setting out his plan to deliver on a campaign pledge to bring down the price of pharmaceuticals.
At the same time, the Department of Health and Human Services published the American Patients First plan, its blueprint for cutting drug prices. As one of "four major problems" to be addressed, it includes foreign governments that, "freeload off of American innovation."
The plan does not specify how other countries could be forced to swallow higher prices, or if this would lead drug companies to lower prices in the US, but pharma has been jittery, given the way the steel and aluminium conflict quickly escalated from tweets to tariffs.
But as Andriukaitis noted, the reason some drugs are cheaper outside the US is because many nations, including in Europe, negotiate or regulate drug prices as part of their healthcare systems. The American system, by contrast, allows drug prices to be set in negotiations between insurers and the companies, which, studies suggest, often leads to higher prices.
Andriukaitis, a heart surgeon before moving into politics, said tariffs on medicines – if ever proposed by Trump, would be "a humanitarian tragedy".
"You can't put peoples' lives in danger. I cannot imagine it would happen. Patients are patients, doesn't matter where they are – California or Lithuania. Medicines are not gin, Harley Davidsons, steel or cars. A war on medicines would go in an inhuman way," he said.
Trump's analysis, "is such a simplification of understanding. I can't image how you can simplify it [like this]," Andriukaitis said.
Instead of "blaming and shaming", or trying to compare 28 separate healthcare systems with one US system, countries should work towards "global transparency on pricing", for the benefit of all.
"Access to affordable treatments is [part of] the sustainable development goals. So it's a global obligation," said Andriukaitis. Instead of separating continents, "We must join forces." That is necessary, "to achieve agreement that some medicines, such as those for treating tuberculosis and malaria, are at socially acceptable prices".
Andriukaitis, the first European official to publicly respond to Trump's accusations, also points to "common efforts" between Europe and the US in research and development. "How can you separate the investments of multinationals which cover continents?" the commissioner said. American companies such as AbbVie, Merck and Co. Inc. and Pfizer take part in EU-funded pharma research, under the €3.3 billion Innovative Medicines Initiative and have multiple collaborations with European universities and European companies.
EU governments pay for innovation that benefits the whole world. The current best-selling drug in the world, AbbVie Inc.'s Humira, which had sales of $14 billion last year, was originally discovered by Cambridge University spin-out Cambridge Antibody Technology in the late 1990s, in a collaboration with the German pharma company Knoll Pharmaceuticals. Amongst others having intellectual property vested in the breakthrough treatment for rheumatoid arthritis was the UK Medical Research Council.
Whilst Humira was in clinical development, Knoll was acquired first by fellow German chemical company BASF, and subsequently in December 2002, by Abbott (later renamed Abbvie) for $6.9 billion.
Another example is the prostate cancer drug Zytiga, which was discovered by the Institute of Cancer Research in the UK, developed initially by UK technology commercialisation company BTG plc and latterly by a US company Cougar Pharmaceuticals, before coming into the ownership of Johnson & Johnson. The product had sales of $2.5 billion in 2017.
These are two of many examples of innovation funded by both the public and private sector in Europe, ending up being owned by US pharma with the financial firepower to complete clinical development and bring products to market. Conversely, European headquartered pharma companies, including Roche, Bayer, Sanofi and Novartis, have purchased and commercialised innovation arising in US universities and privately-funded biotechs.
The whole issue of international drug pricing is complex – with real comparison hard, as this study by market research company IHS Markit illustrates. The crux is that all purchasing negotiations are secret. Even though it is generally reckoned that the US, in the absence of price controls, pays more than Europe for drugs, US-based 'middlemen', including pharmacy benefit managers and health insurers, negotiate huge discounts from pharma companies on list prices. Drug companies blame these intermediaries for not passing on the savings to consumers.
The IHS Markit research shows that list prices for 30 drugs were the highest in the US by an average of 67 per cent, compared to EU pharmaceutical markets. But drugs purchased under US federal programmes are 20 – 30 per cent less expensive than list prices in the private sector.
Tariff tit-for-tat
The US move to include Europe in the tariffs it has imposed on steel and aluminium imports, and the EU's tit-for-tat duties of 25 percent that are due to be applied on US goods worth €2.8 billion, including bourbon, make-up and motorbikes, from Friday, could lead to an escalation in which no goods are sacrosanct.
The - for now - more serious trade dispute Trump has picked with China, gives cause for concern that pharmaceuticals could get caught in the cross fire. Imports of pharmaceuticals from China were included in an initial list of 1,300 product categories to be targeted with a 25 percent duty, published in April. In the event, active pharmaceutical ingredients and manufactured drugs escaped the tariff imposed last week, but many diagnostics and medical devices were included on the list.
Devices including defibrillators, orthopaedic implants and needles, catheters and syringes, which were on the original list, were spared. But more than 20 different categories of devices and diagnostics were hit, including pacemakers and imaging equipment.
Brexodus at the EMA
A similar call to join forces applies to the EU-27 countries, which will have to step up to cover the loss of UK expertise at the European Medicines Agency (EMA), Andriukaitis said.
UK experts currently carry out about a fifth of the EMA's work, but the country's future role in the European medicines regulator, which is in the process of relocating its headquarters from London to Amsterdam, is in some doubt.
"Brexit will affect a lot. The question is how we can encourage member states to take extra responsibility on their shoulders and prepare experts [to cover the loss of expertise]," Andriukaitis said. The commissioner said he wrote a letter to governments last year, calling on them to boost lab capacities and training.
Pharmaceutical companies and patient groups have expressed concern that the supply of medicines will be disrupted if there is no agreement on customs arrangements and the UK is not part of the European drug approval process after it leaves the bloc in 2019. The National Health Service in England has started a formal piece of work, looking at issues around maintaining pharmaceutical supply chains.
"Nobody knows what will happen. We can speculate from different angles, but it's up to the UK. They need to tell us in the autumn what they want," the commissioner said.
Drug pricing
Born in a Soviet gulag, Andriukaitis took part in Lithuania's first heart transplant operation in 1987.
He later swapped the scalpel for a pen. Starting out in politics with the underground Social Democrat movement in Lithuania, Andriukaitis was a member of the Lithuanian Parliament for six terms, and health minister from 2012 to 2014.
His job in Brussels covers a variety of public health measures, such as awareness campaigns on vaccines and alcohol abuse, but also the more politically sensitive area of health technology assessment (HTA), a key factor in drug pricing and reimbursement decisions in Europe's healthcare systems. Obliging companies to demonstrate the cost benefit of their products to each system is one of the main mechanisms through which payers exert downwards pressure on prices.
There are for example, multiple examples of the UK HTA body, the National Institute of Health and Care Excellence, ruling drugs are not cost-effective, forcing companies to offer price reductions.
The Commission in January released a plan to improve cooperation between governments on HTAs, potentially widening the impact of HTA. "Only 11 or 12 countries in Europe currently have the capacity to do these assessments," Andriukaitis noted. The rest are dependent on the findings of France, Germany and the UK.
The Commission wants countries to merge methods and share data. If member states opt in at a European level, they will have to accept the results of assessments.
But Andriukaitis does not yet know what the outcome of the proposal will be. "Now we're seeing debates about mandatory cooperation and voluntary uptake, or voluntary cooperation and mandatory uptake," he said.
Pharma companies have fiercely resisted any moves to introduce health technology assessments in the US, but rising pricing have increased pressure for the introduction of cost benefit analyses. The American Patients First plan includes a proposal to experiment in value-based purchasing.
More fake news?
A similar level of uncertainty could be said to hang over the EU health portfolio, with persistent rumours it could be merged into a different directorate general. The latest alarm over the future direction of EU health was sounded in May, when the EU executive published plans for its next seven-year budget. That proposes that certain health initiatives should be consolidated with other programmes, in an enlarged European Social Fund, ESF+.
Compounding the concern, the proposed budget for public health policies from 2021 – 2027 is €413 million, down by 8 per cent on the current period.
While it is true that healthcare is the responsibility of individual member states and the EU's health chief has limited power to change policy in Europe, with a relatively small budget by Brussels standards, the EU's constitution safeguards the mandate, Andriukaitis argues.
"How can you exclude [EU] public health; how can you exclude food safety issues? You can't. It doesn't matter what you call commissioners [or] organise them, but you should implement all requirements that are enshrined in the treaty," he said.