Dominic Cummings, former chief aide to prime minister Boris Johnson, sets out his vision for £800M Advanced Research and Invention Agency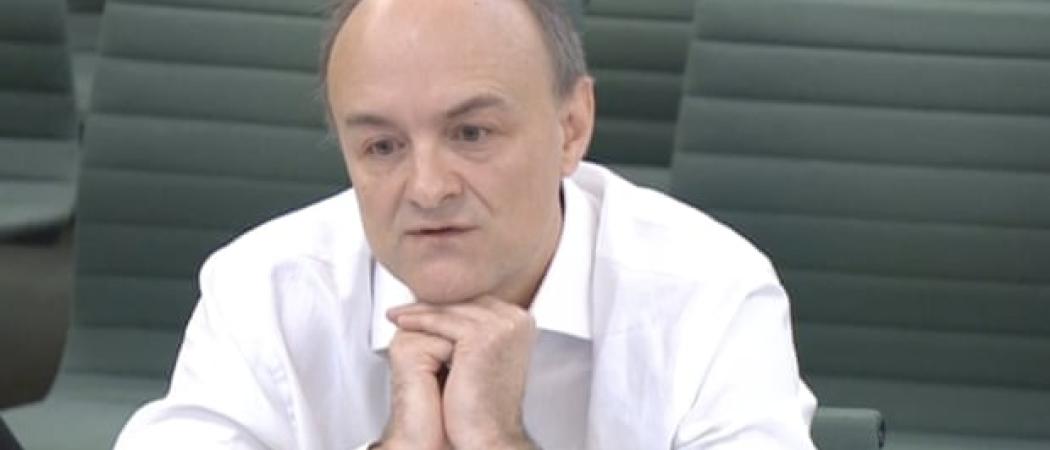 The UK prime minister's former aide, Dominic Cummings, said the new Advanced Research and Invention Agency (ARIA) needs a visionary at the helm and should seek out radical science and technology ideas from young people who are shut out of the current funding reward system.
Setting out his vision for ARIA, Cummings said, "If you get a bog standard vice chancellor, it won't work," adding, "the science funding system is terrible at funding teams where the output is something that is not a research paper."
Cummings told the parliament's science and technology committee he envisages ARIA being run by a figure like Australian quantum computing pioneer Michael Nielsen. Other names he suggested were British mathematician Tim Gowers and physicist Steve Hsu.
It has been suggested Cummings, who was the main promoter for ARIA, would like to head the agency himself, but he said, "I'm not seeking to be involved; I won't be involved….If you pick the right people, what could I possibly contribute to it?"
Cummings was scathing of what he sees as the deficiencies of the UK research funding system, which he complained benefits well-connected insiders to the detriment of young researchers.
As one example, the UK science system did not recognise the vision of the founders of the artificial intelligence pioneer DeepMind, which is why they went to Silicon Valley for initial backing. The company was acquired by Google in 2014.
Cummings said he strongly supported ARIA being run independently of the main funding body, UK Research and Innovation. "It definitely should not be a part of UKRI," which suffers from an "extreme bureaucracy problem," he said. "If you put it in UKRI, don't do it at all."
The COVID-19 crisis has underlined how difficult it is for governments to find and back innovative approaches to dealing with complex problems.
"In the early months of the crisis, there were no entities to make rapid decisions. One of the most obvious lessons of last year, [is] we have to 'de-bureaucracise'. I had to spend a lot of time last spring dealing with blockages in the system for therapeutics. It was one of the many reasons we chose to go the way we did on vaccines," he said.
Cummings said the UK Vaccines Taskforce, set up to scope COVID-19 vaccines in development and to agree advance purchase deals, was deliberately set up outside the Department of Health, which he described as, "a smoking ruin".
The sort of innovations he would like to see come from ARIA in the near term include mass distributed COVID-19 testing kits, advances in genone sequencing and more mRNA vaccines.
In Cummings' view, the UK is falling behind overall in key science areas, hiding behind, Nobel prizes of the past "as branding". Cummings said that, alongside the government's chief scientific adviser, Patrick Vallance, he had advised prime minister Boris Johnson to take direct control of science policy, removing it from the Department for Business, Energy and Industrial Strategy.
War on process
Cummings suggested a key role for any science minister should be to get rid of red tape, saying the situation around research administration has become "ludicrous". In particular, he pointed to research impact assessments. 
"It took me 18 months to get rid of impact assessments for pure maths. Dotted all the way through the system are these crazy things. Asking [mathematician Alan] Turing to do an impact assessment would have been ridiculous," he said.
At the same time, the funding system moves too slowly. "Everyone [was] emailing each other about the absurd processes and no one has the authority to say stop. When I came in, I said we are going to wage war on process."
And Cummings is unconcerned that granting "extreme freedom" to ARIA could result in less transparency over who gets selected for funding.
Labour MP Dawn Butler, who sits on the science committee, said ARIA's exemption from freedom of information requests would "raise alarm bells" about how taxpayers' money was being spent, given recent scandals about how contracts for emergency procurement of personal protective equipment were handled.
But Cummings shared his admiration for light procedures, like the "handshake decisions" made over funding for the world war II Manhattan project, which developed the nuclear bomb.
The government should tolerate a two-thirds failure rate for ARIA projects. "If it isn't failing, then it's failing," Cummings said.
The £800 million, four year ARIA budget is a relatively small percentage of total annual research and development spending, but is "fine to begin with". It should grow £3-5 billion a year in 10 years, similar to DARPA, Cummings said.