The EU's move into military research needs separate rules and procedures, Elżbieta Bieńkowska tells MEPs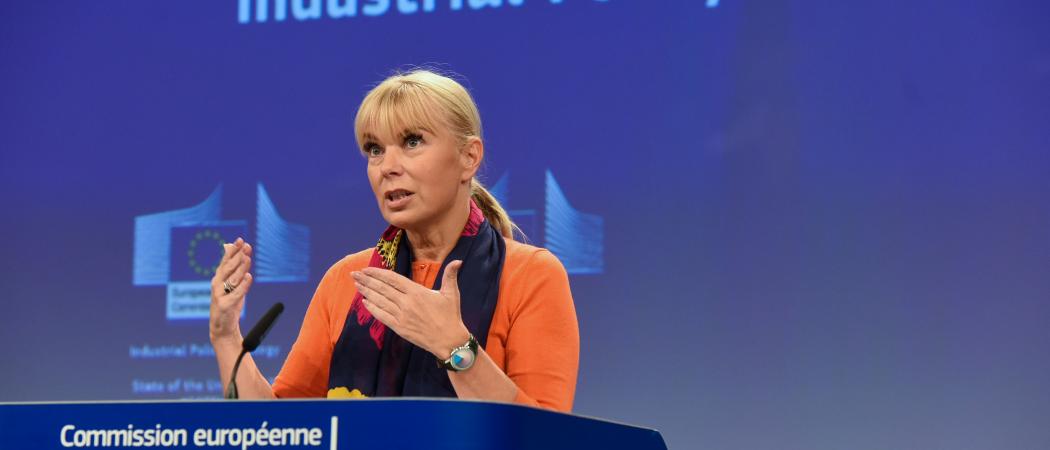 The EU's first defence research programme should be ring-fenced from civil research, the industry commissioner Elżbieta Bieńkowska, told MEPs on Monday.
"Let's be very clear," Bieńkowska said, "The EU defence programme should be clearly separated, in terms of budget, in terms of rules and in terms of procedures."
The question of whether high-end defence technologies should be financed from Framework Programme Nine, due to start in 2021, has been the matter of debate and concern in Brussels.
In June, the Commission's director-general for research and innovation, Robert-Jan Smits, said backing new military prototypes "would absorb a lot of EU money", leaving some doubt over future allocations for conventional EU research. Previously, EU funding was only available for research for civilian or commercial purposes, but which could also have a military use.
Following a €90 million defence pilot investment from the EU's common budget in 2017-2019, the Commission is proposing a huge increase to €500 million in 2019-2020, and the figure could rise to €1.5 billion a year from 2021.
A second plank of the defence plan foresees the Commission sharing the cost of developing military hardware with member states, as a way of cutting down on wasteful overlap. Commission officials estimate that around 30 per cent of expenditure could be saved if nations purchased equipment jointly.
If both the European Parliament and national capitals approve the investment programme, the EU will become the fourth largest investor in Europe in defence industry research after the UK, France and Germany. 
"This is not a lot of money for a big sector though," said Bieńkowska.
Not just for big countries
To be eligible for the defence research competitions, consortia of at least three firms or research institutes, and two member states, must submit a joint bid.
One potential project the Commission has in mind is to back the development of a European drone.
The EU has said some work funded by the defence programme will be classified, meaning scientists will not always be able to publish findings.
The programme, which kicked off in June, has attracted 21 proposals so far, according to Alain Alexis, head of unit for defence, aeronautic and maritime industries at the Commission.
Bieńkowska dismissed fears that the spoils of the programme would go mainly to the countries with big military investments, saying, "This programme is definitely not just for big member states and big companies."
Only five of the EU's 28 members meet NATO's target of spending two per cent of national income on defence.
Bieńkowska told MEPs that the historic push into a new phase of cooperation on military research would not threaten EU space budgets, which fund the earth observation Sentinel satellites and the Galileo satellite navigation system. "Do you think I could harm my own programmes?" she asked the MEPs.
Financing the defence pilot has already required the Commission to redirect €145 million from its Connecting Europe Facility budget, which is worth around €30 billion over the 2014-2020 period.
Despite reservations about a new weapons research programme in Brussels, protest has been limited.
Scientists for Global Responsibility, a UK-based lobby group that promotes ethical and peaceful science, has said that the plan "disturbs [it] greatly". However, there have been few other public calls to boycott the programme.
UK now on board
As the EU's leading military power, the UK has been the big obstacle to common EU defence spending. The country had long blocked EU defence integration, fearing the development of an EU army.
Since the UK's decision to leave the bloc, opposition has vanished, said Bieńkowska. "The UK minister speaks in favour of defence cooperation in the EU for first time," she said.
The election of Donald Trump in the US has also given impetus to the push for efforts to build Europe's strategic autonomy and to be able to act independently of other major powers.