BeeHero has invented sensors to track the health of the delicate and threatened insects that are central to agriculture worldwide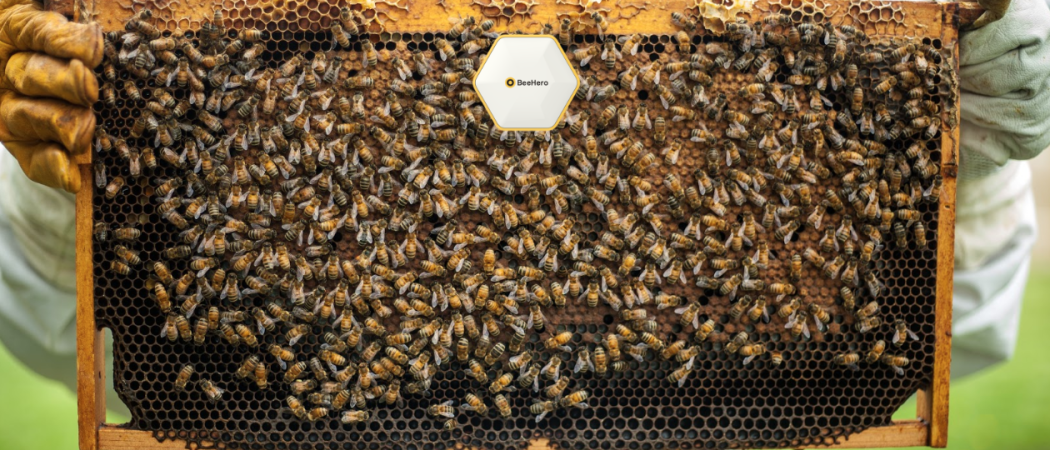 An Israeli company is developing sensor technology to monitor the ever-more-imperilled state of bees.
Beekeepers began to report that hives were suffering from a mysterious affliction in 2006. A Pennsylvanian keeper sounded the alarm after he discovered that he had lost 90 per cent of his bees.
Similar mass losses have been reported worldwide, but no one has figured out what is causing the great die-off known as colony-collapse disorder.
With bees responsible for pollinating one third of the world's crops, the dire situation has spawned a new industry of bee custodians.
One of these protectors is Omer Davidi, CEO and co-founder of Israel's BeeHero, which makes high-tech gadgetry for beehives to detect disorders before they spread.
"We can monitor the bees and use this data to feed our machine-learning algorithms to predict when a colony or the queen bee is at risk of failing," says Davidi.
Most scientists believe no single factor is responsible for colony collapse. A wide variety of theories have been offered for the affliction: studies have found bees are suffering from viruses, or mites, or from stress, or are being poisoned by neonicotinoid pesticides.
Mass die-offs have fallen somewhat in recent years, experts say, but colonies remain in poor health, and overall death rates remain much higher than in the past.
Scientists don't believe bees are in danger of extinction, but annual winter losses in the US have averaged more than 28 per cent, nearly double the historical winter mortality rate of 15 per cent. Four years ago,it was discovered that there had been more losses in the previous summer than the winter for the first time ever.
Initially, BeeHero collected data from 10 hives; now it works with 20,000. Over the first year and a half, the company created the largest repository of bee data in the world, Davidi said. "The more data we have, the more we can improve the accuracy of our systems."
BeeHero's sensors provide up to the minute information to beekeepers, who usually only physically inspect hives every three or four weeks, Davidi says. Hive temperature is one of the main variables to keep close tabs on. Even small deviations (more than 0.5°C) from the optimal temperature have significant influence on the development of the brood and health of the resulting adult bees. There is evidence bees raised at sub-optimal temperatures are more susceptible to certain pesticides as adults.
Entrepreneurial buzz
Davidi and BeeHero's two other co-founders, Itai Kanot and Michal Roizman, met while taking an entrepreneurship course at IDC Herzliya, a private university in Israel.
Yossi Maaravi, vice dean of the Adelson School of Entrepreneurship at the university, described BeeHero as one of the university's most successful spin-outs.
"At IDC, we can add a lot to potential," Maaravi said. "We give students the space to have their first managed failures here on campus. We develop skills and open doors for students to a wide network of companies and fellow entrepreneurs."
Not everyone is cut out to be an entrepreneur. "There needs to be something innate there for us to work with, Maaravi said. "We are selective – you need to do interviews with us. We only take in around 24 students each year."
BeeHero is the fourth company Davidi has founded. "I sold two companies before this one; another I closed," he said.
After some early success in business, Davidi still felt there was more to learn, and that led him to take the course at IDC.
Learning entrepreneurship is different from living it. "I would have benefited a lot from some of the shortcuts I later picked up on the course," he said.
At IDC, "Everyone is in the same state of mind. We all want to start something new, so it's easy."
BeeHero has grown to 10 people – Davidi and another are based in a satellite office in Palo Alto, California, two are in Italy, and the remaining employees work in the company's R&D lab in Tel Aviv.  
Davidi relocated to the US to tap the country's huge agricultural market. BeeHero now works with four commercial beekeepers in California, two of which are investing in the company.
"We are running pollination trials on different crops including sunflowers, blueberries and apples," Davidi says.
Bee health is the main focus of the company for now, but eventually Davidi wants to concentrate more on boosting crop yields.
The company faces competition from Ireland's AgisProtect, which uses a similar data-driven approach for tracking bee health.
There are also start-ups exploring artificial pollination techniques, but Davidi says, "We are very far away from being able to do that." A single bee colony can pollinate 300 million flowers a day.
"Artificial pollination doesn't make sense economically. Plus you have a very short time frame with each flower, and they all open at different times. We will probably see autonomous cars before we replace bees," Davidi said.