New EU-African Innovation Agenda should aim to make African capabilities as strong as those in Europe, Science|Business meeting hears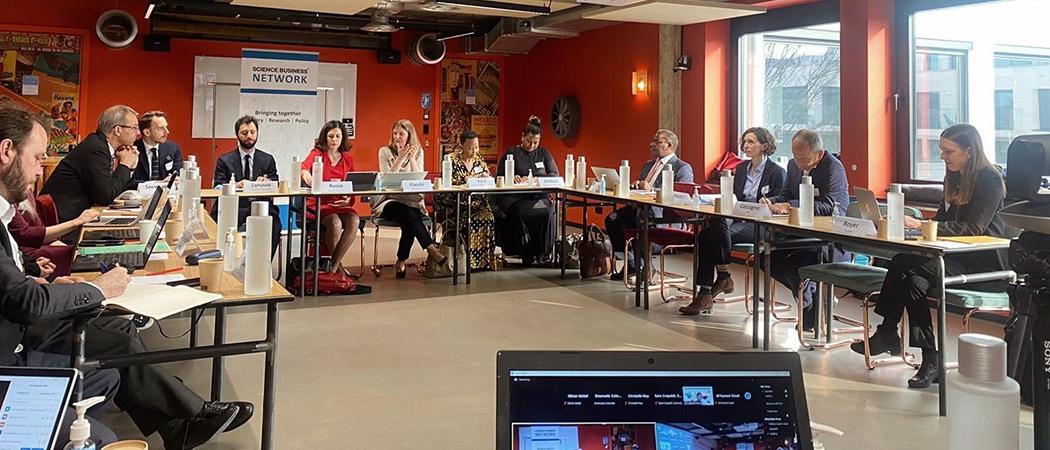 As the European Union drafts new plans for its research and innovation cooperation with Africa, it should set an ambitious goal: to strengthen Africa's R&I ecosystem until it is on a level playing field with Europe, a Science|Business conference heard.
"We want a situation where global researchers will feel at home in Africa because they can do the same type of research that they would have done in Europe," said Ernest Aryeetey, secretary-general of the African Research Universities Alliance. He said that, often, African researchers move to Europe for a PhD or a post-doc, and then return to Africa unable to find a similar type of work environment.
Jan Palmowski, secretary-general of the Guild of European Research-Intensive Universities, said that it needs to be "as enticing for European researchers to go to Africa as vice-versa."
Panelists at the Brussels meeting 29 March suggested several ways to help make this possible. They include funding for researchers at PhD level and beyond, improved research infrastructures, increased mobility opportunities and research that is motivated by opportunity rather than aid.
For instance, one way to strengthen the African R&I ecosystem could be to set up a joint Erasmus-like programme across Europe and Africa for PhD students, according to Prof. Emanuela Colombo of the Politecnico di Milano and UNESCO chair in energy for sustainable development. This would allow African researchers to gain experience in different laboratories while improving knowledge exchange with their peers in Europe, thus consolidating a long-lasting research network across Europe and Africa.
New innovation agenda in the works
South Africa is one country that already has a strong research infrastructure; and the South African ambassador to Belgium, Tokozile Xasa, welcomed the new joint EU-AU Innovation Agenda, which is currently under preparation.
A public consultation on the working document of this Innovation Agenda is now open until 13 May, with the aim to seek feedback and input from citizens, stakeholders and their organisations, to ensure the Agenda will be fully respondent to societal needs. Key target areas for collaboration are health and the green transition, as well as enhancement of R&I capacities and boosting innovation and technological advancement. The Agenda will benefit both European and African research efforts, innovation communities and value chains, said Maria Cristina Russo, director of global approach and international cooperation at the European Commission's DG Research and Innovation.
But although South Africa already has an impressive track record in research, other African countries, especially sub-Saharan and land-locked nations, are further behind and do not yet have the same opportunities, the roundtable heard. Budget and availability of funds play a major role in research outputs.
"With our experience of AfricaConnect3 and NRENs in Africa, we noticed that African researchers are consuming the bandwidth that they can afford rather than the one that they need," said Leïla Dekkar of pan-European data network GÉANT. "We need to ask ourselves: how can we support them better to do the research they need to do locally?"
Looking to the past and present for good examples of collaboration, Michael Makanga, executive director of the second European and Developing Countries Clinical Trials Partnership (EDCTP2), outlined how their partnership – which focuses on accelerating clinical development of medical interventions  for several infectious diseases common in Africa – brings benefits to 43 African countries. To date, the EDCTP2 programme connects 308 institutions in Africa with 203 institutions in Europe and is funded by over €1.36 billion. This involves an innovative financing model that combines funding from the European and African Participating States, the EU, as well as global public and private partners. The total funding will increase to €1.6 billion in the third programme.
Laura Gutierrez, vice president and head of global corporate public affairs at French pharmaceutical company Sanofi, also pointed to existing health initiatives Sanofi is involved in Africa. She said: "We've had a very long presence in Africa. Currently we are conducting clinical trials in eight countries in the area of vaccines. Epidemiological surveillance and how we enhance information sharing are two important areas for further collaboration in this area. We have also recently created nonprofit unit which will provide 30 essential medicines manufactured by Sanofi across a wide range of therapeutic areas to patients in 40 of the lowest income countries in the world."
A database for African research
On the practical side, M'hamed Aisati of scientific publisher Elsevier said that digital tools could help facilitate better connections and data sharing between European and African research teams. He proposed a database of African research to boost visibility, saying: "We believe that we can contribute to making tangible outcomes for this project. How do we boost the research that is being done in Africa and bring it to the surface?"
He highlighted the opportunity as Elsevier sees it. "African research output grew by 9.5% in the last decade, saw its quality growing from 0.8 to 1.13 (using a proxy indicator) and international collaboration going from 43.1% to 54.3%. The potential is bigger if we include to the mix their local endeavours, which are currently under-exposed. The idea of this database of African Science would include everything: local and internationally already-recognised inputs and outputs."
Raw materials leaving Africa – which Europe needs to power the green transition – was "the elephant in the room" according to Eudy Mabuza, of the South African Department of Science and Innovation.
Africa has enough space and sunshine to produce green hydrogen from renewable energy in large quantities, meaning the continent has the potential to be a global leader in green hydrogen production. And Europe's ambitious climate goals make the EU likely to be a major buyer of this energy. But this must be managed correctly, and the inequalities in the EU-AU relationship must be addressed going forwards, Mabuza said.
"We cannot have raw materials leaving the African continent without benefiting the African people," she told the roundtable. "When it comes to the energy transition, it cannot be business as usual." Joint research collaborations could be one way to reduce the inequalities, Mabuza said.