New legislation announced by Ursula von der Leyen in state of the union speech is step towards reducing EU reliance on technologies developed and manufactured in China and the US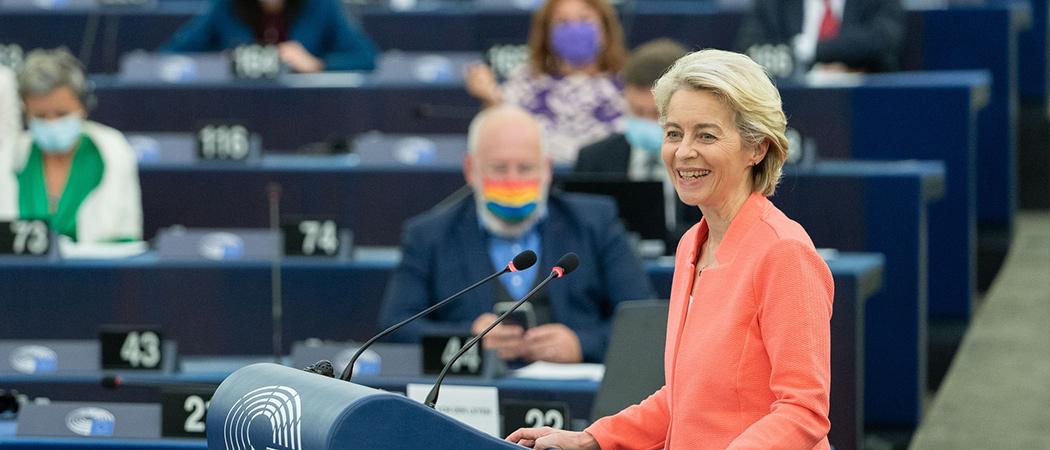 The European Commission is to put forward a European Chips Act, along with dedicated funds from a centrally managed programme to boost research, development and manufacturing of microprocessors, EU president Ursula von der Leyen announced in the annual State of the Union speech on Wednesday.
According to the plan, by 2030, the EU should account for at least a fifth of the world market by value for cutting-edge and sustainable semiconductors. In addition, the Commission wants the EU to have its first quantum computer by 2025.
"We need to link together world class research, design and testing capacities," von der Leyen said. "The aim is to jointly create a state-of-the-art European chip ecosystem, including production, that ensures our security of supply and will develop new markets for groundbreaking European tech."
Across the EU, production lines in a wide range of industries are working at reduced speed due to shortages and delivery delays, as global demand for semiconductors grows rapidly.
To tackle this, the Commission previously launched an industrial alliance on processors and semiconductors, to advance the next generation of microchips and support companies to bring offshored manufacturing back to Europe.
Von der Leyen said the EU should break its dependency on microprocessors manufactured in Asia. These components have become ubiquitous, forming an essential part of a broad range of products, from smartphones to smartwatches, cars, trains and smart factories. Without being able to design and produce its own computer components, Europe's digital transformation is doomed to fail, said von der Leyen. "There is no digital without those chips."
Investment gap
According to Commission estimates, the EU needs to plug an investment gap in digital technologies as big as €125 billion every year. Around €42 billion is needed in communication networks every year, €17 billion in semiconductors and €11 billion in cloud technologies.
"This is not just a matter of our competitiveness, this is also a measure of technology sovereignty," said von der Leyen.
Made in Europe microchips represent less than 10% of the European market today, compared to 40% only 30 years ago. At the same time, 90% of the EU's data is managed by US companies, as less than 4% of the top online platforms are European.
"Europe's share in the semiconductors value chain, from design to manufacturing, has shrunk," said von der Leyen.
Even though US companies already account for 48% of the world's computer chip sales, the US government plans to spend $52 billion to promote semiconductor manufacturing and research.
European semiconductor sales in May 2021 were $3.7 billion, an increase of 31.2% compared to sales in May 2020, according to the European Semiconductor Industry Association. However, the Commission estimates the EU would have to multiply its annual sales of microprocessors by a factor of five to achieve 20% in value of the world market by 2030.
The digital decade
The semiconductor act is part of a package of measures in the "digital decade" plan, a list of policies the EU needs to implement in order to reach its long-time political goal of digitising its economy and develop its own digital technologies by 2030.  "We must ensure that Europe is not in a position of great dependence in the years to come," said Thierry Breton, EU commissioner for the internal Market.
To develop semiconductors and other digital technologies, member states can join "multi-country projects", financed from national budgets and EU funds and programmes, including Horizon Europe, Digital Europe, Connecting Europe Facility, the Resilience and Recovery Facility, and InvestEU.
The Commission noted that member states are getting started on their digital investment plans. The Commission estimates member states will invest more than 20% of money allocated through the pandemic recovery fund in helping companies and the public sector to embrace digital technologies.
Many EU regions have a lot of catching up to do, including in rich member states. There are regions in Europe where digital progress has been so slow that internet speeds are stuck in the twentieth century.
In 2020, a German photographer in the rural region of Sauerland who was tired of slow internet speeds, decided to run an experiment that made for juicy headlines in tech news sites across the world. He chose two transport methods for sending a 4.5 gigabyte pack of digital photos ten kilometres: a DVD on horseback and online transfer at 1.5 megabytes per second. The equestrian data transfer proved to be faster.
Cyber security
Von der Leyen also vowed the Commission will increase investment in cybersecurity and called on member states to agree to the establishment of a common cyber defence policy. "If everything is connected, everything can be hacked," she said.
A potential cyber defence policy would be one component of a broader EU defence system, designed to compensate for the diminishing role of the US in European security. The Commission has kicked off a €7.9 billion defence research fund to develop new military technologies, from aircraft fighters to military cloud and artificial intelligence. Semiconductor projects will also be funded.
To further support the development of EU defence technologies, von der Leyen said the Commission could introduce VAT exemptions when buying military technologies developed in Europe. "Given that resources are scarce, we have to bundle our forces," she said.