Slovenian presidency will highlight role science played in COVID-19 crisis, using pandemic momentum to make the case for higher national R&D budgets and to build a consensus on the European Research Area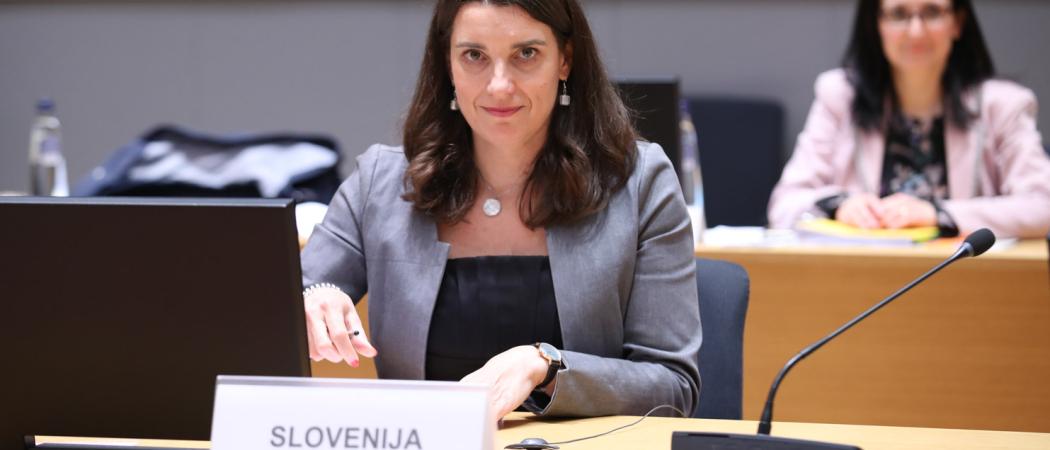 The COVID-19 crisis has brought the value of science into sharp focus, with governments relying on researchers to build understanding of the virus, advise on control measures and develop vaccines, diagnostics and drugs.
Now, Slovenian science minister Simona Kustec aims to use this pandemic momentum to convince member states to invest more in science and technology. "I think this COVID-19 experience illustrates how important it is that we use and that we treat science as kind of a saviour," Kustec told Science|Business.
With her government preparing to take over the rotating presidency of the EU Council in July, Kustec will take over the reins of the ongoing debate on how member states coordinate research policy and investment in the European Research Area (ERA) from her Portuguese counterpart Manuel Heitor.
The ERA concept of integrating the EU's scientific resources in a single market for research is two decades old. At its heart was the objective of getting all member states to spend at least 3% of GDP on research and development. But very few countries have achieved that goal.
EU research commissioner Maryia Gabriel wants to put in place a revamped framework for ERA that would help nudge member states closer to the 3% target. But critics argue the plan to make member states sign a "pact for research" would fail once more, as it is not binding.
"If we are going to let ourselves understand the power and the mission of science, then I think that the money will not be a problem," said Kustec.
Regulations and financial incentives often nudge member states to act, but Kustec thinks a "carrots and sermons approach" is the way to convince governments to invest more in research and innovation. "That means that we should see the good practices, and share the lessons," she said.
For now, Slovenia will not push for a commitment to the 3% spending target. But if member states are persuaded and they acknowledge the cross-cutting role of science and research in the economic recovery, "these percentages will be quite realistic to reach," said Kustec.
Slovenia will also seek to broaden negotiations on the pact for research and bring more stakeholders into the process. Last month, university associations demanded they be included in the debate. Kustec wants to build consensus between countries, the Commission and the stakeholders on how to organise the ERA governance framework, and to issue council conclusions by the end of Slovenia's presidency.
During its mandate, Slovenia aims to deliver the high performance computing and metrology partnerships, as well as the single basic act for nine other public private partnerships. "We aim to finish the legislative processes for all these three acts of the European partnerships so that they can start running as soon as possible," said Kustec. "We will be able to publish first calls for proposals this year."
International cooperation
Slovenia wants to help countries in the Western Balkans to join the EU. But with enlargement talks stalled, Kustec said Slovenia will use the Council presidency help its neighbours become associated with the Horizon Europe research and innovation programme. "Science and education are those fields where we don't have any real tensions or conflicts," she said.
However, negotiations over who can take part in the programme are currently held up by disagreements over which third countries can participate in quantum and space research. The European Commission wants to bar non-EU countries from joining these projects, while member states would like to continue cooperation with long standing partners Israel, Switzerland and the UK.
"These are ongoing processes, and we will definitely do everything [to ensure] that they will move on," said Kustec. Some issues are still in open debate and the evident political tensions will need to be softened through negotiation and coordination, she said.
"We do understand that there are some still wider international elements that need to be agreed," said Kustec, suggesting member states and the Commission continue the debate and look for a way forward that will allow and enable further cooperation.
The disagreements over international participation in quantum and space are also delaying the adoption and publication of Horizon Europe calls in other fields. The Commission has repeatedly postponed the deadline for adopting the work programmes, but Kustec said Horizon Europe should start soon.  
Promoting more equality in research
The Slovenian presidency will also steer a debate on equality in research. "The statistics show that there is still quite a huge gender equality gap in the field of research, and we would like to address this."
Gender equality plans are now mandatory for all Horizon Europe applicants, but Kustec said policy makers and research institutes should also be prepared for the new rules.
Other inequalities need to be addressed. Researchers are not paid the same across EU's regions, a long running issue that is depleting poorer regions of highly skilled researchers. "I do expect that many questions of equality in the research area will be open," said Kustec.
On their own, higher salaries or better gender action plans will not have much influence on what researchers view as attractive places to work. Policymakers should think about the entire ecosystem of facilities, in order to attract talent to less developed regions. "I think that this is really the combination that motivates you, and that actually enables you to grow [as a researcher]," Kustec said.