America's neighbour doesn't mind losing its 'Trump dividend'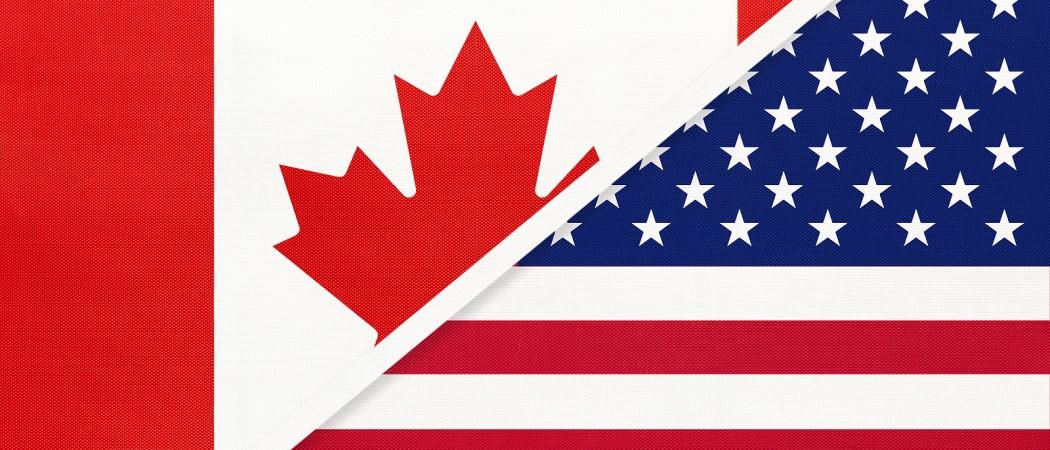 Joe Biden's defeat of Donald Trump in the election was a relief for Canada – even if the country's booming tech sector owed something to the sour American political climate and Trump's efforts to sharply restrict travel into the US.
"While volatile and unpredictable, Trump did have some unintended benefits, including talent diverting to Canada," said Jim Hinton, an IP lawyer and founder of the Own Innovation consultancy.
But researchers and company founders say they're more than happy to trade this for a predictable president who'll work more with other countries and do something about climate change.
Werner Antweiler, business professor at the University of British Columbia and an expert in international trade, said the election outcome was a "great relief".
"Canadians should be very happy," agreed Steven Lamy, professor of international relations and the vice dean for academic programmes at the University of Southern California. Trump, he said, "is unilateralist, nationalist and committed to undoing the global alliance."
"We are looking forward to things getting back to where they were," agreed Joshua Gans, chair in technical innovation and entrepreneurship at the University of Toronto.
Marta Crago, vice-principal of research and innovation at McGill University in Montreal, is relieved at the result, but doesn't expect "a sea-change" with Biden. "I don't know that we're going to see a huge impact on Canada," she said.
And for most Canadians, that's just fine. "We'll be dealing with someone with more equilibrium; someone who is a bit more rational and likes science," Crago added. "So it's more hopeful."
At the same time, Biden's America will probably be a tougher competitor for Canada in several technology fields, said Hinton.
"Biden may be more pleasant but he will ensure the Americans continue to dominate in artificial intelligence, at the expense of Canadians, especially as we become collateral damage in the US's global trade war with China," said Hinton.
People in Biden's inner circle would prioritise protecting American companies' supremacy of the internet. "It is no secret that Google was a regular visitor to the Obama White House. If that holds for Biden, expect the best interests of companies like Google/Alphabet, including the control of AI, data, privacy, competition, and intellectual property, to be entrenched in Biden's mandate," Hinton said.
Another area of possible strain between the two countries is in trade, with Biden pledging to bring back critical supply chains that will have implications for some closely-linked Canadian manufacturing sectors.
Trump dividend
Experts say Canada's tech sector, and in particular AI fields, undoubtedly benefited from Trump policies.  
Researchers in Canada reported a flow of inquiries from their counterparts in the US in the past four years. After Trump's shock win in 2016, applications to Canada for student and temporary visas surged. Study permits issued to international students by Canada jumped more than 50 per cent from 2016 to 2019.
Following its launch in 2015, only 600 US residents obtained invitations to apply for permanent residence under Canada's "express entry" system. Last year, this figure stood at over 10,000 people.
Trump, who was suspicious of both legal and illegal immigration, increased barriers for high-skilled workers and researchers. Yung Wu, the CEO of MaRS Discovery District, the giant start-up incubator in Toronto, wrote about Trump's self-destructive visa rules in an op-ed titled "America, You're Making a Big Mistake on Immigration. And Canada Thanks You."
"Trump did boost immigration here," said Robert Falconer, a researcher at the University of Calgary's School of Public Policy. His research charts a "massive increase" of applications from countries targeted by Trump's de facto ban on immigration from seven Muslim-majority countries in 2017.
"And we're likely to lose some of this, with COVID-19 and the more open Biden administration," Falconer said. No one particular minds, he said. "I live in the most right-leaning region in Canada and here they overwhelmingly backed Biden."
The Canadian federal government has set up well-funded programmes intended not only to lure AI experts to the country, but also to persuade AI researchers to remain in Canada rather than depart for Silicon Valley.
"There was some cheekiness too from the government trying to exploit the situation when Trump cut highly skilled visas. We introduced a new, high talent scheme, allowing people to come to Canada within a matter of weeks. About 45,000 took up the opportunity from all around the world," Falconer said.
Some researchers who came to Canada via the government's 150 Research Chairs Programme did so with a specific mission to get out of Trump's America, said Crago.
This flow of talented scientists and students was far from one way, of course. "As usual, many more Canadian scientists took jobs in the US than the other way around, even during the Trump years," said Rémi Quirion, the chief scientist of Quebec.
Yet when it comes to attracting highly skilled workers and entrepreneurs for growing sectors like AI, Canada has been more nimble than the US for years, says Sarah Pierce, policy analyst at the Migration Policy Institute, a think tank in Washington DC. "The Canadian government was doing a good job in exploiting our outdated system even before Trump took office," she said.
"We haven't had reform since 1990. This is a 30-year-old system that is operating in a completely unresponsive way to market needs," Pierce said.
Falconer says any high tech talent gains by Canada during the Trump years will help the country into the future. "The Trump era gave diaspora communities time to establish themselves more firmly in Canada. It makes a difference to the next generation's choice of where to move if they have an uncle in Montreal," he said.
Falconer expects to see something like a "Trump hangover", saying, "people will remain somewhat wary of dealing with the US immigration policy."
Biden has plans to expand the number of high skilled worker visas granted in the US, but the president elect will discover that "volume and bandwidth are the big problems," said Pierce.
The bureaucratic wrangle needed to smooth out US immigration may be too much for one president to handle. "When you see the crises this administration faces, I don't know that there's going to be a lot of movement here," Pierce added.
Climate optimism
Canadians are happy with Biden's pledge to reinstate and strengthen climate change regulations while laying the ground for a clean-tech overhaul.
"Of course It's good to have someone there saying the right things. But what matters is what people are doing," said David Tarasick, a federal scientist at Environment and Climate Change Canada, whose research is on improving air quality.
Tarasick is hopeful Biden can navigate a narrowly divided Congress and gin up more funding for climate change. "Canadians are always quite concerned about US politics – the current prime minister's father [when he was prime minister] famously said 'Living next to the US is in some ways like sleeping with an elephant'. But despite all the noise and confusion, they do still seem to support science in a fairly bipartisan way," he said.
Trump did not reduce R&D funding or suppress research in the way many feared he would, though this was mainly down to wide support for research in Congress.
The president did however encourage broad fossil fuel use, weaken the Environmental Protection Agency, and scrap every major environmental regulation that he thought might impede growth in the oil and gas industries.
Tarasick believes the US under Biden can lead on reining in greenhouse gases. "I'm an optimist, at least about humanity's enlightened self-interest: we fixed the ozone layer; we'll fix this one, too."
"It is a harder problem, but the incentives are also large: much of Florida used to be a coral reef, and indeed large areas of New York and Washington are also low-lying. And we all like polar bears – as long as they don't get too close," he said.
Biden has said he would dismember Trump's fossil fuel legacy, including reinstating the US in the international Paris climate accord.
The incoming president will also be forced to make a decision over the disputed Keystone XL, a multi-billion dollar project that would transfer more than 800,000 barrels per day of crude oil from Alberta to Nebraska. The incoming president vowed early on that he would scrap the pipeline, despite Canada already investing billions of dollars in the project.
"I think the likely scenario is that there will be an initial time out for the project, a lengthy review, and if sensible compromises can be found that satisfy environmental concerns, the project may still go ahead," said Antweiler of the University of British Columbia. "[But] I wouldn't wager any money it."
He added that, "on balance, the economic benefits to the clean energy sector in Canada [from a Biden presidency] certainly outweighs any costs from non-completion of Keystone. Any boost to the clean energy sector in the US will also benefit the many Canadian companies that are active [there], often with manufacturing and service [gains] back in Canada," he said.