Officials in Ottawa say they plan to step up funding for Canadian researchers to join other countries' R&D programmes – including Horizon Europe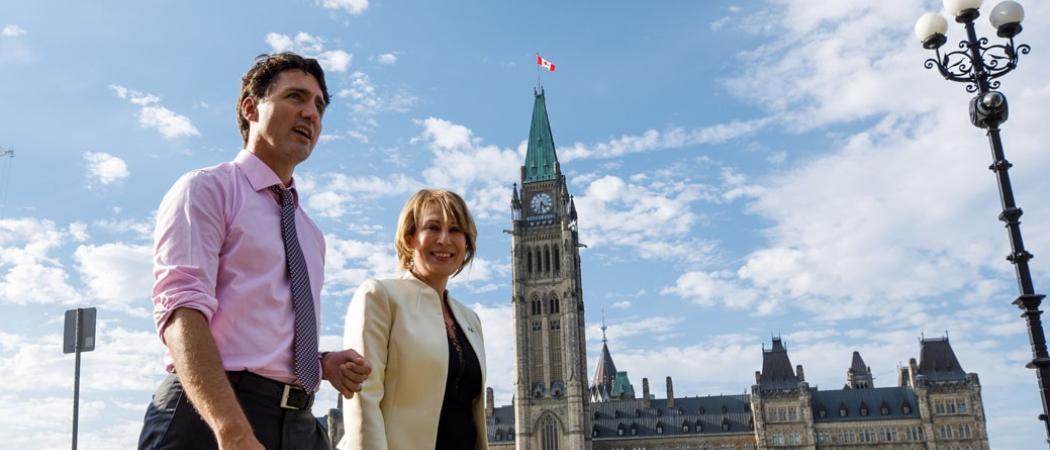 OTTAWA – The Canadian government is pushing to expand international collaboration in science – including the possibility of joining the European Union's big R&D programmes.
Canadian officials say they plan to launch a new fund of up to C$25 million (€16.75 million) a year for direct co-funding of science with other governments. The country's social science council recently announced plans for more collaborations with the UK and officials are also keen on a suggestion from Brussels that it join the big Horizon Europe R&D programme from 2021.
Though there's no formal offer as yet from Brussels on membership of Horizon Europe, or any Canadian decision on it, "I can tell you that I would certainly like us to move forward," said Mona Nemer, chief science advisor to prime minister Justin Trudeau, in an interview with Science|Business. "There are many people who are very keen, both on the scientist side and the science policy side," she said.
The Trudeau government has made research and innovation a policy plank since coming to office in November 2015 – boosting funding for research by C$9.4 billion, launching five "innovation superclusters" for R&D in artificial intelligence and other fields, and making active use of science diplomacy to advance its foreign policy goals.
Following the launch last year of ethical guidelines for artificial intelligence, by the Quebec Research Funds and the University of Montréal, the Canadian government pushed with Japan, the EU and the OECD to get an international agreement – leading this month to the G20 nations endorsing the first international principles for AI.
In Canada, "there's a strong feeling that we punch above our weight" in science, said Ted Hewitt, chair of the Canada Research Coordinating Committee, which oversees federal science funding. "But we also realise that we're not a huge country, and tackling big complicated problems also benefits from international collaboration. This government believes we need to promote that kind of international collaboration to put Canadian expertise to work for the world, and for Canada," he said.
A political issue
While intense, the government's enthusiasm for international collaboration isn't unique: cross-border science is up generally around the world, as public and private R&D budgets grow and problems like climate change and health care become more global. But it is also a politically volatile issue. Trudeau's predecessor, Conservative Stephen Harper, hacked science budgets when he came to office in 2006. And the current Conservative leader, Andrew Scheer, has made headlines criticising Trudeau's climate plans in the run-up to elections in October.
But many Canadian science leaders see greater research collaboration with the EU as a natural follow-on to the Canada-EU trade agreement – and a counterbalance to increasingly difficult relations with US president Donald Trump's Washington. Already, Ottawa funds many European researchers in projects with Canadian researchers, and it indirectly subsidises Canadians participating in 66 Horizon 2020 research projects.
The next step could be full membership in Horizon Europe. Canada is among eight countries with which the European Commission has said it would like to discuss associate membership in the proposed seven-year, €94.1 billion R&D programme – and, along with Japan, Canada appears most keen to take up the offer.
Normally, association entails a formal agreement for a country to put some money into the common EU funding pot, so its researchers can compete on equal footing for EU grants. Sixteen non-EU countries in the European region, from wealthy Switzerland to poor Tunisia, are members but Canada would be among the first out-of-area members.
Yet aside from polite diplomatic exchanges, no terms have been suggested or negotiations begun. Because a post-Brexit UK might also become an associate Horizon Europe member, the European Commission has studiously avoided saying anything to other countries that might get back to London and affect the drawn-out Brexit negotiations. Japanese officials have already expressed some bemusement over what amounts so far to a "non-offer" from Brussels - and their Canadian counterparts are equally stymied.
 "We cannot give a formal response to an invitation we have not formally received, and seen exactly what it entails," said Nomer.
But Canada is willing in principle. "Definitely there's a lot of interest and support on the Canadian side for long-term collaboration with the European Commission for Horizon Europe," Nomer said. When asked what kind of membership terms she would like to see, she said, "The more flexible we can be, the better."
Making it simpler?
Indeed, Hewitt said on a recent visit to Brussels he suggested the two governments simply go ahead and fund each others' researchers on appropriate collaborative projects – without all the formalities. After explaining Canada's willingness to fund European researchers, "I challenged [the EU] to do the same for Canadian applicants. If Europe is interested in building the best international team, then why don't we just open up our programming to do that? Maybe we can make it even simpler [than formal Horizon Europe membership]," said Hewitt.
Canadian research programmes are already among the most open in the world to international partners. The Social Sciences and Humanities Research Council, of which Hewitt is also president, last fiscal year committed over C$34 million to international research, supporting over 1,400 international researchers from 84 different countries.  In collaboration with research councils in Mexico and Europe, for instance, it is co-funding a big project studying how cities can best manage their services during the night time hours, a difficult problem for mega-cities around the world.
Another international initiative this year is the launch of the New Frontiers in Research Fund. The programme, which Hewitt said is to reach C$130 million in the 2022-23 fiscal year, is to fund inter-disciplinary research that is "out of the box" with a strong international dimension. It announced its first C$38 million in grants last year, and is planning a new round shortly, which is all open to international participation.
Provided they have Canadian partners, researchers from other countries can join the projects and receive Canadian funding. As a hypothetical example, if a group of Canadian scientists studying plastic pollution in the Indian Ocean was to include local researchers in their team, the locals would be eligible for funding from Canada.
Hewitt said the next step will be the launch of a New Frontiers programme specifically for international collaboration, to pay the way of Canadian researchers joining other countries' research programmes, including those of the EU. The details of how this will operate are still being worked out, but up to a fifth of the projected C$130 million New Frontiers budget may go to the initiative. "We want to be able to say (to Canadian researchers) here's X dollars" to join a foreign programme. "We want to make a direct link" internationally," said Hewitt.
At the same time, the social research council is contributing to a C$14 million initiative with the UK's R&D funding agency, UK Research and Innovation (UKRI) to fund joint work in artificial intelligence. It is part of a broader deal, agreed last February, between Canada and UKRI to coordinate more research. And with Brussels, earlier this month, the Canadian government agreed to collaborate in making it easier to connect its five superclusters to comparable EU projects.
One sensitive point is China, however. In the US, as trade tensions have risen, Washington has barred R&D deals with targeted Chinese tech companies, and it has warned major universities to scrutinise student applicants and research partners from China.
Nothing like that has happened yet in Canada, where the number of Chinese students has surged. "We have a lot of Chinese students in Canada, and I have not heard of any of them having problems with their visas," said Nemer. "The government has not said you cannot put any particular students on specific projects."
"It's certainly my hope that scientific collaboration will continue to transcend politics," she said.