Conference participants highlight the importance of infrastructure and consistent regulation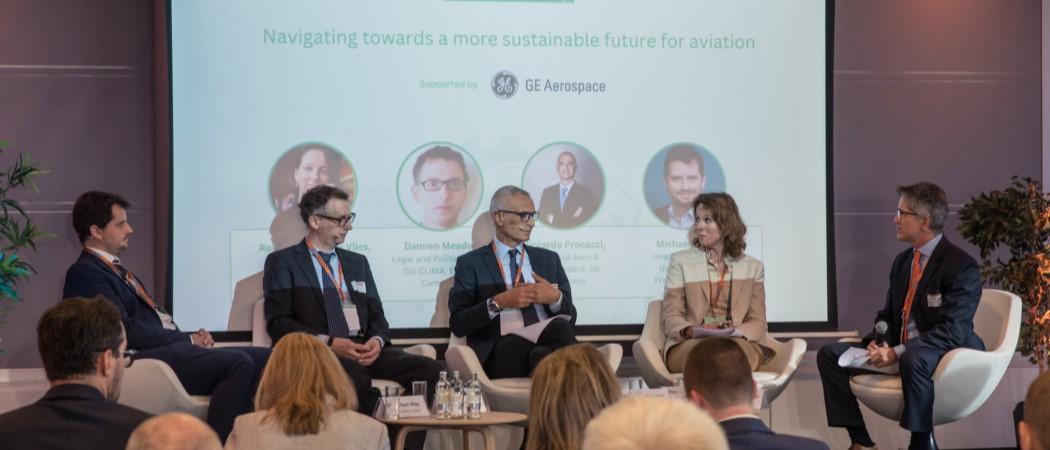 The development of more sustainable aviation technologies will depend on a closely coordinated global approach, participants in a panel discussion in the recent Science|Business Green & Climate Days conference agreed.
Panelists from industry, the research sphere and the European Commission all expressed excitement and optimism about major investments and advances in new materials, sustainable fuels, new engine technology and air traffic management. Each will play a role in delivering net-zero or carbon-neutral aviation by 2050, they said.
The discussion highlighted the importance of ensuring advances in aircraft and engine design are matched by investments in infrastructure on the ground and coherent global regulations.
"Incentives that foster infrastructure to make alternative fuels more widely available and affordable are just as important as making new aircraft and engines," said Riccardo Procacci, CEO of Avio Aero and a Vice President of GE Aerospace, which sponsored the discussion.  Since many aircraft take off in one country and land in another country or even continent, it's imperative that technical innovation is matched by "a global and consistent approach to regulation and certification standards," he added.
The European Union, for its part, is investing heavily in transformational technologies. For example, the EU has invested €1.7 billion in a Clean Aviation Joint Undertaking that brings together researchers from the public and private sectors on projects including the development of hybrid-electric regional aircraft, ultra-efficient short- and medium-haul aircraft and disruptive technologies to pave the way for hydrogen-powered airplanes.
Rosalinde van der Vlies, a director in the Commission's Research department (DG RTD), said the Commission is also looking at all the framework conditions that will be necessary to deliver zero-emission aviation.
Damien Meadows, legal and political advisor in the Commission's DG CLIMA team, listed several examples of EU funding already available and soon to be available: the European Emissions Trading Scheme finances the €40 billion ETS Innovation Fund that aims to support investments in airport infrastructure and biofuel manufacturing through 2030, he said. The Commission will also soon launch an €800 million auction for the production of "green" hydrogen destined for aircraft fuel. And starting in January, the ETS will offer another €2 billion to cover the difference in cost between traditional aviation fuel and more sustainable alternatives for some 300 airports around Europe.
"The transition is necessary, but it's not necessarily going to be cheap," Meadows quipped.
The journey from greater efficiency to hydrogen power
Procacci and fellow engineer Michael May, head of the Aviation Business Unit in Germany's Fraunhofer Institute for High-Speed Dynamics, Ernst-Mach-Institut, both underlined that innovation will take place in phases.
The first changes we are likely to see in coming years are so-called "open-fan" engines, which remove the case around the front fan of the engine to enable a larger fan size and much higher bypass ratio than current commercial engines. This improves energy efficiency. Next we might see hybrid-electric propulsion for short-haul flights within Europe.
It will take longer for the industry to deliver aircraft powered by hydrogen fuel cells or pure hydrogen, they said. May said all-hydrogen aircraft would likely require a complete redesign since hydrogen takes more volume than kerosene, which is generally stored in an airplane's wings. "You have to re-think the structure" of the aircraft, he said. "Maybe you're not storing the fuel in the wings anymore."
GE, for its part, is banking on an all-of-the-above strategy. It has invested almost US$2 billion in research and development in 2022 and has doubled the number of engineers that it employs in Europe in the past 10 years.
While Procacci bristles at public perceptions that aviation is a major contributor to climate change—the actual figure is about 5% of global CO2 emissions, and about 3% in Europe, according to the EU and to the Organization for Economic Cooperation and Development—he acknowledged that the expected growth in aviation makes the sector a target. With as much as a decade required to test and certify new aircraft, components and fuels, "it's important that we act now before it's too late" to meet the 2050 net-zero goals, he stressed.