As they celebrate science being back in the mainstream of US policy, researchers are urging the new president to reboot the cancer programme that he championed as vice president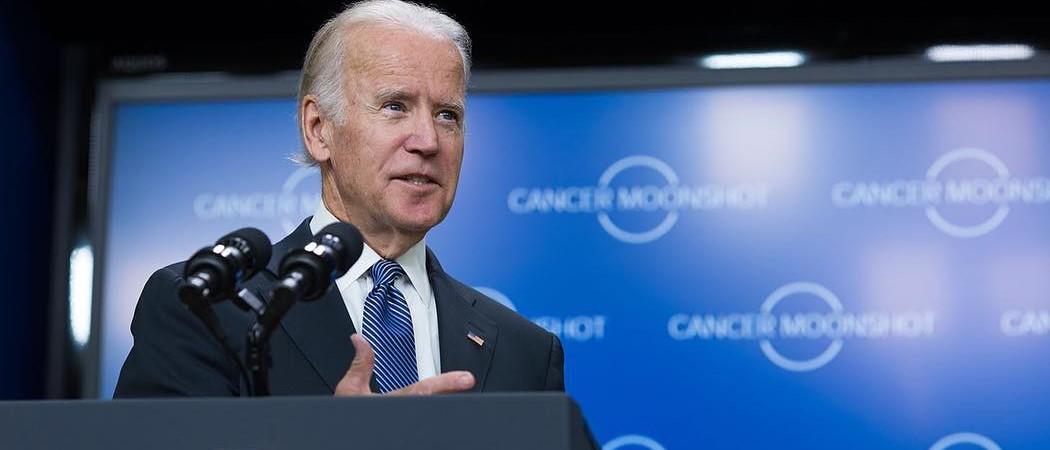 Scientists are calling on new US President Joe Biden to revive the cancer moonshot programme, aimed at ending the disease that kills tens of thousands of Americans each year, and which took the life of his son, Beau.
Writing in Lancet Oncology, a group of researchers on Tuesday announced a study to highlight areas a Moonshot 2.0 initiative could cover, including new technologies that generate patient-specific and tumour-specific information, and new drug delivery systems that target specific cancer vulnerabilities, such as bispecific antibodies, nanotechnologies, microspheres and microchips, and cellular engineered products.
"We'll produce a hierarchy of needs," said David Agus, professor of medicine and engineering at the University of Southern California and CEO of the Lawrence J. Ellison Institute for Transformative Medicine. "We need to get back under the hood on cancer, and become better at finding ways to get treatment to patients.
"We have a tremendous love and respect for President Biden, and these will be ideas for him to consider," Agus added.
The urgency shown by governments during the pandemic should inspire anyone working on cancer, said Elizabeth Jaffee, professor of oncology at Johns Hopkins University, who will help produce the moonshot outline.
"We have just as much scientific knowledge about many cancers [as we do for COVID-19]. But we have never had the kind of financial investment in a single cancer in a short period of time. A much greater investment that brings teams of experts together would likely make faster progress against deadly cancers," she said.
The rapid and often free availability of data on coronavirus has "enabled rapid progress" in understanding how to control the spread, treat complications and develop a vaccine, she added. "We need to have a faster and freer exchange of information on cancer as well. There are too many barriers – lack of widely available data collection and analysis platforms that can interact and that allow easy access," she said.
End of a 'demoralising' era
The return of a science advocate to the White House means new horizons for researchers. "I waited four years for this," said Jaffee.
The president's early science picks have been greeted warmly. "Biden has picked excellent people in the White House and in the science agencies," said Rush Holt, former Democratic congressman and ex-CEO of the American Association for the Advancement of Science.
Geneticist Eric Lander was chosen on January 15 as Biden's science adviser and the director of the Office of Science and Technology Policy (OSTP). If Lander's appointment is confirmed, he will serve as a member of Biden's cabinet, a first for this position.
Trump had all but ignored the office during his four years in the White House, keeping it small and out of the way. The outgoing OSTP director, meteorologist Kelvin Droegemeier, wasn't appointed by Trump until more than a year and a half into his presidency.
Biden also put forward sociologist Alondra Nelson to be the deputy director for science and society, a new position. Frances Arnold, the first American woman to win the Nobel prize in chemistry, and Maria Zuber, a planetary scientist, will be co-chairs of the President's Council of Advisors on Science and Technology. Biden has already established a separate team to lead the response to the pandemic, as well as a group of scientists to drive forward his climate agenda.
"It seems safe to say that under Biden they will be dealing with leaders who are more open to advice, more competent in policy implication and far more supportive of the work of experts inside and outside government," said Roger Pielke, who studies science policy at the University of Colorado Boulder. "But make no mistake, the intersection of science and politics is always complicated and often contested, no matter who leads."
Peter Gleick, a hydro-climatologist and member of the US National Academy of Sciences, said he was hopeful for a return to "respect for and use of science in policymaking and a turn away from the Trump-era's abuse of science, disrespect of scientists and facts, and rejection of expertise."
"The four-year push by Trump and his acolytes to dismiss scientists from key positions and replace them with ideological hacks and to ignore facts and evidence while embracing falsehoods and lies was demoralising – that will, thankfully, end," Gleick said.