Economist and adviser Mariana Mazzucato says European Commission should 'welcome risk and uncertainty' with new research missions, but the desired outcome must be clear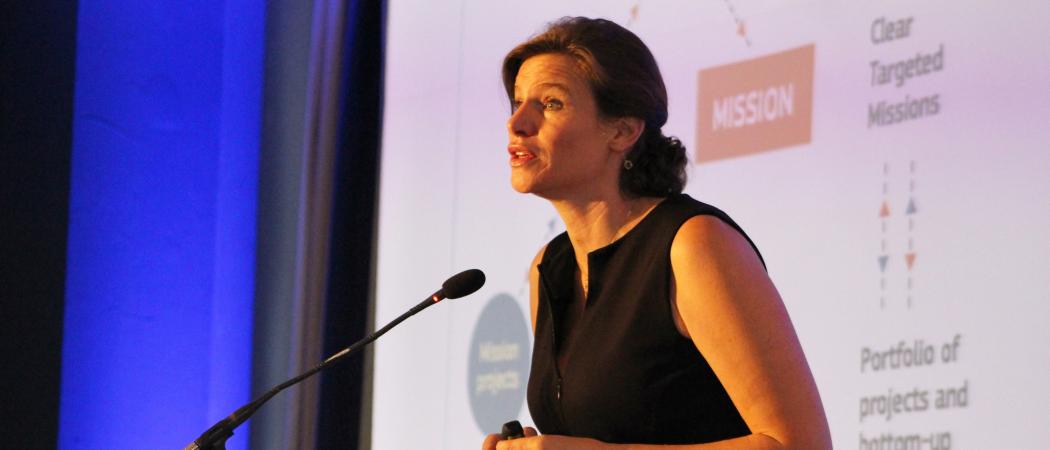 The economist Mariana Mazzucato is urging the European Commission to focus its political will and an infusion of resources on research missions designed to deal with seemingly intractable problems.  
Mazzucato, director of University College London's Institute for Innovation and Public Purpose, has set out a route map for designing and funding missions, and she listed criteria for making them work at a Science|Business conference last week.
With each mission due to receive between €5 and €10 billion in the next EU research programme, Horizon Europe, it is critical that each has a clear outcome and will spur advances in a short time.
The approach does not always have to hit its initial target: failure, and the possibility for unexpected results, is an option. A mission on Alzheimer's disease will not lead to a cure, but will increase our understanding of the disease, which could form the basis of new treatments.
Confronted with so many problems, Europe needs something a little different, Mazzucato argues. "Can we think in a mission-oriented way, which is to welcome risk and uncertainty, and not fear it?" she said.
Some of this is rhetorical spin borne of a desire to capture the political spotlight.  But there is already significant debate about how far the mission approach can go.
Many ideas are doing the rounds: Turning 100 cities carbon neutral by 2030; cutting the amount of plastics discharged into the seas by 90 per cent; reducing the rate of progression of dementia by 50 per cent; building new satellites and surveillance technology to reduce the number of deaths of migrants crossing the Mediterranean.
Mazzucato offers the first moon landing, which was 49 years ago, as the archetypal mission; the effort enlisted many sectors of science to solve a difficult list of problems.
"Getting to the moon was not just aeronautics – it was also textiles that had to innovate. You couldn't go there in jeans and a t-shirt," she said. "About 13 or 14 sectors had to be involved. Projects: there were hundreds, some of which failed."
Similarly, taking plastics out of the ocean would require the chemical industry, biotech, marine life specialists, social innovation and artificial intelligence, Mazzucato said.
EU Research Commissioner Carlos Moedas has made missions a centrepiece of his agenda. But the initial political reaction may not bode well for the policy, with some scepticism over whether there is enough time or money to come close to achieving the lofty goals being discussed.
German MEP Christian Ehler, a speaker at the conference, said a bigger budget will be needed to reach the scale of investment required.  If the budget of Horizon Europe is no bigger than the proposed €94.1 billion, "You don't see missions. At €125 billion you can see missions, at €160 billion you can start to fight Alzheimer's," he said.
The Horizon Europe legal text says missions, "Will be co-designed with member states, the European Parliament, and citizens." That raises the question of how such a diverse group comes together to set up successful missions. "How do you do a stakeholder engagement that's not tokenistic?" Mazzucato said. "The last thing we want is for missions to redefine something we're already doing. We know this happens all the time."
The Kennedy moonshot involved, "One guy and his friends setting the target", Mazzucato said. Her preferred model is Germany's Energiewende energy transition programme where, "There had been decades of a green group framing the issue."
EU policymakers are unlikely to come up with such an inspiring mission as landing on the moon. But less ambitious targets can do lot of good, Mazzucato said. The lasting impact of the Apollo mission was that, "kids were re-energised to take on STEM subjects," and the world got scores of new everyday technologies, such as dust collectors for vacuums and insulin pump wristwatches for diabetics.
Mazzucato referred to a letter a nun in Zambia sent to then associate director of science at NASA's Marshall Space Flight Center, Ernst Stuhlinger, in 1970.
"[She] wanted to know: what are you doing? Why are you spending billions to go into space when there's poverty on earth. His response was fantastic: so many of the solutions on earth that have helped to solve big problems came from the spillovers of the moon mission," Mazzucato said.