University heads from the UK and Germany are meeting in Hamburg to discuss restoring collaboration. But it could perhaps take up to five years to get back on track, one warns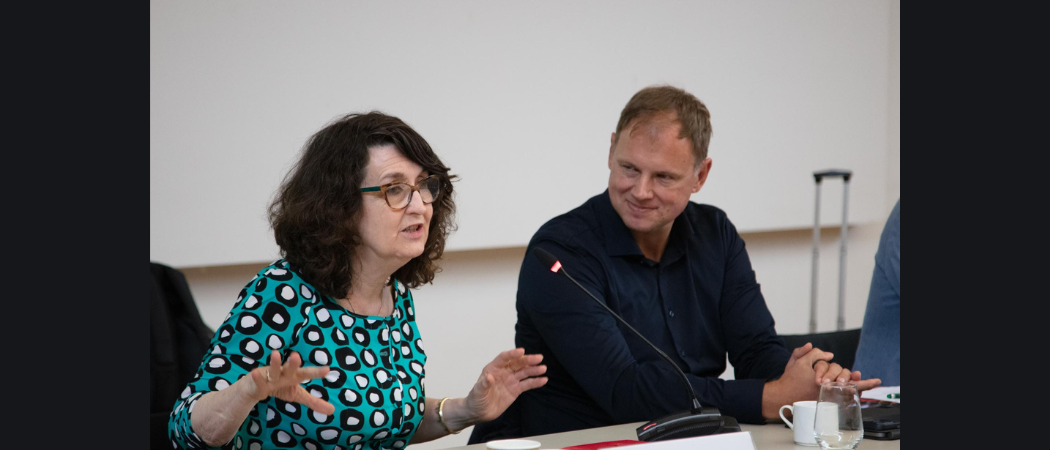 Academics in Germany are still uncertain about whether collaboration with UK colleagues in Horizon Europe will run smoothly, the president of the University of Hamburg has warned, as institutions try to reassure their researchers that UK partners are now fully back in the programme.
Last week's agreement between Brussels and London means the UK can participate in Horizon as normal for 2024 calls onwards. But overcoming two and a half years of uncertainty, during which the UK was a semi-detached partner, will take plenty of time, according to UK and German university heads meeting this week in Hamburg.
"We're back to normal, realistically, probably in four of five years," said Hauke Heekeren, Hamburg's president. "It's almost like a new funding scheme," he said. It will take a couple of rounds of funding to convince academics that things are back to normal.
Despite the widely welcomed association announcement last week, there is "absolutely" still uncertainty among academics at Hamburg about partnering with the UK through the programme.
"It's the uncertainty in the system," said Heekeren – a neuroscientist whose work has included research into how trust and certainty play into people's decisions.
"The government will have to understand, it's something that once you've damaged it, it takes usually longer to repair than to damage it," he said.
Researchers are now asking whether the same administrative grant procedures will work like they used to. "We have to rebuild the confidence that the process runs as it used to before," he said.
Rebuilding confidence
Heekeren is one of a group of university heads from Germany's U15 group of large research universities that this week are meeting counterparts from the UK's Russell Group of leading research universities in Hamburg.
The mood is upbeat because the UK is back on board with Horizon Europe – but the next challenge is boosting UK participation rates, which in the collaborative, Pillar 2 part of the programme have halved due to uncertainty about the UK's position in the scheme.
UK academics have been able to join this part of the programme despite not being associated. But they have needed to find their own funding – provided by the UK government – and overcome confusion and uncertainty from potential EU partners.
The statistics show this had a big impact, and the question now is how quickly participation will rebound.
At the University of Leeds, there was a 39% drop-off in applications for Horizon Europe grants, said Simone Buitendijk, the university's vice chancellor, an attendee from the Russell Group. UK universities as a whole recorded a 50% fall, she noted.
"It just shows that people didn't even try," she said. "I think that's more of a phenomenon than people being successful and dropping out, because that's harder to do. It's the hesitancy, the lack of trust on both sides."
But the two universities tried to preserve research links by other means. While the UK was excluded, Hamburg and Leeds established "seed funding" for research partnerships, giving academics up to €10,000 to back 18-month projects. "There's not a lot of money, but it just signals how people really want to keep going with the collaboration," she added.
Buitendijk is more optimistic than Hamburg's Heekeren about how long it will take to bounce back to normal levels of involvement in Horizon.
"Talking to colleagues in Leeds, we're working with two years," she said. "But who knows. I wouldn't be surprised if it's shorter than four years and may be shorter than two. Because on my side of the North Sea there is so much need to get this going again, there really is no hesitancy at the moment."
'No grumpiness'
Heekeren and Buitendijk are keen to be upbeat about association, rather than rue lost time. "I can truly honestly say there's no grumpiness," said Buitendijk. "We're just accepting of what's happened and we want to move forward with real conviction."
But the missing part of the puzzle for collaboration is Erasmus+, the €26 billion student mobility programme which the UK quit in 2021. There were no expectations it would re-join any time soon, but the UK's absence is still keenly felt.
"Collaboration wasn't just in research," said Buitendijk. "It was also in in making sure that young people get to meet each other, they understand what it's like to live in another country."
"The two programmes hang together," said Heekeren, referring to Horizon Europe and Erasmus+.
Most of the research universities in Germany are members of the European universities' initiative, continent-wide partnerships. But UK institutions can only join as associate members because the scheme is funded through Erasmus+, he pointed out.