On eve of inauguration, the US president-elect raises chief scientist to a cabinet-level position, and vows a return to the Paris climate accord 'with the urgency the science demands'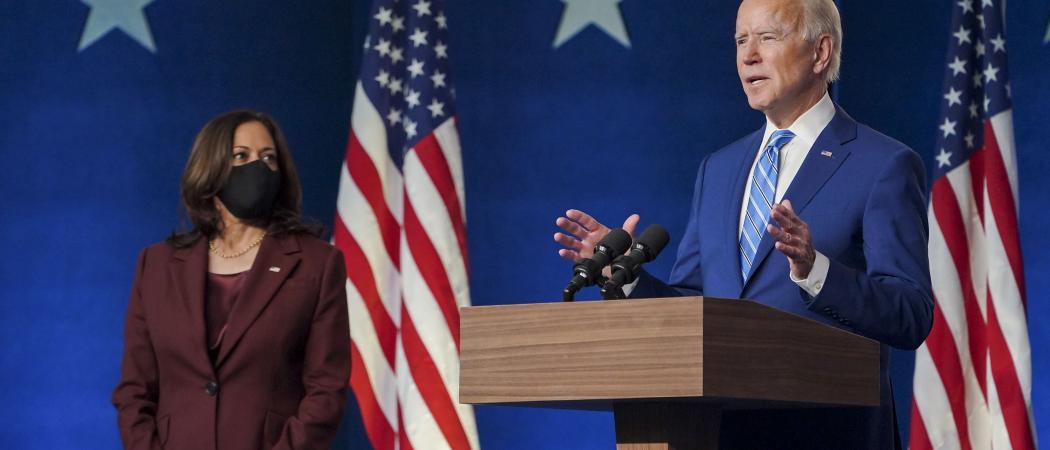 In one of the most significant departures from the Trump Administration, President-elect Joe Biden vowed to make science a central theme of his administration – enlisting scientists to solve problems at home and across the globe, and giving them unprecedented influence in his administration.
Aides also said that on Biden's first day in office January 20 he will order that the US rejoin the Paris climate accord – a direct reversal of the prior administration's anti-environmental policies.
"As president, I'll pay great attention" to science and scientists, Biden said in an online briefing introducing his team of top five science advisors over the long Martin Luther King holiday weekend. He confirmed his plan to name his chief scientific advisor, geneticist Eric Lander, to cabinet-level rank – the first time in US history, "because we think it's that important."
He also said he will focus his administration's scientific efforts on five main issues: the pandemic, the economy and economic equality, the climate crisis, technological and industrial leadership, and restoring "trust in science".
In a similar vein, a day earlier when discussing his COVID-19 plans, Biden vowed that "our administration will lead with science and scientists, with a CDC, an NIH, that will be free, totally free from political influence, a surgeon general who is independent, an FDA whose decisions are based on science and science alone." The Centres for Disease Control, National Institutes of Health and Food and Drug Administration became political casualties of the Trump Administration's fumbling pandemic response, as political appointees frequently overruled career scientists.
On the climate accord, Biden's incoming chief of staff sent a memo to new administration nominees saying that rejoining the treaty will be among a dozen executive orders that Biden will sign immediately after his inauguration January 20. Other orders will include requiring masks be worn on federal property and in interstate travel, and further postponing all student loan payments.
The climate treaty was agreed in Paris in 2015, with the aim to keep the increase in average global temperatures well below 2 degrees Celsius – but on 4 November 2020 the US formally withdrew, as Trump claimed there was no climate crisis and the agreement would damage the US economy. In his memo, Biden's chief of staff added that, beyond rejoining the pact, by January 30 "the president-elect will sign additional executive actions to address the climate crisis with the urgency the science demands and ensure that science guides the administration's decision making."
A signal to the world
Taken together, the five appointments, the climate action and the impassioned rhetoric send a powerful signal to other world leaders that there will be a new boss and a new agenda in Washington from noon on January 20. In several capitals, expectations have risen for the US returning to its former prominent role on global climate policy, health research, environmental protection. Indeed, some have started calling for a global summit on science, to better coordinate how humanity should respond to those issues, and the impact of emerging technologies like artificial intelligence and quantum computing.
Certainly, watching the Biden briefings over the weekend, an observer couldn't help but be struck by the contrast with the departing Trump Administration. Trump famously called climate science a "Chinese hoax", speculated aloud about the possibility of administering bleach to COVID patients, took a felt-tip marker to a government weather map to make a hurricane's path appear less threatening, and enacted a long series of administrative changes that downgraded the impact of scientific evidence on US policy in many domains.
By contrast, "we are going to make sure the United States of America once again leads the way in science and innovation," said Kamala Harris, the vice president-elect, at the weekend briefing.
Echoing Biden's enthusiasm for the scientific appointments, Harris joked that she and Biden "can nerd out a little at times." She went on to describe how she learned from her mother, an endocrinologist, about "the scientific method as a way of life, of forming a hypothesis and recognising that it's not a failure to revaluate that hypothesis when the facts don't add up – making a decision based not on ideology but on evidence."
Despite the rhetoric and executive orders, it's still unclear how much of a science-based agenda Biden will actually be able to get enacted. His Democratic majority in the House of Representatives is very slim; and in the Senate there's a 50-50 Democratic-Republican split (with Harris as the tie-breaker). Then, too, his Democratic party itself is riven by internal dissension, and the chance of bipartisan agreement diminished greatly after the House voted to impeach Trump for an historic second time last week.
No matter – for the moment, the US science community was in full party mode over the weekend as its leaders absorbed the changes. Statements praising Biden's science nominees came from the American Association for the Advancement of Science, the American Universities Association, the Union of Concerned Scientists, the Sierra Club and several other organisations. In fact, lest the press miss any of these endorsements, the Biden camp gathered together dozens for re-distribution to the media – including several scraped directly off Twitter.
Science for equality
A few policy messages came clearly through the Biden science briefings over the weekend. One was on the need to apply science to helping fix America's appalling inequalities of income and race.  Alondra Nelson, a Princeton University social scientist who was named Biden's deputy science advisor, said that "science at its core is a social phenomenon, a reflection of the people." How we build AI algorithms, provide health care, are "human choices. It matters who makes these choices…As a Black woman researcher, I am keenly aware of who is missing" from such decisions at present.
Likewise, Lander, the new chief science advisor, said "we have to be sure not only that everybody has a seat at the table, but a place at the lab bench."
Another theme was listening to science to improve the chaotic US pandemic response. Biden lamented that wearing masks has "become a partisan issue. But what a stupid, stupid thing for it to happen." He said wearing masks in his first 100 days could save 50,000 lives.
Referring to the Capital siege in which legislators were forced to shelter together – some with, and some without, masks – Biden called it "shocking to see members of Congress refuse to wear masks. What the hell's the matter with you?"
Of the five top science appointees, most are familiar faces from the Obama Administration. Moving more quickly than usual in a transition, the Biden team also began announcing lower-level Cabinet appointees – deputy secretaries for agriculture, health and other agencies with hefty research budgets. The top science nominees:
Eric S. Lander, presidential science advisor and director of the Office of Science and Technology Policy (OSTP). A leader of the successful 1990s US Human Genome Project that sequenced the first full human genome, and currently head of the Broad Institute, a genetics research centre run jointly by Harvard University and the Massachusetts Institute of Technology. Also, in the Obama-Biden administration, co-chair of the President's Council of Advisors on Science and Technology.
Alondra Nelson, OSTP deputy director for science and society. Currently president of the Social Science Research Council and a sociology professor at Princeton's Institute for Advanced Study.
Frances H. Arnold, co-chair of the President's Council of Advisors on Science and Technology. A California Institute of Technology professor who in 2018 was the first American woman to win a Nobel in chemistry. She co-founded three biotech companies and is a director of Alphabet, the parent company of Google – currently fighting antitrust charges from the US Department of Justice.
Maria Zuber, co-chair of the President's Council of Advisors on Science and Technology. A geophysicist who is currently MIT vice president for research, and head of MIT's famous Lincoln Laboratory. She has been involved in scientific aspects of 10 US space missions. She was named in 2013 by then-President Obama to the National Science Board, and was reappointed under Trump as board chair from 2016 to 2018.
Francis S. Collins, director of the National Institutes of Health. A hold-over from the Trump Administration, and first named to the post in 2009 by then-President Obama. He is a physician and geneticist, who was also with Lander a leader of the Human Genome Project.
Editor's note: This article, first published January 16, was updated Jan. 19.