There's an appetite to develop research relationship with Brussels, but agreeing terms is 'a long-haul game' says James Whisstock, scientific head of the European Molecular Biology Laboratory's base in Australia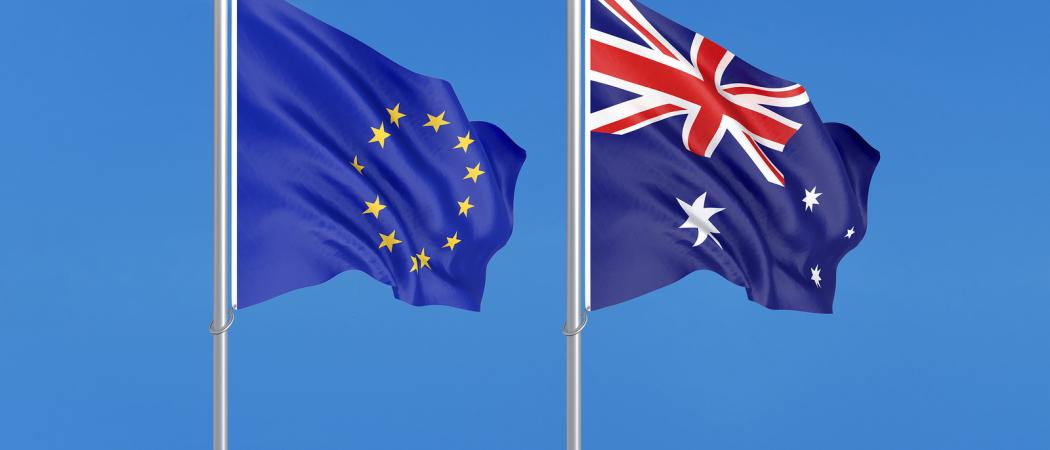 Australian researchers would like to be more deeply involved in the EU's next €94.1 billion R&D programme, Horizon Europe, according to James Whisstock, scientific head of the European Molecular Biology Laboratory's base in Australia.
"There's always going to be strong interest in the EU programme here. Basically, there is enthusiasm for greater linkages," Whisstock told ScienceBusiness.
The molecular scientist, who among many other titles is also director of the ARC Centre of Excellence in Advanced Molecular Imaging, was speaking after meeting the European Commission's director-general for research and innovation, Jean-Eric Paquet, who is in Melbourne this week to gauge the country's interest in deeper collaboration under Horizon Europe.
Paquet will travel to New Zealand next week with similar intentions to pitch the Commission biggest-ever R&D initiative, according to his office.
Paquet's roadshow is part of a commission objective of boosting collaboration with wealthy countries, as a way to strengthen European science and technology.
The commission wants Horizon Europe to open up eligibility to other strong science countries, such as Canada, Japan and perhaps Australia, to join as associate partners.
Non-EU countries are already associated members of Horizon 2020, giving them essentially the same status as EU members to apply for money. Eligible countries are limited to close geographic neighbours, such as Norway, Switzerland and Israel.
Whisstock acknowledged there are issues in the way of reaching a fast agreement between the EU and Australia, with both sides still in homework mode.
"The details of how to engage and finance engagement is a long-haul game," he said.
Under current arrangements, some 230 Australian scientists have participated in a limited number of EU research contracts so far under Horizon 2020, placing the country as the fourth highest collaborator of all third countries.
A government official confirmed Australia's willingness to consider stronger collaboration under Horizon Europe, and said officials will feed opinions about the programme into the Commission's so-called strategic planning process.
The government is also considering sending representatives to Brussels in September to pursue further details on any deal.
So far, the most detailed public discussion of possible terms for associated countries is in the draft Horizon legislation. It says third-country associates must have "good capacity" in science and technology, and a "commitment to a rules-based market economy, including fair and equitable dealing with intellectual property rights, backed by democratic institutions" – suggesting China, for instance, might be ineligible.
Under Horizon 2020, an associate country's membership fee is based on how big its economy is. The commission has said it may tweak this formula for Horizon Europe so that non-EU partners pay for the exact grants they receive.
But exploring those terms further has been stymied by Brexit. The UK has said it wants to associate to Horizon Europe after it leaves the EU, but Commission negotiators have banned any discussion of what those UK terms might be, for fear of messing up the main Brexit deal. That means the commission has also been reluctant so far to talk about association in detail with any other countries.
Scope for more collaboration
Whisstock joined Paquet on a panel discussion on Wednesday evening in Melbourne.
"The message that I heard: the EU and Australia will continue to work more closely together and there will continue to be a large number of researchers from here who participate in Horizon programmes. The interaction is of maximum benefit to all of us," Whisstock said.
EU science funding is an obvious draw for researchers everywhere, he said.
"I think one has to look at scale. The budget Jean-Eric is talking about – almost €100 billion over seven years – is a lot of money. It's a lot of money," he said.
"You can't get away from the matter – science is a very expensive business. It delivers four to five times the amount over each dollar invested, but you could speak to any assessor of any grant in Australia and they would say it's a real shame we can't fund more," he said.
Whisstock says there are already deep cultural and historical ties between Australia and Europe and many Australian scientists travel to the continent to use large-scale science equipment such as synchrotrons. 
As to what Australia brings to the table in science, Whisstock points to leadership of huge projects like the Square Kilometre Array, the project to build the world's biggest radio telescope.
"You see with SKA, we have large amounts of space for big science instruments. We also have many leading scientists of Antarctic research and palaeontology, owing to the unique geology of the country," Whisstock says.
"Quantum is another area where we are world leaders," he says, referring to a recent breakthrough in computing made by Michelle Simmons, a physicist at the University of New South Wales, which featured in a paper published in the science journal Nature last week.