World output of AI patents reached 18,000 in 2015, with China tripling its contribution and the EU's share of global AI patents falling by 7% to 12%, says OECD innovation survey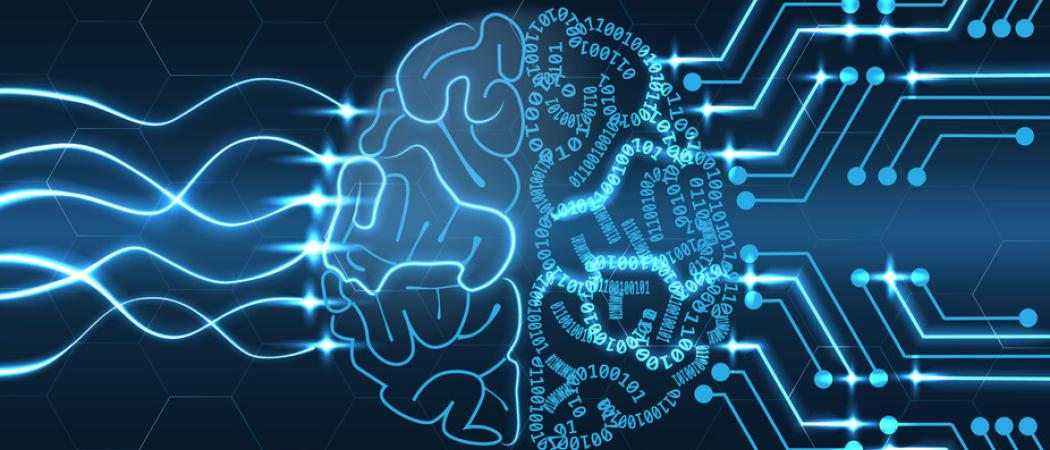 The number of artificial intelligence (AI) inventions patented globally increased on average by six per cent every year between 2010 and 2015, and grew twice as fast as all other categories, according to the latest OECD Science, Technology and Innovation scoreboard.
In 2015, 18,000 AI inventions were filed worldwide, 62 per cent of which were in Japan, Korea and US.
Between 2010 and 2015, Korea, China and Taiwan increased their number of AI patents compared to 2000 - 2005. Meanwhile, the global share of AI-related inventions patented in EU countries decreased from 19 to 12 per cent.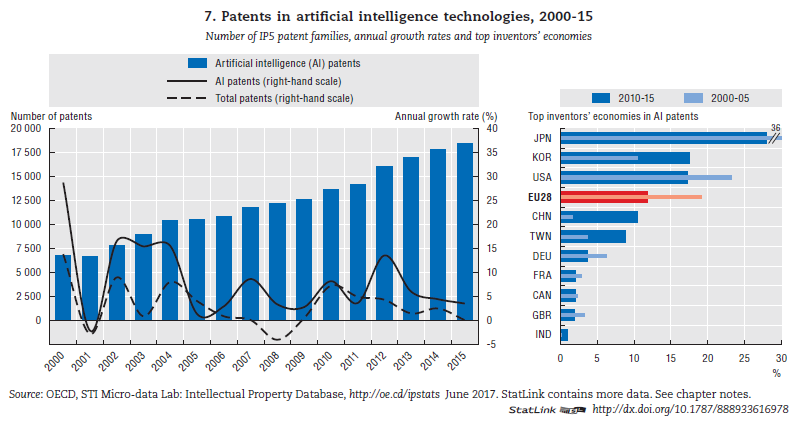 Technological breakthroughs in machine learning coupled with big data and cloud computing have broadened the potential impact of AI. According to the OECD report, a third of patents filed on medical diagnosis include AI-related components.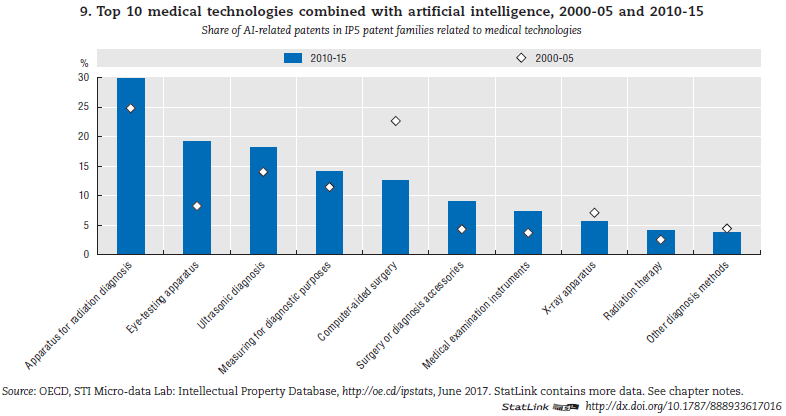 The OECD analysis shows remarkable growth in scientific publications related to machine learning. The US leads in this area of research both in terms of total publications and of citations.  India is now the third largest producer of scientific papers on machine learning after China, with the UK fourth.
China rises up the publication tables
OECD's data also illustrate China's rise to become a scientific powerhouse over the past 15 years, and is now in second place, behind the US. The country has tripled its high-impact scientific efforts and now produces 14 per cent of the top 10 per cent of the world's most cited publications. In 2005, China was at only 4 per cent.
The US leads with a 25 per cent share of high-quality scientific output, the UK third, Germany fourth, Italy fifth and France sixth. 
However, taken as a bloc the EU is maintaining its global share of high quality scientific production and surpasses the US.