Free advice and funding for the earliest stages of company formation will help Dutch academics shape up their research and make it attractive to private investors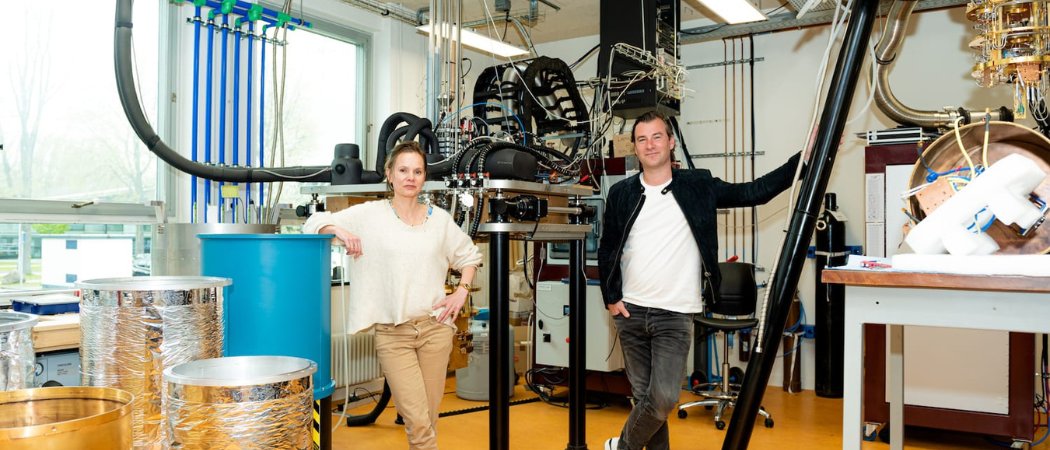 The Netherlands is taking the next step in developing its quantum ecosystem with the launch of a venture fund targeting early academic start-ups and research teams thinking of spinning out.
The fund will act as a bridge between grant funded research and formal venture investment by providing funding, but also business and commercial support to get projects to the point where they are investable.
The €15 million fund, formally launched this month by the Quantum Delta Netherlands (QDNL) foundation, has been welcomed by universities.
"Quantum technology is one of the top priority areas of our university and we are glad to see the first commercial applications getting off the ground in the form of start-ups," said Robert-Jan Smits, president of Eindhoven University of Technology. "The QDNL fund will be key for these young companies to grow and attract further private investments."
QDNL was set up in 2020 to help deliver the Dutch National Quantum Technology Strategy. Its job is to coordinate and support the development of the nation's quantum ecosystem, from talent development and R&D, to entrepreneurship, market creation and societal impact.
The addition of a venture fund, QDNL Participations, is expected to build on the stimulating effect that QDNL has already had on the start-up scene.
"If I look at the seven or eight start-ups that we have created over the past years, every single one has been in close cooperation with QDNL," said Kees Eijkel, director of business development at QuTech, the quantum research institute at Delft University of Technology. "We are very happy that they now have the opportunity to pitch in themselves and maybe even lead investment rounds."
A drop in the ocean
QDNL Participations has €15 million to invest in early-stage quantum companies, a remit that takes in hardware, communications, and sensing technologies, along with companies that supply components. Its deal flow will come from research conducted at Dutch universities, principally TU Delft, Eindhoven University of Technology, Leiden University, the University of Twente, and the University of Amsterdam.
By international standards this budget is a drop in the ocean. According to a report published last August by the Boston Consulting Group, US quantum start-ups have attracted $1.8 billion in venture capital investment since 2010, against $272 million for European companies and $223 million for Chinese companies.
But the significance of QDNL Participations is the way it intends to operate. "We want to get in very early and make sure that we protect and support founders, by making sure the first check into the company is one of patience and support, because that's actually where the problems typically originate," said Ton van 't Noordende, the fund's managing director.
Teams need protecting from the bad advice that can see the financial basis of start-ups compromised from the outset. "Research-based founders are not business people," said van 't Noordende. "They receive slow, poor, even sometimes exploitative advice that can limit or end their business progress, and grant-giving organisations do not foster commercial outcomes."
Independent advice on spinning out
Before any discussion of investment, research teams considering a start-up can get advice from Infinity, a free, on-call support programme set up to complement QDNL Participations, and with an overlapping team.
"Infinity allows researchers to safely start experimentation on building a company," said van 't Noordende. "We work with them to build up financial models and align those models with their technical roadmaps, and ease a little bit of the friction between the two."
At the same time, Infinity strives to be objective and avoid hyping up company creation. "The goal is not to create ventures for the sake of creating ventures," he said. "The goal is to see if we can get some of this incredible technology off the shelves where it is currently sitting with no-one touching it."
While the intention is to complement the support researchers can call on from their home institutions, having advice that is independent of universities is also seen as necessary.
"Brilliant researchers with sizeable budgets, who may be on a tenure track at their universities, can find it hard to start a conversation about entrepreneurship," said van 't Noordende. "I think there is massive potential that is left untouched for that reason."
Having a separate support structure for quantum also cuts through the competition for attention that researchers may face when institutions are focusing limited resources on commercialising technologies across the board. "It's not a criticism of the individual universities, but there needs to be something else on top to support those teams, and we hope to be that something else," van 't Noordende said.
Eijkel also sees a benefit in exposing nascent start-ups to the venture capital view, particularly if the launch team is still incomplete. "They may not be ready to look for a specific person to be chief executive if they are still in the early technology or proof of concept phases of a company, but you still need that viewpoint. Talking to VCs is a way of getting that advice," he said. "We do that a lot with the young companies. We expose them to these kinds of outside structures, in order to speed up their thinking."
As one example, a company still in stealth mode was preparing to spin-out a technology with the help of QuTech's business development team. "We were beginning to see the contours of the team that was going to do this, so we got Ton and two other VCs from our network together with them for an afternoon to dig into this with the team, and then to step back," Eijkel said.
"The team now has to rethink their strategy, but they can do that informed by this engagement, from which they've learned an enormous amount. They might then knock on Ton's door to join in with this QDNL fund, or not, it depends on how they see their way forward."
Money on the lab table
When it comes to funding, QDNL Participations has the option to get involved before researchers have set up a company, offering a €50,000 'safe note' that will later convert into equity, if and when the start-up is ready to move forward as a business. This funding is for early expenses not covered by research grants, such as starting to write a business plan or beginning negotiations with possible partners or suppliers.
For QuTech this offer of funding before company formation is a useful option. "This model is used more and more, and we feel comfortable with it," Eijkel said. "There are pros and cons, of course, and free money is not available, so the team has to decide if the offer works for them."
Once a start-up has been created, QDNL Participations can participate or lead investment rounds. Before its formal launch this month the fund had committed funds to three start-ups: Fermioniq and Q*bird and a third still in stealth mode. Its first official investment was to participate in a €6 million seed round for QuantWare, a QuTech spin-out that develops, designs and fabricates scalable, superconducting quantum processors. This also built on previous collaboration with QDNL, stretching back before the company was founded.
This round was larger than might be typical going forward, but the timing was right. "Our average investment ticket will between €500,000 and €750,000, so this was at the higher end of the spectrum, but the company was ready for it and really wanted to have our involvement," van 't Noordende said.
The goal in future is for QDNL Participations to lead investment rounds, using its expertise and network of experts to bridge the quantum knowledge gap that presently exists in the venture capital community. "Some venture capital funds in Europe are now specialising, and that's an exciting development, but the majority will not have the capacity to assess these technologies," van 't Noordende said.
The combination of expertise in quantum and early involvement with researchers could also see QDNL Participations acting more like a venture builder than a traditional risk investor. "We can figure out logical combinations of groups that could collaborate to build something that has more substance and potential," said van 't Noordende.
Eijkel thinks the approach developed by QDNL Participations could be applied beyond quantum, with something to offer in health, biotech and in deep tech more broadly, where venture capital is thin on the ground. "Deep tech asks for a more specific approach from our side, since there is a steeper learning curve for the country, and for the European VC environment," he said.
It also fits in with a broader trend to cooperation in the Netherlands. "We're seeing a lot of alignment going on, especially between the technical universities, to make things simpler and faster," Eijkel said, citing guidelines around working with intellectual property and how share positions are handled as examples.
Elsewhere in the Ecosystem…
The first edition of the

European Prize for Humanitarian Innovation

, supported by the European Innovation Council, is open to nominations. It will be awarded to organisations and companies that are developing technology to deliver better quality humanitarian assistance to vulnerable people affected by crises and natural hazards. Applications are due by 3 October, with an online info session scheduled on 23 May.

Finnish start-up MVision AI has

raised €5.4 million

in post-seed funding to further develop its artificial intelligence tool for planning radiotherapy cancer treatments. By automating the analysis of scans, the tool makes it possible to speed up treatment decisions, reducing waiting times from weeks to days, if not the same day as the scan.

The European Institute of Innovation and Technology (EIT) has set up a

smart mobility accelerator programme

, offering start-ups business development support, access to mentors, and options for project funding. The accelerator is a collaboration between EIT Urban Mobility, Drive TLV in Israel, MobilityXlab in Sweden and Startup Autobahn in Germany. Submissions are due by 21 April.