As Brussels starts making sense of the Commission's proposal for creating a homegrown net zero market, industry points to lack of understanding of how innovation works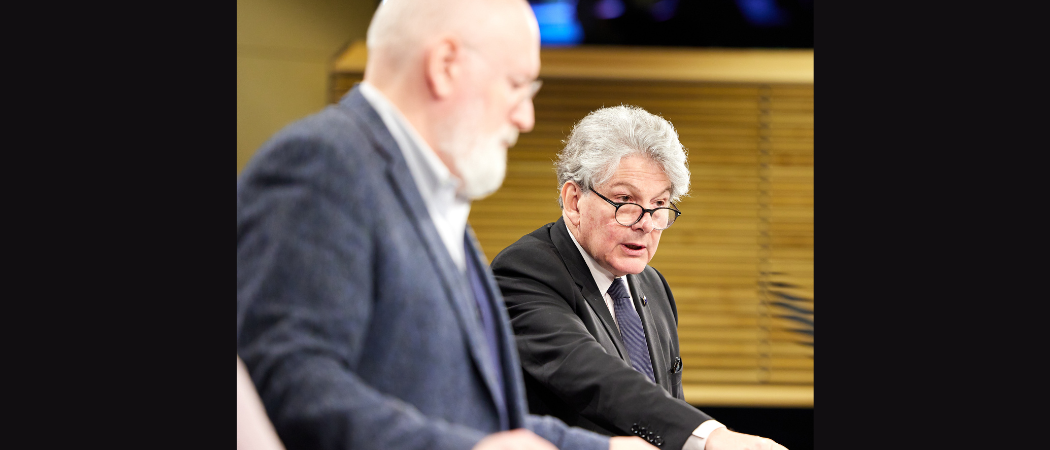 EU's Green Deal is finally making its way into industry regulation but innovation proponents aren't convinced the proposals match up to the bloc's need for new clean tech.
The net zero industry act, presented earlier this month, aims to give Europe more strategic autonomy in net zero technology production. It sets out a clear target to have at least 40% of EU's net-zero technologies manufactured within the bloc by the end of the decade. But few are satisfied with the Commission's outline on how to get there.
To spell out what is needed, the European Round Table for Industry (ERT), a group of heads of some of Europe's largest companies, has set out three demands for boosting European innovation: rethink innovation to use carrots instead of sticks; create a solid intellectual property rights system; and de-risk the scale-up of innovations.
Lots of measures are already on the table to remedy these shortcomings, but innovation stakeholders believe the EU is still missing the big picture. As it strives for competitiveness, a green future, better jobs and consumer protection, among other goals, the bloc doesn't seem to have a clear strategy on how to get to there.
"For me, the bigger picture is truly missing," said Eva Maydell MEP, who spoke at the ERT report launch. "What we're doing is good, but it's not good enough to get us to where we want to be in order not to remain history," she said.
For industry, how policymakers think of innovation is missing the point. Martin Brudermüller, chair of the ERT competitiveness and innovation committee and CEO of BASF, world's largest chemicals producer, says EU regulation treats innovation like building projects where the process is defined from start to finish and end result is clear. But innovation is about experimenting and often this means failure and wasting money, he said.
"[Green Deal regulation] is telling you what to do, it is telling you which technologies you have to take, it's telling you the milestones, it's narrowing down the guardrails," said Brudermüller. "That's why I think we need a modern new regulation that gives this space , that acknowledges that in R&D you spend money and it goes wrong," said Martin.
But there's a reason for a more top-down approach. Increasingly prescriptive innovation is a new tool for the EU. Previously, the Commission has been careful not to spell out what technologies it wants to promote. "The shifts in this act are quite remarkable," says Tobias Gehrke, senior policy fellow at the European Council for Foreign Relations.
A previous leaked version of the proposal contained even stronger language, Gerhke notes. "It got softened up a little bit: it doesn't go into specific details in how much Europe wants to manufacture. But it's still a very top down definition of strategic industries," he tells Science|Business.
By setting top-down targets, the Commission mirrors what other countries are doing, as it deals its hand in the geopolitical game. For one, this is the way China innovates and it's an inefficient way to work, but "with a huge waste of resources, they can pull lots into emerging technologies and potentially monopolise them," says Gehrke.
It may not be the most innovation-friendly way to go about this and it's risky to pump investment into select technologies, but "there is a risk there of completely losing market share, and many in Europe feel that these risks are more acute," says Gerhke. 
Ship hasn't sailed
Today, the EU is a net importer of many net-zero technologies such as solar panels that are key for the ambition to become the first carbon neural continent by 2050. But it's still doing quite well in innovation. The US recently stepped up its game with the Inflation Reduction Act (IRA), which will funnel $369 billion to into the green tech industry, but until recently, the EU and US invested similar amounts in clean energy R&D in terms of GDP. And the EU has an edge, registering more high-value patents, accounting for a total of 22% of global energy high-value patents.
Europe should focus on maintaining this leadership, believes Greg Arrowsmith, secretary general of the Association of European Renewable Energy Research Centres (EUREC). In the coming years countries around the world will have to install new technologies producing hundreds of gigawatts of electricity, and everyone will want slice of the pie. The way the EU can secure its is lead in innovation, given manufacturing will always be easier in countries where it's cheaper to produce, environmental regulations are lax and governments freely offer state subsidies.
"There will be competition to make and sell all these technologies to decarbonise. Where the EU can add most value, and I do believe the right way, is to focus on the first few gigawatts of the most innovative technology," Arrowsmith told Science|Business.
And there's movement across Brussels. Just today, EU policymakers reached a deal on the renewable energy directive, which contains a provision that at least 5% of new renewable energy capacity added by 2030 must be innovative renewable energy. "We feel that is a very complementary measure to the net-zero industry act on the demand side. It should trigger governments to realise they have install some gigawatts of this technology," says Arrowsmith.
There are many suggestions for which gaps should be fixed next. Signe Ratso, deputy director general at the Commission's R&I directorate, highlighting all that the EU does, admitted the regulation does not allow enough room for experimentation which could shape future technologies. "We need to give some space for the companies, together with the regulators, to test what would work and what type of regulation would be needed for society and for the people," Ratso told the industry roundtable.
Arrowsmith meanwhile says the EU's plans fall short of introducing strong enough measures to shift the gaze to future technologies, rather than fixating on renewables that are currently in the lead, such as solar power, a market China overwhelmingly dominates.
"It's certainly positive, but the question is can we in the next phase of discussion make it even better focused on innovative technologies to make sure we're not trying to build plants which are of today's generation and will find it difficult to compete with what we can already import," says Arrowsmith.
But being good at innovation isn't good enough, says Ann Mettler, vice president for Europe at Breakthrough Energy, a Bill Gates-led sustainable energy initiative. Right now, Europe may lead in innovation but if Europe doesn't find a new way to help companies bring new technologies to the market and scale up, others will reap the benefits of Europe's inventions.
Europe is great at the early stages of the innovation cycle "but all that's done is turn us into the world's incubator. The research comes out of here, the inventions come out of here, but the innovations are commercialised elsewhere and that has to stop," Mettler said.