In response to the US Inflation Reduction Act, the Commission wants 40% of EU's clean technologies to be manufactured in the bloc by end of the decade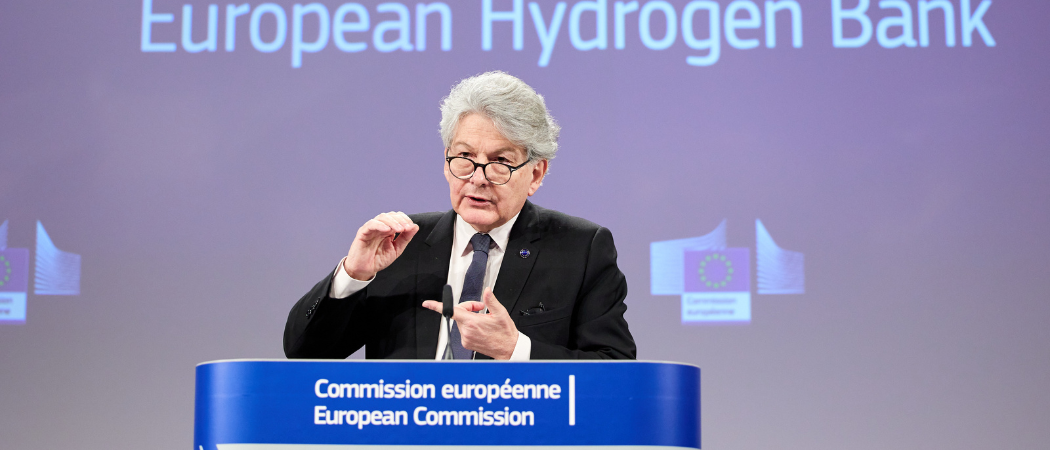 Today's the day: the European Commission has unveiled its plan for making clean tech European, seven months after the US announced its green industry booster plan.
"I believe that our proposals make Europe ready for the race to net-zero," said Commission vice president Frans Timmermans. "But we have to make sure it's a fair race and we have to make sure that the EU industry is in the best possible position to compete, and we've seen in several areas we have some catching up to do. I think what we proposed today does just that."
The clean technology market is set to be worth €600 billion a year by 2030, according to the International Energy Agency (IEA), and the new Net-Zero Industry Act is the EU's attempt at securing itself a bigger slice of that pie. The US set out its strategy back in August in the form of the Inflation Reduction Act (IRA), which will funnel $369 billion to into the green tech industry.
Today, the EU is a net importer of many net-zero technologies that are key for EU's ambition to become the first carbon neural continent by 2050. But the proposed action plan comes with a goal: have at least 40% of EU's strategic net-zero technologies manufactured within the bloc by the end of the decade, reducing reliance on other countries and giving Europe's industry a boost. "We're not talking about reacting short term here – we're moving into a new reality," said Thierry Breton, EU commissioner for internal market.
Global race
As the Commission set out its blueprint, the OECD published its latest biennial report on global science and innovation policy, suggesting current green policy and governance frameworks are not doing enough to help deliver sustainability agendas. Meanwhile, the planet keeps warming, likely to reach about 2.7°C by 2100.
The report points to two big bottlenecks. First, most net-zero missions remain focused on supporting research and innovation are led by R&I authorities and rely on R&I funds. Second, it's all talk no action: many strategic agendas have been defined and governance structures set up but there are few joined-up implementation efforts.
The next big battle for clean tech is finding public money – an estimated $90 billion by 2026 – for large-scale demonstrator projects to test innovation that could be on the market by 2030. The IRA is a step in the right direction, the report notes.
Breton said the EU's plan is different from the US' subsidy-heavy plan. It's an overall package for a stronger net-zero industry, aimed at creating the right conditions for boosting investment.
But Christian Ehler, spokesman for the European Parliament's centre-right group, says this should only be the start. "The upcoming proposals are welcome steps in this direction, but they alone will not be sufficient. We need to reduce the dramatically increasing administrative burden and create breathing space for our industry," said Ehler.
The US plan gave Europe a kick, but the bloc's lagging industry is already a problem. Ehler says more investment is needed, among other measures. "The IRA put the focus on the general challenge we have and this is competitiveness. We see chances, but we have to deregulate, we have to invest more, we have to invest more in research and innovation – this is the comparative advantage we have," said Ehler.
What's in the plan?
The six-step plan singles out eight key technology: solar power; onshore wind and offshore renewable energy; batteries and storage; heat pumps and geothermal energy; electrolysers and fuel cells; biogas/biomethane; carbon capture and storage (CCS); and grid technologies.
The innovation part of the plan proposes to set up test beds for net-zero technologies.
A big aspect, highlighted by the commissioners, is a proposal to streamline granting of permits, including an even faster procedure for priority technologies.
The plan also looks to boost CO2 capture and storage, setting out an objective to reach 50 million tonnes of annual CO2 storage capacity by 2030, according to the proposal.
Public procurement will be used to get technologies on the market faster by introducing sustainability and resilience criteria.
Boosting skills is also part of the plan, with the Commission proposing got set up specialised academies.
In a nod to keeping open to the rest of the world despite upping sovereignty ambitions, the plan introduces Net-Zero Industrial partnerships with so-called like-minded partners to help diversify trade and investments.