The Commission has fleshed out its Green Deal Industrial plan, promising premiums for renewable hydrogen and speedier granting of permits, to dissuade companies from leaving Europe for subsidies elsewhere. But MEPs, think tanks and industry groups are sceptical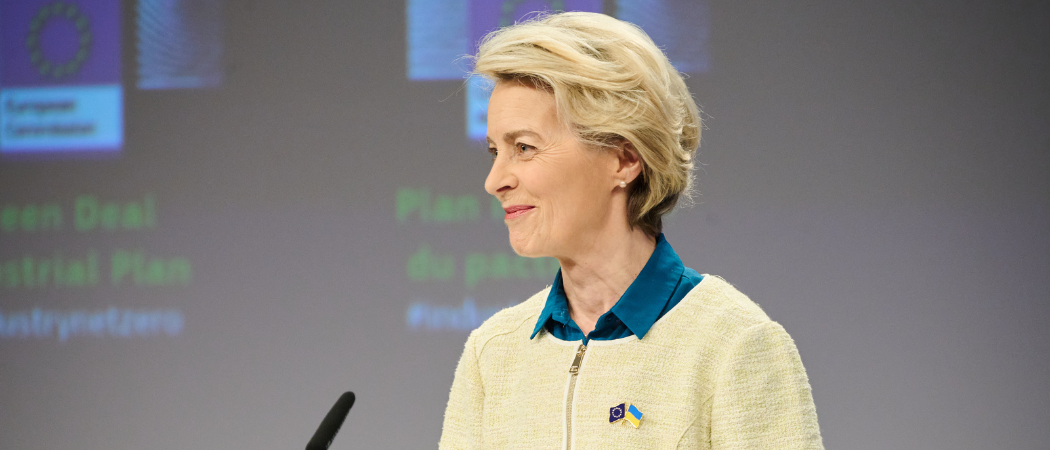 The European Commission has announced details of the Green Deal Industrial Plan, a strategy to stop companies that are involved in supplying technologies needed to decarbonise sectors such as car manufacturing, steel making and energy generation, from fleeing high energy costs in Europe for generous subsidies in the US and China.
Earlier this month, Commission president Ursula von der Leyen promised to set out a plan, after months of pressure to respond to the US Inflation Reduction Act (IRA), which will pour hundreds of billions of dollars into long-term green subsidies in areas ranging from hydrogen fuel to electric batteries.
Putting flesh on the bones yesterday, von der Leyen said, "We know that in the next years the shape of the net-zero economy and where it is located will be decided, […] We want to be an important part of this net-zero industry that we need globally."
One of the most concrete parts of the plan is to create a 10 year guaranteed premium for producers of renewable hydrogen, explicitly aiming to have a "similar impact" as a production tax credit guaranteed by the US IRA. European hydrogen firms had been sounding the alarm that IRA would throttle an EU hydrogen fuel industry by enticing companies to set up production facilities in the US.
This subsidy, with €800 million for a pilot round, will launch in the autumn of 2023, but unlike the US, where the subsidy is a blanket one, companies will have to win a competitive bid to benefit.
This will make the EU subsidy "cost-effective, fast and administratively light," the Commission claims, although hydrogen firms have in the past complained that EU support is project based, rather than a guaranteed subsidy for all producers.
The Commission also wants to make it easier to construct renewable energy plants such as large scale solar arrays and wind farms in Europe.
To do this, it will define "specific time limits for different stages of permitting" and create a "one-stop-shop" for investors and industry when applying for permits.
Subsidy fight
To further boost investment, the Commission wants to loosen state aid rules to allow member states to support their own net-zero technology industries. It plans to extend a temporary relaxation of state aid rules to all renewable technologies, including green hydrogen and biofuel storage. The need for open tenders will also be removed for "less mature technologies," the communication outlining the plan says.
Member states will be allowed to provide clean technology subsidies "to match the aid received for similar projects by competitors located outside of the EU, while ensuring the proportionality of such aid," according to the plan.
Given the size of subsidies outside Europe – China's are twice the EU's, with more than €260 billion of investments announced, claims the Commission – this could be significant indeed.
All this points to an upcoming fight between bigger and smaller member states over how much support they can give their own industries.
"The sticking point is that the countries with deep pockets, like France and Germany, can open the subsidy spigots whereas other countries will be left behind, possibly creating unfair competition and fragmentation of the EU market," commented Sander Tordoir, a senior economist at the Centre for European Reform.
Competition commissioner Margrethe Vestager acknowledged this in a speech about the plan yesterday. "It comes with a risk. Some countries will be able to deliver far more money than others. That's why we need to make this possibility temporary, well targeted in size and scope," she said.
Dipping into Horizon Europe?
One of the fears research leaders have about the plan is that it will further slice money off Horizon Europe. The €95.5 billion research and innovation framework programme has already been raided to help support the EU Chips Act, which seeks to bolster EU semiconductor production.
Yesterday's communication is unlikely to calm those nerves. It mentions Horizon Europe, among other EU funding schemes, when discussing potential sources of financing for green industry. "To date, these EU funding sources have largely benefitted research and innovation and deployment of renewable energy and related infrastructures, rather than targeting manufacturing capacity in the sector," it says.
But it's still unclear whether the plan will come with any new money, or instead will be a reprioritisation and repackaging of existing EU investments.
"This sounds a lot like a communications stunt about the potential of the green deal, trying to salvage the narrative to try to convince industries not to flee across the Atlantic," commented Joey Dellatte, a fellow at the Paris-based Institut Montaigne. "Money available will be the judge."
In the medium term, the Commission will also propose a so-called European Sovereignty Fund as part of the mid-term review of the EU's budget this year. "The aim is preserving a European edge on critical and emerging technologies relevant to the green and digital transitions," the communication says.
This fund was mooted by von der Leyen last year, but yesterday's communication makes it clear it will cover more than just green industries. Microelectronics, quantum computing, artificial intelligence and biotechnology are all suggested as areas it might support.
The backlash
Reaction from MEPs, think tanks and industry groups to the plan was largely negative. The European People's Party denounced the plan as "too little, too late."
EPP's group spokesman for industry, Christian Ehler MEP said the Commission is already, "strangling our industry to near-death" with its emissions directive. The plan does not address the "underfinancing of research and innovation in Europe and in European industry," said Ehler.
The Socialists and Democrats bemoaned a lack of new money. "The plan presented is very vague with regard to any fresh funding for industrial policy," said group leader, Iratxe García. "This plan has no added value and it will not help European industry if it is limited to a rebranding and relabelling exercise."
The climate think tank E3G said that while welcome, the plan neglected the decarbonisation of heavy industries like steel and chemicals, preferring instead to focus on solar panels and batteries.
But even solar producers don't think there is enough in the plan to protect European industry. Dries Acke, policy director of SolarPower Europe, said he has "concerns" about the timeframes involved.
"Proposed state aid revisions under this Communication will apply until 2025. The US is operating on a 10-year time frame. We were advocating for flexibility until 2030," he said.