A Net-Zero Industry Act and a European Sovereignty Fund aim to attract much needed investment. But research leaders insist Horizon Europe money must not be diverted into another 'political pet project'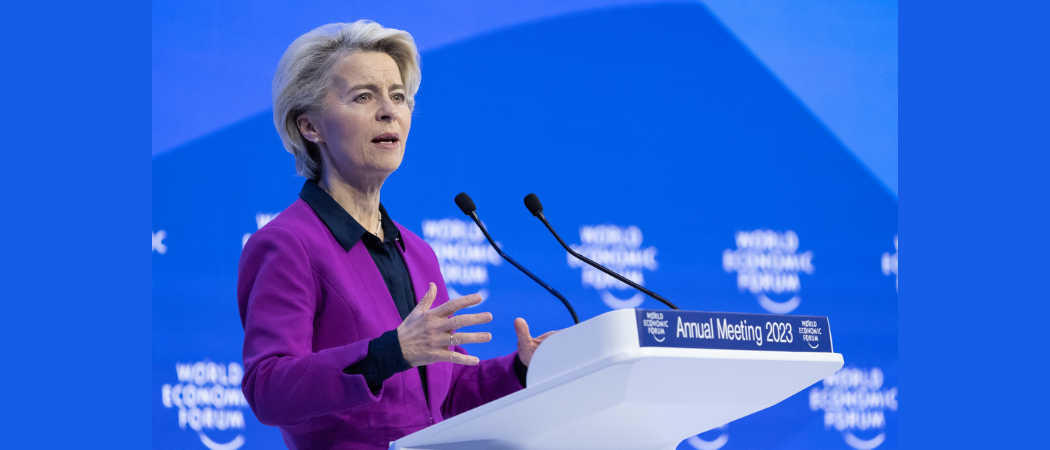 European Commission president Ursula von der Leyen announced a new bill to give Europe's green tech industry a boost at the World Economic Forum in Davos this week, and the research and innovation community is weighing in on it.
Few details have been made public about the Net-Zero Industry Act, but von der Leyen promised it will stimulate the clean tech industry by speeding up permits for green technology production sites.
At the same time, the EU will relax state aid rules, enabling national governments to put more money into the sector, and set up a European Sovereignty Fund to back research and innovation into clean technologies. The fund will be introduced as part of the mid-term review of the EU's budget.
In addition, the Commission is working on how to make it easier to fund and join Important Projects of Common European Interest (IPCEI) partnerships, to bolster EU access to key technologies like microelectronics and batteries.
The market for clean energy manufacturing of products such as solar panels, wind turbines, electrical vehicle batteries, electrolysers for hydrogen and heat pumps is set to grow to $650 billion a year by 2030, more than triple what it's worth today, according to the International Energy Agency.
Every major economy wants to secure the biggest slice of the pie. Last year, the US introduced the Inflation Reduction Act (IRA), which will funnel $369 billion to into the green tech industry, while China, Japan and India have been substantially upping their investments in the sector.
"The EU will prepare a law to make life easier for its green industry and back it up with state aid and a European Sovereignty Fund to keep businesses from moving to the US," von der Leyen said in a speech on Tuesday.
Funding priorities
The bill will follow the model of the EU Chips Act, a sweeping plan to boost research, development and manufacturing of semiconductors in Europe. But it is partly funded by the EU's Horizon Europe research programme, leading to heated debates over how the bloc's overstretched budget should be spent.
"The big risk […] is that you undress Peter in order to dress Paul," said Thomas Pellerin-Carlin, director of the EU programme at the Institute for Climate Economics in Paris. "Will we be looking at a situation where Horizon Europe funding would be reduced to fulfil other priorities?"
This Net-Zero industry initiative comes three years too late, but is better late than never, said Christian Ehler, MEP. "We need a real industrial policy to ensure that there is a business case for industrial transformation in Europe - the Green Deal did not deliver that so far."
Ehler is waiting to see the details before deciding whether the new bill will do the job, and how it is funded will be the key decider. Parliament does not want to see Horizon Europe money once again diverted to "political pet projects", to the detriment of European research. Instead, Ehler suggests repurposing unspent EU Recovery fund money.
Research lobbies are keeping an eye on developments too. Muriel Attané, secretary general of the European Trade of Research and Technology Organisations, welcomed the speech as a clear signal the Commission understands the geopolitical importance of clean tech.
"We will be monitoring the development of the European Sovereignty Fund. It is not clear yet if this will be fresh money or a reshuffling of current budgets. [von der Leyen's] wording 'as part of the mid term review of our budget later this year' does not clarify this yet," said Attané.
Driving demand
Tobias Gehrke, senior policy fellow at the European Council for Foreign Relations, expects the new bill "to be considerable in size", and predicts it will lead to more funding for green R&D through beefed up IPCEIs.
But he said it is unlikely to match the $369 billion of the US IRA. "Funding for upstream R&D is important, but IRA's key weapon is the uncapped tax credits for consumers downstream, driving demand and improving the investment case. Such instruments are more difficult to design across the EU, with tax policy a member state competence," said Gehrke.
Domien Vangenechten, senior policy adviser at the climate think tank E3G, set out two rules for a successful bill. It should "go hand in hand with a real European strategy to decarbonise heavy industries like metals and chemicals" and ensure revised state aid rules provide enough space for transformation and are backed up by new EU money.
The Net-Zero bill, and other reforms, are not solely about responding to the US IRA, but to China's industrial strength too, Gehrke noted. "This is an important narrative shift which acknowledges the growing risks around China's already dominant position in key supply chains," he said.
Von der Leyen apparently is aware of this risk, saying, "We see aggressive attempts to attract our industrial capacities away to China or elsewhere," in her speech.
The EU is world leading in some areas of green technology, like offshore wind. Greg Arrowsmith, secretary general of the Association of European Renewable Energy Research Centres, notes the EU already leads in renewable energy inventions, and any help to entrench that position is welcome, especially when it comes to manufacturing.
But with China, Japan and the US pouring money into their green tech sectors, and fossil fuel prices threatening to drive companies out of Europe, pressure has been building for action since last autumn, said Pellerin-Carlin.
"EU wind turbine companies have been making a loss collectively over the last years," he said.
The speech by von der Leyen is an attempt to show that "she's in control" and has a plan to deal with these pressures, said Pellerin-Carlin.
"It's as yet unclear to me what the detailed content and policy timing are going to be. But it's definitely a big opportunity to build a favourable investment framework for EU cleantech," he said.