Ahead of the one year anniversary of Russia's full-scale invasion, researchers are grappling with damaged infrastructure, lack of funding and the mental load of the war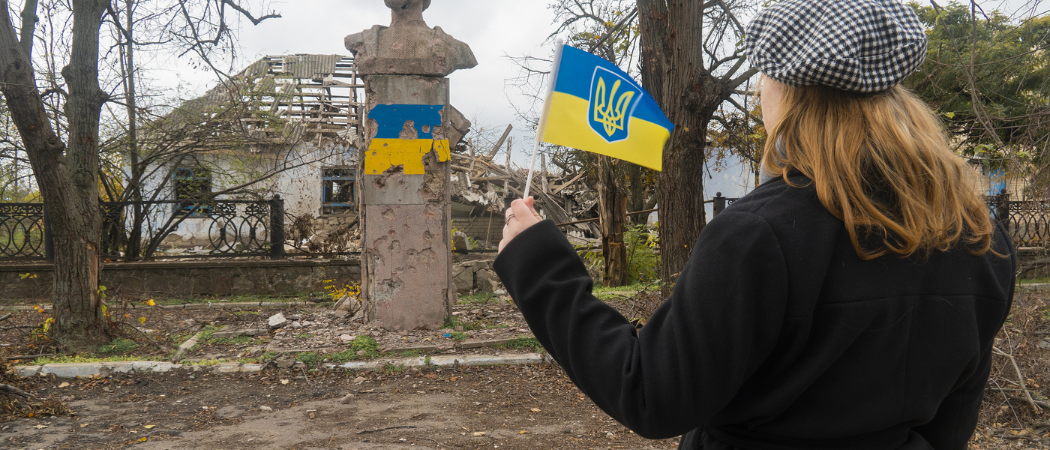 A year since the crisis of the full-scale Russian invasion, life in Ukraine remains ruptured. The war grinds on in the east, air raid alarms routinely ring in cities across the country, water and power cuts are frequent. Many researchers are back at their desks, but staying on top of everything is a tough ask.
Anastasiia Lutsenko, a doctoral candidate at Germany's Max Planck Institute for Innovation and Competition, fled Ukraine for Munich in the first days of the invasion. Three weeks ago, she visited the country, discovering a change in the status quo: there's less imminent danger, but many are struggling to get used to the 'new normal'. "People got more rational and used to a new level of stress, but what is interesting is that when you get back to normal, that's pretty stressful," she tells Science|Business.
Olga Polotska, executive director of the National Research Foundation of Ukraine, is careful not to generalise how Ukrainians feel but talks of a common feeling of fatigue. While those around her are keeping their spirits up as much as they can, many find themselves oblivious to the ongoing reminders of the war. On the street, people ignore air raid alarms and just go about their day. "We're tired, really tired," says Polotska. "Normally, when people get tired, they try to relax, and we don't have this opportunity, physically. It's a ceiling we're hitting."
Many, including Polotska, are dealing with the stress by throwing themselves into work. Constant news of fighting and heroism on the frontlines keeps her motivated, says Lutsenko. While not all researchers are able to do hands-on work, many write reviews, book chapters and other types of publications that don't require new research, just to stay in shape.
As life settles into this new normal, some of those who fled are coming back. In the first months of the war, it was reported 15% of scientists had left the country. Today, the number stands at 12%. Those who were displaced internally are also making their way back home. "We observe slow return from abroad and internally displaced people are returning if they're not from places that remain dangerous, like Kharkiv," reports Yuriy Khalavka, a chemistry researcher at Yuriy Fedkovych Chernivtsi National University, who is one of the academics behind the UA Science Reload project raising awareness of the situation researchers face in Ukraine.
Shifting needs
For most, research came to a halt last February when Russian forces invaded the country. Many were displaced. Some fled abroad. Some took up arms. Others started helping the war effort in any way they could by supplying equipment and aiding those in need. They wanted bullets not grants, researchers told us at the time.
In the months that ensued, more and more found themselves able to return to their desks. Yet, focusing on work turned out to be a daunting task. All public funding for research had been diverted to defence. Research teams had disintegrated, with many leaving the country. Infrastructure was destroyed. And spirits were low, as Russia continued to wage war on the country.
There were efforts to help. Institutions from abroad offered grants to researchers in Ukraine. Displaced scholars were offered places abroad. But around October, Russia started a large-scale attack on Ukraine's energy supply, causing disruptions across the country, including research labs. Those that need a steady supply of energy to keep experiments going, such as biologists culturing cells, were most affected. "You can shift your office hours but if your lab needs constant electricity, it's a problem," says Khalavka. "The power shortage very heavily influenced the story."
In recent weeks, energy supply has stabilised, but war fatigue is real. Every family has been affected, with many worrying about relatives on the front lines and dealing with continued fear, even if the danger is no longer as acute. "It's not that because there's no shelling in certain areas, we can perform," says Khalavka. "Those who left the country and those who have sustainable support there, they also feel this pressure, the mental pressure, and complain that they cannot be as productive as they were."
Keep it running
As the war drags on with no end in sight yet, Ukraine's research community is in need of continuous support from other countries. Money remains the number one ask.
Many of the scholarships provided were a year long and are set to draw to a close soon. It's unclear whether they will be followed up with longer-term support.
What is needed now are bigger research programmes and the right conditions for them, such as sustainable storage for equipment, power stations to ensure supply during blackouts as well as support for research support staff, including technicians that keep infrastructures going, Khalavka lists.
One such programme was recently set up by the National Research Foundation using a donation from Cambridge University in the UK. Starting this summer, it will provide 12-month scholarships to researchers who were affected by the war, either because they had to relocate to another part of the country or because their home institution was damaged by bombs.
To help build up expertise, beneficiaries will receive supervision and support from Cambridge professors. "We are moving towards the integration of the European Research Area, and from there to the international research area, and just having [contact with] counterparts in different countries is a huge bonus," says Polotska.
Next, on Polotska's wishlist is a similar programme to fund research teams rather than individuals, she tells me, just before an air raid alarm in Kyiv brings an end to our conversation.
In Munich, Lutsenko notes support beyond providing funding is also important. Those that fled often need counselling to deal with the trauma of the war. Many of her colleagues still struggle when fireworks go off that sound like Kalashnikovs, while planes flying overhead can bring back memories of bomber jets above their cities. "That kind of support is essential," she says.
Many women researchers fled abroad with their children and struggle to juggle motherhood in a foreign country with taxing work, which affects their performance.
In the end, many just need understanding from their international colleagues. Many deadlines for publications, conferences and new projects have been missed due to untrustworthy infrastructure and something as simple as bridges in Kyiv closing each time an air raid siren sounds. "It's really hard to detach," says Lutsenko.