Greater integration between research and technology transfer at Cancer Research UK is supporting the formation of more start-ups and fostering the development of an international network of academic partners with complementary skills and capabilities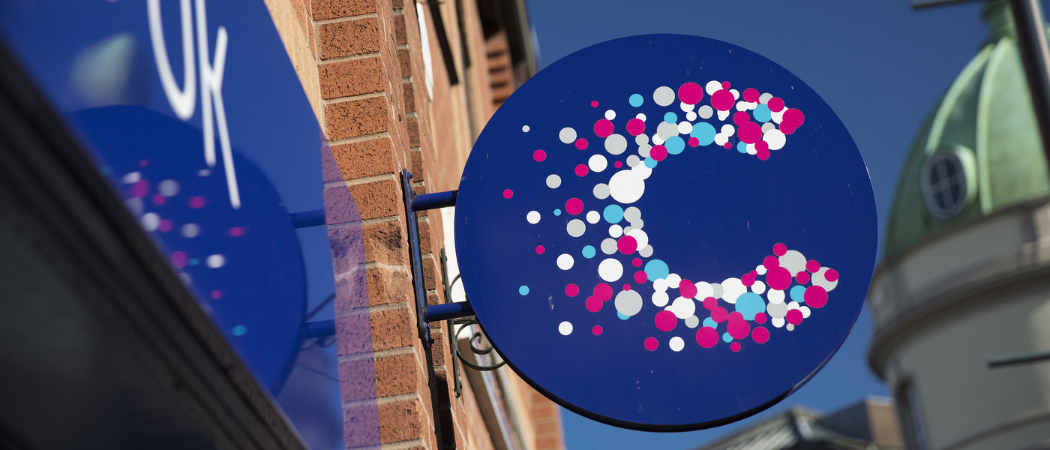 Cancer Research UK, the world's largest independent funder of cancer research, last year brought all its drug discovery and technology transfer activities under a single umbrella, Cancer Research Horizons. The new structure is intended to bring more flexibility to the translation of the charity's research into treatments.
Early results include a collaboration with start-up builder Deep Science Ventures, which will use Cancer Research Horizons labs as an incubator, and international cooperation agreements with the Oncode Institute in the Netherlands and Karolinska Institutet in Sweden.
"It's very much building on our track record, but with a significantly increased ambition and bandwidth to be able to deliver," said Julie Little, associate director of the Cancer Research Horizons strategic alliances team. "There is a lot greater integration of how we are performing the science and the business aspects of our work."
Cancer Research UK supports research centres in universities and hospitals across the UK, committing £443 million to new cancer research projects in 2021-22, and £388 million for research already under way.
Until April last year, the charity's six drug discovery labs worked relatively independently, with their own budgets, and the support of Commercial Partnerships and Cancer Research Technology (CRT), an in-house commercialisation and development company. Cancer Research Horizons brings these together, along with the Functional Genomics Centre and Antibody Alliance Laboratory, both formed through alliances with AstraZeneca. The result is a single drug discovery group, Cancer Research Horizons Therapeutic Innovation, with around 200 scientists.
"Cancer Research Horizons combines the drug discovery expertise of the Therapeutics Innovation Team with the Commercial Partnerships team to create an innovation engine to take scientific breakthroughs and transform them into effective treatments for cancer patients," said Neil Jones, vice president of portfolio generation. "With a single management and leadership team, and a single budget, Cancer Research Horizons Therapeutic Innovation allows us to be much more creative in terms of our innovative thinking, while still operating across a number of sites."
One effect of the change is that Cancer Research Horizons will pick up drug development opportunities earlier, investing time, effort and funds during the risky phase when it is not clear if the promise of the science will deliver. "Having larger, broader teams, all working together, means that we can look at some earlier, higher risk opportunities, perhaps ones that big pharma wouldn't initially go for, and build them to that point where they are ready to invest," said Jones.
The same goes for developments in areas that are not so attractive to the big pharmaceutical companies, such as brain cancer, and especially treatments for children and young adults. "There is a massive unmet need in this area, and a need for therapies that are tailored to children, rather than just repurposed adult drugs," said Jones.
Engineering new drugs
Start-up creation is being taken forward through an alliance with Deep Science Ventures (DSV). Rather than rely on technology push, DSV's approach begins with a problem it wants to solve, then designs a solution from scratch, drawing on the entirety of scientific knowledge in an area.
"It is like an engineering approach to the medical sciences," said Laura Fletcher, head of business development and strategic partnerships in the pharmaceuticals sector. "If you were founding an engineering company, you would not build a random machine and then figure out how to use it. You set a goal and build a machine that meets it."
It is only in the last five years or so that tools have become available to make this possible for therapeutics.
The DSV approach begins with a proto-founder with an entrepreneurial character and broad technical skills in the space where a company is to operate. Sometimes these are scientists from academia or industry, sometimes serial founders of companies that have exited. "We work hand-in-hand with these proto-founders to build up the approach that the company will take," Fletcher said.
When that has been defined, a co-founder is recruited with specific technical experience to make it a reality. "Compared to a company emerging from academia, which might have had 5 - 10 years of grants to develop a data package before spinning out, our companies are based much more on a hypothesis, and they don't have that data package at the outset," Fletcher said. "We support them with pre-seed finance in the early stages to generate that data."
While data maybe lacking, the process provides a solid foundation, Fletcher claimed. "Because the ideas are built on existing scientific knowledge, we find that this conversion from idea to data has a very high success rate."
DSV has five years of experience with this way of working, not just in therapeutics, but also in climate tech, agritech and computation, but Fletcher acknowledges that it takes a leap of faith for an organisation like Cancer Research UK to adopt this form of company formation. "They need to commit before knowing what the actual company will look like, before knowing even what specific area we are going to jump into."
In 2021, Cancer Research UK supported the formation of three start-ups with DSV: Enedra Therapeutics, Stratosvir, and Neobe Therapeutics. "Those start-ups are now in the process of generating their data packages, raising additional funding to expand their teams, and so on," Fletcher said.
Following the creation of Cancer Research Horizons, a new agreement was signed to develop ten start-ups with DSV. The first part of the process will be the same, with DSV and Cancer Research Horizons choosing the areas in which they want to build companies, "But then, when it comes to founding the companies, the therapeutic innovation laboratories will act as an incubator, and their lab scientists will be applied as the first team to generate the proof-of-concept data," said Fletcher. "For the new company to be embedded in that kind of lab, with all of the connections and knowledge that brings, will be a huge advantage."
Founders can concentrate on the company without the distractions of finding lab space, or the drain on resources that comes from paying rent, buying equipment or contracting out work that cannot be done by the founding team. "Going straight into a very sophisticated lab environment, with the facilities and diverse knowledge available at Cancer Research Horizons, will be a huge asset for the companies," Fletcher said.
The new agreement will also be open to additional partners, who will bring specialist knowledge and resources. The first of these is the Children's Tumor Foundation, which is supporting the development of second start-up, in the area of neurofibromatosis.
"We hope to have a rolling alliance, where we can engage other partners to come in on specific builds, and in each case Cancer Research Horizons would incubate the company until it is ready to move out into more extensive labs, or raises a bigger funding round," Fletcher said.
Meanwhile, the traditional approach to spinning out companies, starting with promising targets, will continue, following the lead of start-ups such as iOnctura and Artios. "They have been very successful in taking compounds to the clinic in a relatively rapid timeframe, and now we're in a place where we can establish more of these kinds of opportunities, together with our new partners," said Little.
Again, the structure of Cancer Research Horizons is expected to help. "We can take a bit more of a risk with some of these start-ups," Jones said. "We have more flexibility to start to nucleate or incubate them internally for a period of time, alongside our partners, before we go out to look for investment,"
Other translation routes will also get a new impetus under Cancer Research Horizons. "We have an ambition to do more inlicensing of later stage assets into Cancer Research Horizons, which we have not done in any structured way, or to any great extent until now," Little said. "That recognises the skills base of this larger organisation and what we can add in terms of value to a later stage asset taking it faster into the clinic." The exact details of this strategy are still being mapped out.
Motivation
Start-ups may also emerge from international alliances forged to extend Cancer Research UK's academic network, which began in 2022 with cooperation agreements with the Oncode Institute in the Netherlands and the Karolinska Instituet in Sweden.
"They allow us to tap into a much larger research network and different capabilities that complement what we have in-house," said Jones.
Both Cancer Research Horizons and the Oncode Institute are focused exclusively on cancer research, and have a strong entrepreneurial culture, but complement each other when it comes to drug discovery and translation.
"The Oncode Institute is focused on basic molecular oncology research, and our internal capabilities for drug discovery are limited to target identification and validation," said Chris De Jonghe, valorisation director at the Institute. "Anything that follows downstream in the drug discovery and drug development pipeline requires partnering for us."
The alliance is neutral on commercialisation strategies "The focus is to advance research projects into clinical trials, irrespective of whether this is achieved by partnering with an existing biopharma company or by establishing and raising funding for a new venture," De Jonghe said. "Of course, being able to combine assets originating from both organisations may give rise to new start-ups that would have had too little meat on the bone on their own."
Jones also sees potential for possible start-ups. "We are examining how we might spin-out collaborative opportunities in partnership with Oncode, to form new companies, by using our drug discovery space to incubate ideas," he said. "We are able to drive the translation of these ideas, potentially using the Oncode and Cancer Research Horizons seed funds, both of which have expanded in recent times."
More international alliances are likely to follow. "We are looking at other possible global partnerships in the future that really connect people together," Jones said. "They can work at a very small level to start with, to seed some ideas, and then expand as things become more exciting and need a bigger footprint."
Elsewhere in the Ecosystem…
Proveye, a spin-out company from University College Dublin, has closed a €1 million seed funding round to advance its work in machine learning and remote sensing image analysis for agriculture. The funding round, which builds on a €225,000 contract with the European Space Agency, was led by Inspire Investments and Enterprise Ireland.
An agreement to better connect public and private investors in clean technology has been signed by the European Innovation Council (EIC) and business group Cleantech for Europe. They will share deal-flow from across Europe, allowing capital to be more efficiently allocated towards promising European clean technologies, and collaborate on research and analysis of the European cleantech landscape, in particular EIC portfolio companies. This may go on to influence funding priorities, the EIC said.
The EU SME Fund has expanded to cover some costs of European Patent registration and Community Plant Variety registration, with Unitary Patent costs likely to follow later in the year. The fund gives small and medium sized enterprises based in the EU vouchers that cover certain costs related to intellectual property assessment and registration. Until this year's call, these were limited to national assessment costs, and the registration of trademarks and designs.