---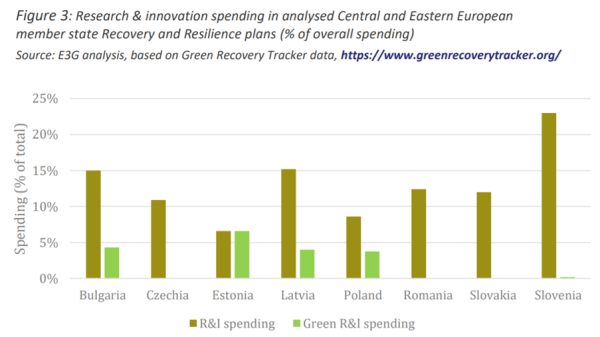 Member states in central and eastern Europe are set to spend "a substantial amount' of EU recovery money on research, with Slovenia dedicating almost a quarter of its budget to science, according to a report by the climate change think tank, E3G.
Dissecting the recovery plans submitted to the European Commission by Bulgaria, Czechia, Estonia, Latvia, Poland, Romania, Slovakia and Slovenia E3G estimated they will devote between 6 to 23% of the funding to research and innovation projects.
At the same time, these countries are committing far less green R&I. Slovenia, despite its high research budget, will spend a mere 0.2% of its €2.5 billion recovery money on green science, focusing on alternative fuels.
While spending little on research overall, Estonia intends to put most into green research, dedicating 6.6% of its €1.1. billion recovery package to this field. The specific projects this money will be invested in are not specified, but the country has shown interest in hydrogen technologies.
There is a total of €672.5 billion in the EU recovery fund to be spent by 2024. Member states decide how they spend the money but there are certain rules. For one, 30% of the funding must finance Europe's green transition.
There is no clear goal for research and innovation spending. But as the recovery plans are looked to as catalysers for the green and digital transitions, investing in science would appear to be an essential element. For countries in central and eastern Europe, it's also a chance to catch up with their western counterparts in research funding and fill the 'innovation gap'.