---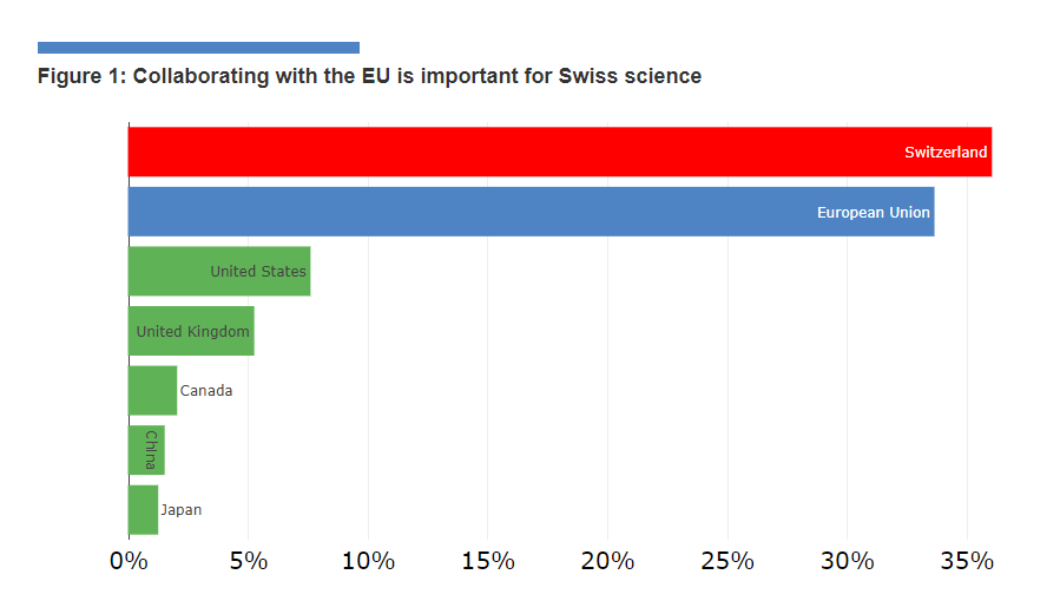 An analysis of how close research ties between Switzerland and the EU were from 2014 to 2022 shows what is at stake now the country is not associated to Europe's flagship research programme Horizon Europe. This is posing challenges to its scientific community, economy and society in general, according to an article by the Centre for International Economics and Business (CEIB) at the University of Basel. 
As the graph above shows, approximately one third of scientific papers written by Switzerland-based researchers between 2014 and 2022 had at least one EU-based co-author. This percentage is close to the number of papers involving solely authors in Switzerland.
Switzerland was a fully association member of the EU's previous framework programme, Horizon 2020, but the broader diplomatic stalemate over Bern's wider relationship with Brussels means it is not associated to Horizon Europe. 
Domestic alternatives to Horizon Europe have been set up run by the Swiss National Science Foundation. But the paper says that while these can compensate financially for the lack of association, there are wider concerns. 
Switzerland was also earlier this year excluded from the European Strategy Forum on Research Infrastructures (ESFRI), the organisation responsible for planning Europe's scientific infrastructures. 
"The negative effects relate to the inability to actively influence European research priorities and policies, limited access to European research infrastructure and networks, and, consequently, a potential decline in the overall quality of Swiss research output," the paper says. 
Switzerland is missing out on programmes such as European Research Council grants and Marie Skłodowska-Curie Fellowships, for which the paper notes, Swiss equivalents are not "evaluated by committees that have the same global recognition as those of Horizon Europe." 
Christian Rutzer, co author of the paper, said the mood in Swiss science is "arguably worried". 
He cited comments by the president of Swiss research university ETH Zurich, Joël Mesot, who said that Switzerland risks losing its position as a scientific heavyweight by not being associated to Horizon Europe. 
"This is just one voice of many," Rutzer said.