---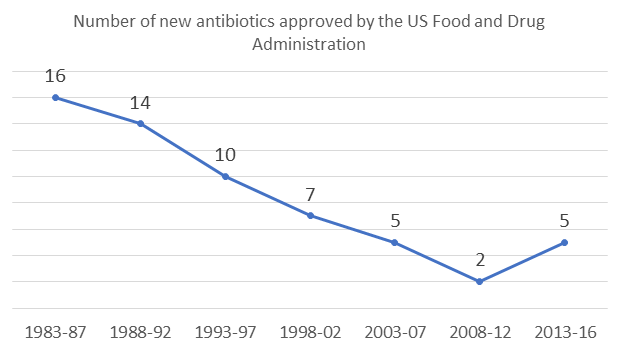 The number of new antibiotics approved by the US Food and Drug Administration (FDA) is has been declining between 1983 and 2012, according to an OECD report on how to tackle antimicrobial resistance.
Also, according to 2016 data, there are fewer big pharma companies with an active antibiotic R&D pipeline. There are only six such companies, whereas in 1990 there were 18.
According to the OECD, the global slump in antibiotics R&D is caused by scientific challenges but also by insufficient market incentives.
New antibiotics have become increasingly difficult to discover and typically only 1.5 per cent of antibiotics in preclinical development reach the market.
In addition, clinical development of promising candidate molecules is expensive, chances of success are low, while reimbursement prices on market entry are not competitive.
Small and medium-sized enterprises where the majority of current antibiotic R&D now occurs typically lack the funds necessary to take early stage research through to clinical development.