---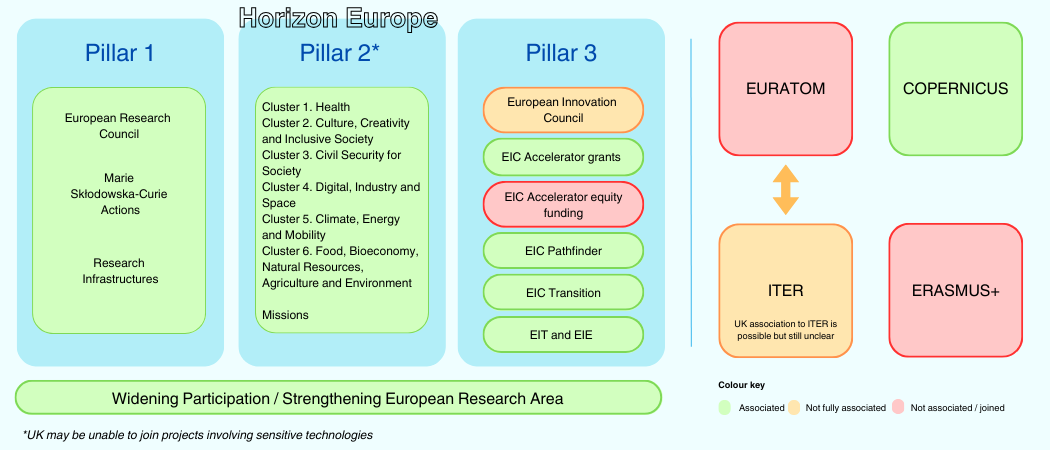 After the limbo years following its exit from the EU, the UK has become an associated member of the EU research programme, Horizon Europe.
The €95.5 billion seven year programme funds projects all the way from basic research to commercialisation, and most things in between.
The UK was one of the biggest beneficiaries of Horizon Europe's predecessor, Horizon 2020.
The association status allows its scientists and SMEs to get grant funding from Horizon Europe from 1 January 2024, but there are some differences from when the UK was an EU member state.
UK-based scientists can participate in programmes financed under pillar 1 of Horizon Europe, including European Research Council grants. Applications can begin immediately for all calls that relate to the 2024 work programme.
For those who applied in the past three years, the UK put in place a safety net guarantee scheme to fund winners who could not access EU money. It has dished out over £1 billion to fund UK participation in Horizon Europe projects to date.
Horizon Europe's pillar 2 will also be open to UK institutions, although the country could be locked out of specific projects involving sensitive technologies, such as quantum or space. This will be decided on a case-by-case basis. 
As was long known, in pillar 3, the UK will not participate specifically in the EIC Fund, a part of the EIC Accelerator scheme that invests in applicants through equity finance.
Outside Horizon Europe, the UK has decided not to rejoin the Erasmus+ student exchange programme after creating its own domestic version, the Turing Scheme.
It will, though, rejoin the EU's Copernicus satellite system.
As part of the association deal, the UK announced it would opt out of Euratom, the EU nuclear research programme, deciding to go it alone.
As such, questions remain about the country's involvement in the fusion energy project ITER. The UK is considering rejoining the project as an associate member, but that could prove complicated as it will need the backing of the countries sitting on the governing ITER council, which includes Russia.