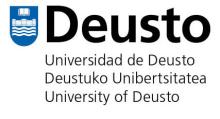 The University of Deusto is a dynamic institution committed to the promotion of research excellence, with the internationalisation of research at the core of its strategic plan. Founded in 1886, DEUSTO is the oldest private university in Spain, a unique mix of tradition and innovation offering state of the art facilities nestled in campuses of historical and architectural interest (Bilbao, Donostia-San Sebastian, Vitoria-Gasteiz and Madrid). 
With more than 30 years of solid internationalization and a wide consolidated network of partnerships with top international research teams, DEUSTO actively supports research and its impact on the economic, social and political development. Innovation is at the core of our research driving us to the top percentiles of international rankings as a key innovator recognised by the EU Innovation Radar, embracing the innovative  6 'I's model based on internationalisation, interdisciplinarity, intersectorality, impact, innovation and inclusion. This innovative model focuses on the expanding critical role of universities as social innovators and proposes ways to shape performance through principles of collaboration (internationalisation, interdisciplinarity and intersectorality) and action (impact, innovation and inclusion).
Our strong researchers pool of over 500 academics, 36 research teams (24 of them with external recognition by the Basque Government), 9 prestigious research centres, and 5 International Interdisciplinary Research Platforms embodies DEUSTO into a fertile research ecosystem where new ideas thrive, and offer the space and freedom to pursue new horizons, with the support of experienced research advisors. DEUSTO's long trajectory leading and participating in around 100 international projects (funded by different programmes from FP6 to Horizon Europe, UK Research Councils, USA Foundations,...) has grounded the institution firmly on the international research arena, attracting and retaining talent worldwide. In an ever-changing society, we have always maintained our principles, and have managed to face the new challenges of technology, globalisation and innovation.
Learn More
Website: https://www.deusto.es / https://www.deusto.es/deustoresearch
Twitter: @Deusto / @DeustoResearch
YouTube: Deusto     
LinkedIn:  University of Deusto / Deusto Research
Facebook:  @UDeusto / @DeustoResearch
---
University of Deusto News