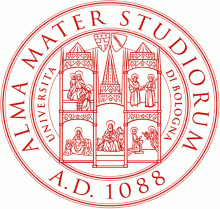 Alma Mater Studiorum is widely recognized as the oldest academic institution.
Its traditions are paired with innovative research and teaching. It is not by chance that the agreement for the creation of the European Area of Higher Education has been signed in Bologna in 1999.

With more than 86,000 students, nearly 2,800 lecturers and researchers, 1,700 PhD students, over 1,200 research fellows and 200 patents registered, Bologna is one of the largest and most valuable teaching and research institutions in Italy.

The University is currently consists of 33 departments and 11 schools; it offers 209 degree courses in broad-ranging subject areas; it counts 5 campuses spread all over the Emilia Romagna Region and one in Buenos Aires.

For Alma Mater, research is synonymous with competitiveness and employment: within the European Union's Seventh Framework Programme, more than 85 million Euros have been granted for more than 260 projects. Several partnerships have been set up with local and international companies.

According to the QS world ranking, Bologna is the top-ranking Italian University, and it is placed among the top Italian Universities in the national league tables.
Learn more
---
---
University of Bologna News