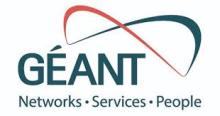 GÉANT is the leading collaboration on network and related infrastructure and services for the benefit of research and education, contributing to Europe's economic growth and competitiveness. 
GÉANT is a fundamental element of Europe's e-infrastructure, delivering the pan-European GÉANT network for scientific excellence, research, education and innovation. Through its integrated catalogue of connectivity, collaboration and identity services, GÉANT provides users with highly reliable, unconstrained access to computing, analysis, storage, applications and other resources, to ensure that Europe remains at the forefront of research.
GÉANT mobilises the expertise and experience of hundreds of professionals from among its staff, member organisations, institutions and the wider research and education networking community. Its activities build on the human and other resources that they contribute.
Network operations: 

We plan, procure, build and operate large-scale, advanced international high-speed

networks

, including the 500Gbps

pan-European GÉANT network

and it's international connectivity

;

Services: 

We develop, operate and support

services

relating to such areas as

trust and identity, security and certification

,

mobility

and

access

. Such services include worldwide wi-fi roaming service eduroam.  

Collaboration: ​

We liaise with other e-infrastructure organisations, user communities, industry and with the European Union.

Events:

We organise events such as workshops, meetings,

training

and conferences, including

TNC

– Europe's largest networking conference for research and education;

Support: 

We provide practical support for members, educators, researchers and other partners to collaborate,

innovate

,

share knowledge

and agree on

policies and strategies

;

Expertise: 

We gather community expertise, and provide staff expertise in procurement, project management, community engagement, network operations, and outreach including dissemination and training;
Many of our task forces, special interest groups, workshops, conferences and other activities are open to anyone with appropriate expertise, manpower, equipment or services. Other activities are carried out by staff or partners in the context of a specific project or as part of the core business of GÉANT.
Learn More
---
GÉANT News