---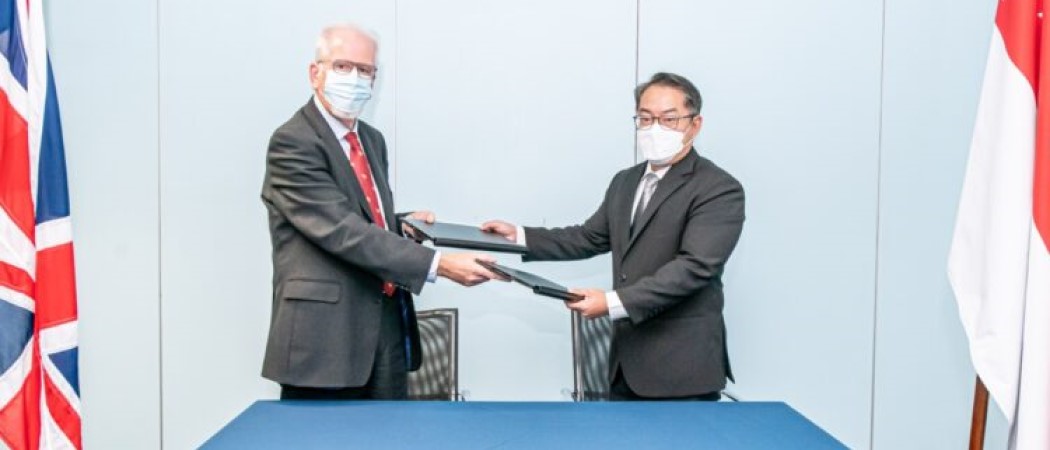 Singapore and the UK Memorandum of Understanding (MOU). Photo: UKRI website.
Opportunities and support for Singapore and UK enterprises to tap respective technological expertise and market knowledge through new co-innovation programme.
Singapore and the UK have signed a Memorandum of Understanding (MOU) to strengthen cooperation in co-innovation and joint research and development (R&D). This is to enhance enterprise competitiveness and facilitate go-to-market partnerships in emerging technologies.
The MOU was signed by:
Mr Tan Soon Kim, Assistant Chief Executive Officer of Enterprise Singapore (ESG)
Simon Edmonds, Chief Business Officer of Innovate UK, the UK's innovation agency.
Building on strong interests
This is the first bilateral MOU between ESG and Innovate UK, which builds on the strong mutual interest in co-innovation between Singapore and UK companies.
Under the MOU, ESG and Innovate UK will launch the Singapore-UK Bilateral Co-Innovation Programme (CIP) to develop and fund eligible innovation projects between Singapore and UK enterprises in areas such as:
advanced manufacturing and materials
agri-food technology
mobility and transport
health and life sciences
cybersecurity.
The first call for proposals will be launched in early 2022.
More details will be shared in due course.
Increased partnerships
Over the past two years, the number of partnerships between UK and Singapore grew significantly.
In 2020, UK-Singapore joint applications made up half the total number of applications in an innovation grant call organised for Singapore and Eureka member countries.
Singapore-based space-tech company, Aliena, is one such participant who partnered UK-based Imperial College and URA Thrusters to develop a technology that uses water electrolysis for electric propulsion systems.
The technology focuses on the use of water as a sustainable and cost-effective alternative to traditional noble gases in spacecraft applications.
This partnership also gave Aliena access to URA Thrusters' expertise and networks to large space corporates.
90 joint innovation projects
Since 2018, ESG has supported close to 90 joint innovation projects by Singapore companies with partners in markets such as France, Germany, Israel and Shanghai through our international co-innovation programmes.
Tan Soon Kim said: "This MOU builds on our existing strong partnership with Innovate UK. With this co-innovation programme, Singapore and UK companies will get greater access to resources to facilitate and fund more joint innovation and R&D partnerships. We encourage more UK and Singapore companies to tap on this programme to jointly unlock more business opportunities in UK and in Asia."
Simon Edmonds said: "The UK and Singapore are natural partners in innovation collaboration. We have a thriving partnership with ESG, and we look forward to deepening our collaboration over the next three years through CIP."
This article was first published on 9 December by Innovate UK/UKRI.