---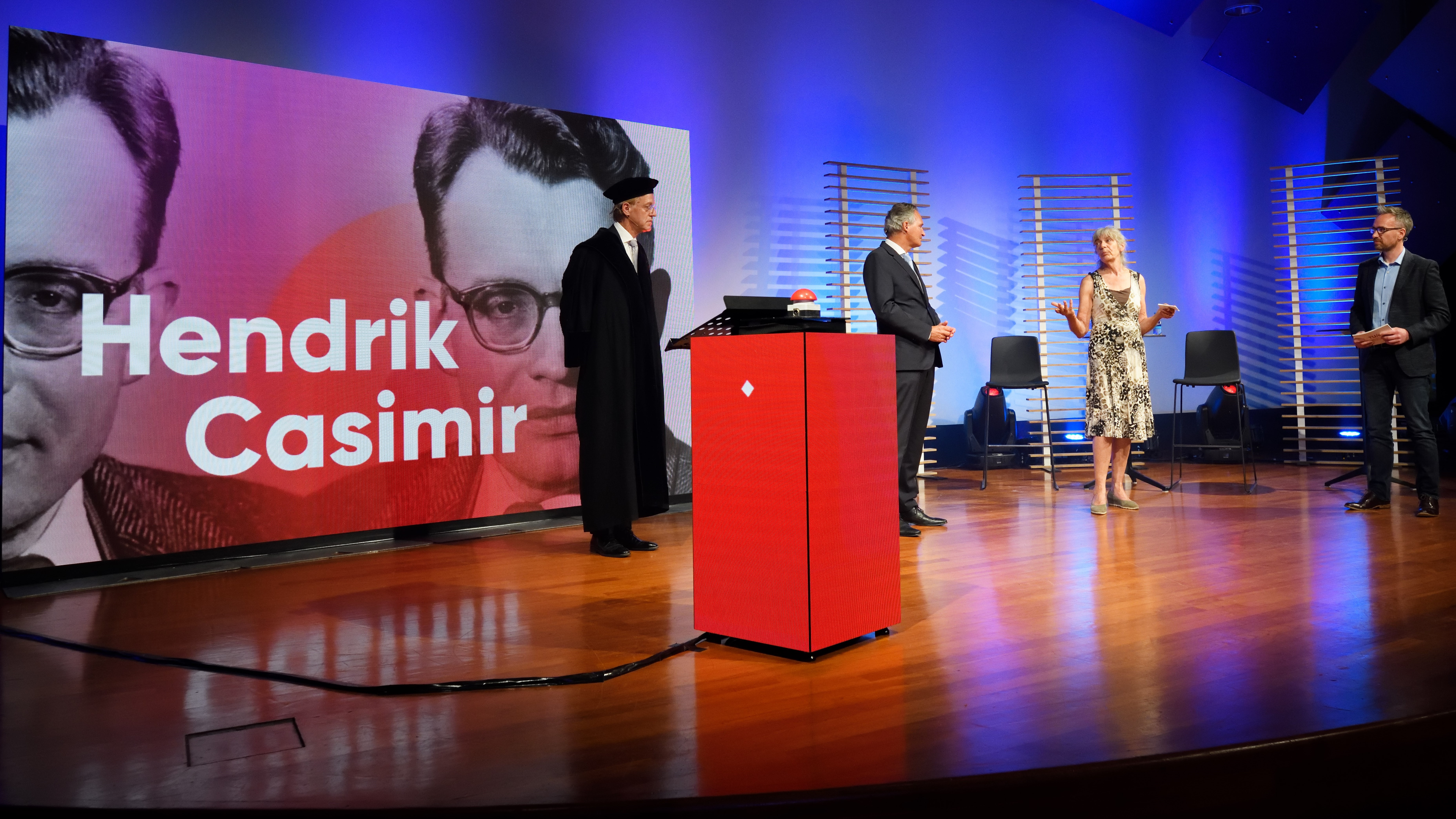 Launch of The Eindhoven Hendrik Casimir Institute (EHCI) at the Opening Academic Year Event at Eindhoven University of Technology. Photo: Eindhoven University of Technology
Eindhoven University of Technology (TU/e) kicked off its new research institute on quantum and photonics: the Eindhoven Hendrik Casimir Institute. This institute was opened by Robbert Dijkgraaf, director of the Institute of Advanced Study in Princeton, and Gerda Casimir, daughter of Hendrik Casimir. High-tech company ASML, one of the key partners of TU/e, gave the new institute a set of high-tech machinery donations worth 3.5M euros in order to congratulate the university on its 65th anniversary. 
Eindhoven Hendrik Casimir Institute 
With the exponential growth of our information society, the end of traditional scaling in communications and computing come into sight. To continue the trend in computational power and energy-efficient communication, emerging photonics and quantum technologies are key avenues to be explored. Both technologies are already world-class in Eindhoven, as illustrated by recent multimillion-euro funds. The Eindhoven Hendrik Casimir Institute (EHCI) will smartly 'entangle' the two technology fields to create synergy: the superfast light-driven communication technology of photonics and the mind-blowing calculation magic of quantum technology. 
Hendrik Casimir 
Dutch physicist Hendrik Casimir (1909-2000) is most famous for his work on superconductivity and quantum physics, most notably the Casimir effect. He also was a high-tech industry leader for decades as the director of the renowned Philips Physics Laboratory. He defined principles for research management that are still very much applicable today.  
Donations from ASML 
ASML, the world's leading supplier of the semiconductor industry, had a great surprise for TU/e, which celebrated its 65th opening of the academic year today. The company gave the university a set of high-tech nanotechnology machines and services for the new institute and for the student labs, with a total value of 3.5M euros. 
"We are extremely grateful to ASML for these wonderful presents," commented TU/e President Robert-Jan Smits. "These donations underline TU/e's particularly good relationship with ASML and with industry in the Brainport Eindhoven region." 
"We hope that this equipment will enable researchers and students at TU/e to push the boundaries of knowledge, achieve scientific breakthroughs and thereby contribute to a better future. Because that is the power of technology. And we hope that students at TU/e will gain even more high-tech knowledge," says Frank Schuurmans, Vice-President Research at ASML, who handed over the gifts symbolically with an IC production wafer. 
More information about the Eindhoven Hendrik Casimir Institute: https://www.tue.nl/en/news-and-events/news-overview/06-09-2021-new-institute-will-entangle-next-generation-photonics-and-quantum-technologies/
More information about the Opening of the Academic Year of TU/e: https://www.tue.nl/en/news-and-events/news-overview/02-09-2021-science-and-industry-figureheads-take-center-stage-at-opening-of-65th-academic-year/
More information about the gifts of ASML to TU/e: https://www.tue.nl/en/news-and-events/news-overview/asml-makes-generous-donations-to-the-65-year-old-tue/
This article was first published on September 6 by TU/e.