---
Professor Jonathan Coleman, lead PI at AMBER, the SFI Research Centre for Advanced Materials and BioEngineering Research, and the School of Physics at Trinity, has secured a European Research Council (ERC) Proof of Concept grant worth €150,000.
This Proof of Concept project, named Print-SENSE, will examine the economic and technical feasibility of using nanomaterial-based inks for high-performance sensing applications, particularly within medical diagnostics.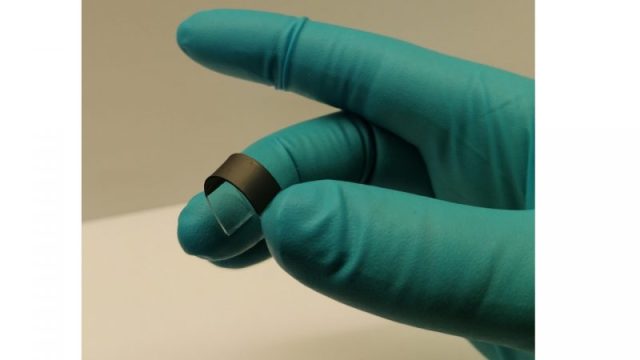 Professor Coleman said:
"I am delighted to be awarded this ERC Proof of Concept grant, which gives me the opportunity to develop a market ready prototype based on the discoveries from my ERC-funded FUTURE-PRINT grant. We have demonstrated that we can produce a low cost, reliable strain sensor using graphene nanocomposites, and shown that it is a significant improvement on traditional strain sensing technology. Now we want to develop this further and ensure society has access to it."
Stain sensors are incredibly valuable for a range of applications, but the team is focusing on medical diagnostics in particular. Strain sensors measure changes in mechanical strain such as the physical changes measuring pulse rate, or the changes in a stroke victim's ability to swallow.
A stain sensor detects this mechanical change and converts it into a proportional electrical signal, thereby acting as mechanical-electrical converter. While there are stain sensors on the market currently, mostly made from metal foil, these have limitations in terms of wearability, versatility, and most significantly, sensitivity.
Traditional metal foil gauges have a very limited working range of accurate measurement. This is due to the relative stiffness of metal foil gauges and this makes their integration into emerging technologies such as wearables, which require large working ranges, difficult.
Replacing the metal with polymer-based nanocomposite sensor represents a step-change in terms of cost, ease of fabrication and sensitivity. The sensitivity of the stain sensor developed by Professor Coleman and his team is 50 times more sensitive than the current industry standard strain sensors.
Professor Coleman intends to build on his research to create a new generation of medical devices. He said:
"The work carried out previously by my group has focused on developing ink blends that contain a silicone-based polymer and a nanomaterial such as graphene – that has excellent mechanical and electrical properties. We can deposit this ink using a variety of printing methods, from screen printing, to aerosol and mechanical deposition, and once the ink dries, it forms a super flexible polymer-nanomaterial composite film that extremely sensitive to external forces.
"An additional benefit of our very low-cost system is that we can control a variety of different parameters during the manufacturing process, which gives us the ability to tune the sensitivity of our material for specific applications calling for detection of really minute strains. Currently, a research team led by Dr Dan O'Driscoll is exploring specific applications focusing on physical rehabilitation, real time breath and pulse monitors and early labour detection during pregnancy."
Professor Michael Morris, Director of AMBER, added:
"The awarding of this Proof of Concept grant to Professor Coleman acknowledges the significance of the research work he and his team is undertaking. This highly innovative area of research sits at the forefront of science globally with considerable potential for translation into economic and societal benefits to Ireland and beyond."
Fifty-five Proof of Concept grants were awarded to ERC grant holders across Europe this year as top-up funding to explore the commercial or societal potential of their work and to bring their work closer to the market. Professor Coleman is the only Irish recipient.
This article was first published on 7 January by Trinity College Dublin.